Beer & Lounging feat. Anna Kramer & the Lost Cause, Tiger! Tiger!, Boo Hag
Thursday March 28, 2019 09:00 PM EDT
Cost: Cover,

CL RECOMMENDS
From the venue:
BEER AND LOUNGING at the Clermont Lounge with food ... HOLD! THE! PHONE! I've only ever eaten a hot dog outside the Clermont Lounge. Memorable bc I was eating with internet sensation, @TheFatJew (Josh Ostrovsky), while discussing best strip-club food in the U.S. Not the peak of my "celebrity" moments, but great hot dog. 
Anna Kramer and the Lost Cause, a CL fave, will pop up at the Clermont, with Lillian's BBQ Catering. Joining will be Tiger! Tiger! and Boo Hag for a night of rock 'n' roll, BBQ, beer, and the most famous duct-taped bar you ever will see! Just don't take any photos. Do take a shot at getting kicked out of the Hotel Clermont before leaving the property. 9 p.m.-2 a.m. @annakramermusic; @clermontlounge
More information
Featuring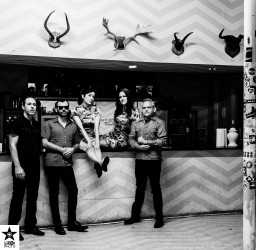 Tiger! Tiger! plays confidant, sage-like garage rock that instills a healthy amount of fear into your heart. This show is the LP release party for the group's latest album, Backing the Wrong Horse. |
more...