Inescapable: The Life and Legacy of Harry Houdini
Sunday April 14, 2019 10:00 am EDT
Cost: Free - $12
Harry Houdini wasn't born. He was invented.
The world's most famous magician began life as Erik Weisz, the son of a Hungarian rabbi. In 1878 immigration to the U.S. transformed Erik Weisz into Ehrich Weiss. It was the first of many transformations for the man who would become the first international superstar.
Inescapable, curated by performer and magician David London, tells the story of how Ehrich Weiss became Harry Houdini and investigates the technologies, marketing prowess and entertainment trends that transformed him into a superstar. On one level, the exhibit is pure fun – incorporating magic, escapes, seances, films, rare artifacts and hands-on illusions.  On a deeper level, the exhibit pulls back the curtain, revealing the story of the man behind the image.
Sponsors
Platinum
Carol and Bob Nemo
Gold
Jim and Jeannie Mangham
Silver
Marilyn Eckstein
Bronze
The Spring and Tom Asher Family
Hugh Asher
Joey Asher
Johanna Asher
Juliet Golden
Michael Golden
Lois Blonder
The Breman Board of Directors
The Dinerman Family
Laura and Marshall Dinerman
Kim and Michael Dinerman
Jennie and Alex Medeiros
Howard Fagin
Robin and Darrin Friedrich
Corky and Roger Gelder
Jarvin Levison
The Rosenberg Family
Dulcy and Jerry Rosenberg
Karen and Kenneth Rosenberg
Michelle and Alan Rosenberg
Karen and Mark Musa
Lori Shapiro and Cary Goldenthal
Marlene J. Schwartz
Judith and Mark Taylor
Exhibition Programming Partner

Joe M. Turner, Turner Magic & Keynotes

Jewish Museum of Maryland Exhibition Sponsors​
The Joseph & Harvey Meyerhoff Family Charitable Funds
Larry Boltansky
Jacob & Hilda Blaustein Fund for the Enrichment of Jewish Education
PNC Greater Maryland
The William G. Baker, Jr. Memorial Fund
creator of the Baker Artist Awards, www.bakerartistawards.org
Gert & Izzy Freedman
The Richard and Rosalee C. Davison Foundation
The Hackerman Foundation
Carroll A. Weinberg, M.D. and Charlotte Cohen Weinberg Foundation
More information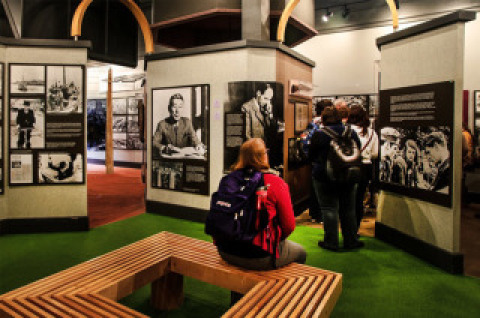 1440 Spring St. N.W.
Atlanta
,
GA
30309
(678) 222-3700
thebreman.org
Hours
Monday: 10:00 AM – 5:00 PM
Tuesday: 10:00 AM – 5:00 PM
Wednesday: 10:00 AM – 5:00 PM
Thursday: 10:00 AM – 5:00 PM
Friday: 10:00 AM – 4:00 PM
Saturday: Closed
Sunday: 10:00 AM – 5:00 PM