Echosynthetic Fest Part III w/ Glitch Black, Gregorio Franco, Watch Out for Snakes, Finite Automata, Neuron Spectre, and more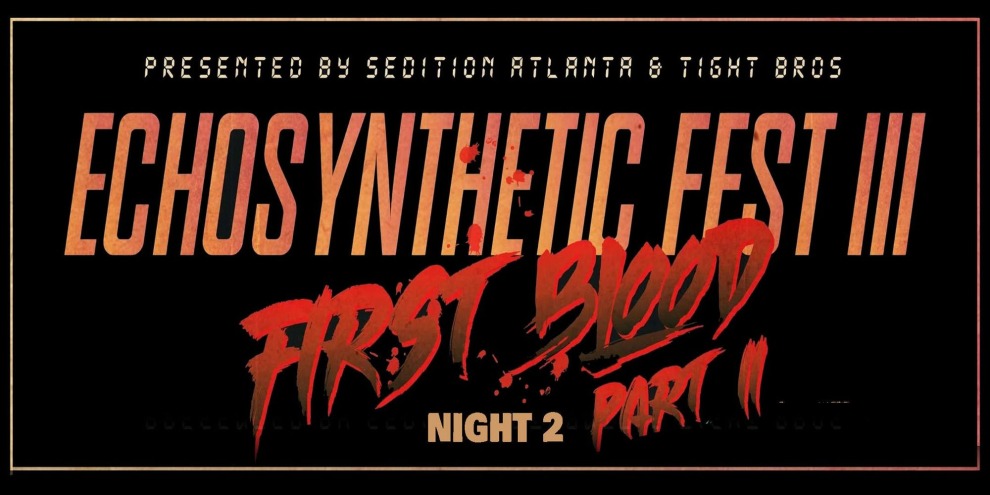 Saturday November 9, 2019 08:30 PM EST
Cost: $15-$20,
From the venue:
Echosynthetic Fest Part III: First Blood Part II
NIGHT 2
with:
GLITCH BLACK
Gregorio Franco
Watch Out For Snakes
Finite Automata
Neuron Spectre
Into the Void
Wraithwalker
GhostHost
Electronic Warbear
Date: Saturday, November 09
Location: Drunken Unicorn
Address: 736 Ponce De Leon Ave
Admission: $15 per night or $20 for both nights
Doors: 8:00 PM
After months of delays, questions about whether or not the event was going to happen at all, a venue change, a new promotion, and a whole lot of other crazy stuff, I'm happy to announce that not only is Echosynthetic Fest happening, it's bigger and better than it's ever been. Here are the details!
Echosynthetic Fest Part III: First Blood Part II will be held on November 8th and 9th at The Drunken Unicorn at 736 Ponce De Leon Ave NE in Atlanta, Georgia. The show is 21+ The Drunken Unicorn has a cash only bar (ATM on site) so keep that in mind! Doors at 8 pm both nights with the shows kicking off at 8:30, so all that crazy Atlanta traffic won't be an issue and we're not starting while the sun is still out. It also means that these acts will be moving at a steady clip so get there early because both nights are STACKED with talent. How stacked?
Night One: Street Cleaner, Protector 101, Vampire Step-Dad, Starfarer, Frisky Monkey, Acid Gambit, Unholy Rat King, and System 96
Night Two: Glitch Black, Gregorio Franco, Watch Out For Snakes, Finite Automata, Neuron Spectre, Into the Void, Wraithwalker, GhostHost, and Electronic Warbear
These two nights represent the best Atlanta has to offer in synthwave and synthpop PLUS some of the biggest names from around the country bringing their talents to Echosynthetic Fest. We've got the Street Cleaner/Protector 101 Destructure Tour meeting the Glitch Black, Gregorio Franco, and Watch Out For Snakes Dark Future Tour colliding at the show, we've got an album release party, plus some pretty serious live debuts. In short, you're not going to want to miss a minute!
Tickets are $15.00 per night or available at a major bargain of $20 for a combo deal.
Finally, if you've never been to Echosynthetic Fest, ask someone who has. It's a whole lot of fun, a great way to meet and interact with your favorite artists, and it is truly one of the most magical times of the year.
More information