ATLien Chrimus Party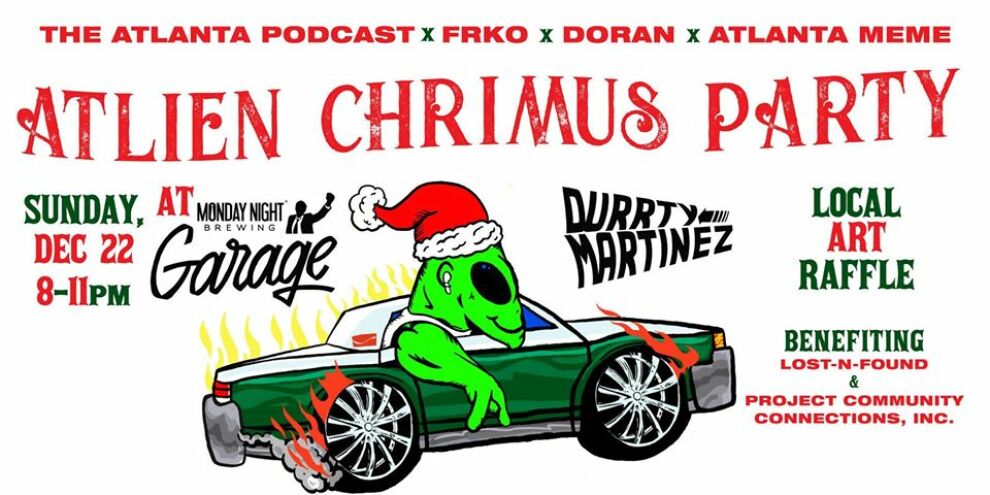 Sunday December 22, 2019 08:00 PM EST
Cost: $5-$10,
From the venue:
The Atlanta Podcast, FRKO, Atlanta Meme, & Doran have teamed up to throw a dope Christmas Party invaded by ATLiens at Monday Night Garage benefiting homeless LGBTQ youth and homeless veterans (all ticket profits will be split between Lost-N-Found and Project Community Connections, Inc.)
$10 Ticket (will include entry and 1 raffle to win an art piece created by a local artist!)
Holiday Drip ENCOURAGED!
Durrty Martinez got all the Holiday and ATL hits so get ready to dance!
Beer will be available for purchase by Monday Night Brewing!
Holiday Snacks will be available for purchase by Sublime Doughnuts and other vendors!
The Boys from Atlanta_Meme and BWT will have a merch pop-up for those last minute shoppers!
Raffled Art Pieces provided by:
FRKO, Doran, Julio Ceballos, Sun of a Witch, Scooterbeth, Chris Veal, Linda Mitchell, Catlanta, John Tindell, Joe King, Donna Howells aka 70Dot, Maniclawd, Killamari, Oofster, The Pitoto and more...
More information