Vance Gilbert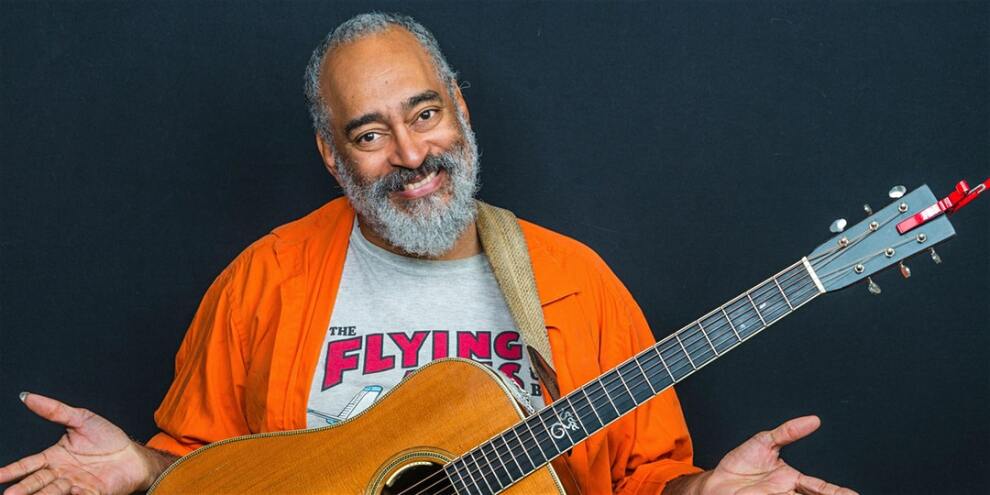 Saturday April 25, 2020 05:00 PM EDT
Cost: $15-$60,
From the venue:
Can something be wry, aching, hysterical, evocative, provocative, fun, beautifully sung, and consummately played all at once? Can it?
That'd be Vance Gilbert and his transcendent new album "BaD Dog Buffet".
With the generous assistance from a varied list of super-respected guests—including Celtic harpist/singer Aine Minogue, bluegrass boys Darol Anger and Joe Walsh Jr., jazz sax player Grace Kelly, country rock hero Roy Sludge, and guitar mainstay Kevin Barry—this talented man's musical truth plays out shamelessly on BaD Dog Buffet.
Fully funded by his fans, the record has so far received raves reviews based solely on the material folks knew would be on it Those who know and love Vance have already enjoyed the life-loving capitulation of "God Bless Everyone," the seething rocker "Nothing from You," and the tonguein-cheek, happy break-up song, "Out the Way We Came In. "First Ring" is a Vance classic, a banjo love story rooted in folk whimsy, while "Kiss the Bad Boys" sounds like what would happen if Bootsy Collins and Bruce Springsteen were trapped in an elevator and ended up writing a song together. "Unfamiliar Moon," which some may know as Vance's signature song—a tune that landed him in the second round of auditions of TV's "America's Got Talent"—is revisited here in a pared down version with Anger on fiddle.
Like all great artists, Vance truly happens live. In fact he developed his reputation with his jawdropping, diverse, funny, devastating, and gorgeous live performances. Arlo Guthrie, Anita Baker, the late George Carlin have all requested Vance to be added to their bills.
Vance exploded onto the scene in the early 90's, with buzz spreading quickly. Who was this multicultural arts teacher knocking them dead at open mics? After opening Shawn Colvin's 1992 Fat City tour, he took much of America by storm and by surprise. "With the voice of an angel, the wit of a devil, and the guitar playing of a god, it was enough to earn him that rarity: an encore for an opener," wrote the Fort Worth Star-Telegram in its review of a show from the Colvin tour.
More information