Event Scheduled
SCPC and Campus Programs Present: Once Upon a Time in Hollywood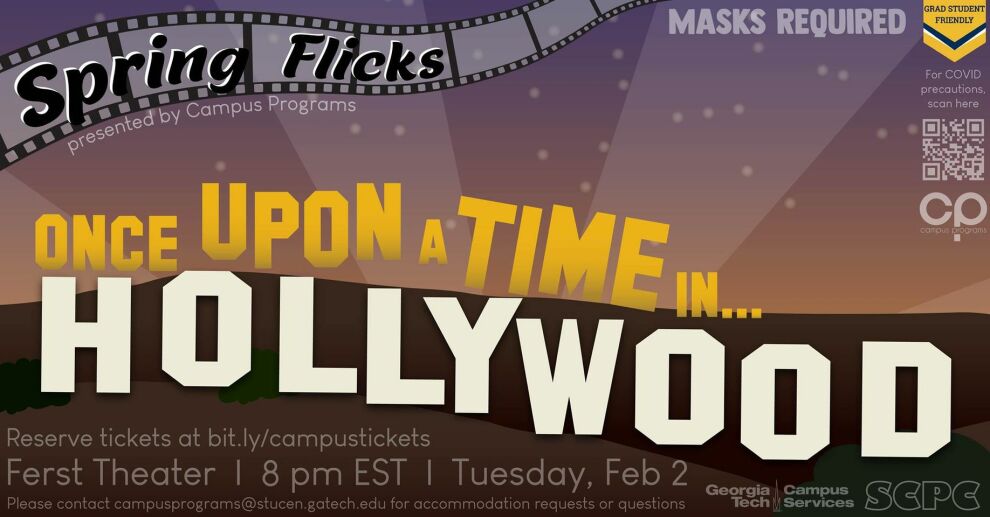 Tuesday February 2, 2021 08:00 PM EST
Cost: Free,
From the venue:
Prepare yourself for Quentin Tarantino's 9th feature film and his funniest one yet! Leonardo DiCaprio, Brad Pitt, and Margot Robbie all star in this tribute to Hollywood's golden age of cinema that you won't want to miss. Slide on your red carpet shoes and your movie star sunglasses and come on over to Ferst Theater on Tuesday, February 2nd at 8 pm!
Tickets are FREE will be available at CampusTickets
Event Details:
Date: Tuesday, February 2nd
Time: 8 pm EST
Location: Ferst Theater
Campus Programs and SCPC will be taking a number of precautions following the guidelines of both the CDC and Georgia Tech Campus Services, with the number one priority of all our events being the safety and well-being of our attendants. The following document lists the current steps we are taking to make events safer for students. However, this list may not be comprehensive, and we will continue to update it with more information as we receive additional guidelines.
docs.google.com/.../1KmnlBqYMctvEUp5IBajg.../edit...
We recommend that all attendees get their asymptomatic COVID-19 testing on campus at least 72 hours prior to attending the event. For more details, go to: health.gatech.edu/coronavirus/testing
Please email campusprograms at stucen.gatech.edu for questions or accommodation requests.
More information