Event Scheduled
Bob Moses (Club Set) | Friday October 21St 2022 | District Atlanta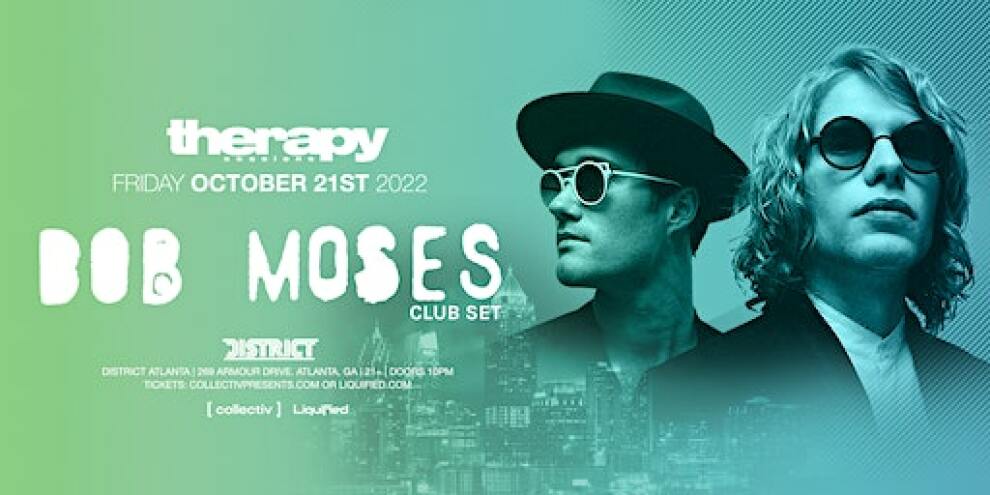 Friday October 21, 2022 10:00 PM EDT
Cost: $30 - $55,
From the venue:
The amazing Bob Moses duo are back for a very special club set!
About this event
BOB MOSES (club set)
Bob Moses, the Vancouver-bred duo consisting of Tom Howie and Jimmy Vallance, came to life in the Brooklyn underground scene in 2012. Early single releases on taste-making electronic label Scissor & Thread led to signing with Domino and the late 2015 release of their debut album Days Gone By.
Meshing guitar licks, a moody smolder and a dash of dance-floor ambience with lyrical depth and classic songwriting, the duo created a sound that appeals equally to club goers and rock music fans. Translating their sound seamlessly to the live performance realm, years of nonstop global touring – including appearances at every major festival from Glastonbury and Coachella, to EDC, Lollapalooza and beyond – cemented the duo's reputation as a must see live act.
------------------
21+ Welcome | Doors 10pm
Lots of FREE Parking
Come as you are and we will make memories together
Limited amount of tickets available.
There is plenty of free parking along the street if you arrive early, but we suggest Uber & Lyft if you're planning to have a drink.
Tags
United States EventsGeorgia EventsThings to do in Atlanta, GAAtlanta PartiesAtlanta Music Parties
Share with friends
Share on Facebook
Share on Facebook Messenger
Share on Linkedin
Share on Twitter
Share by Email
More information