Event Scheduled
Spring Family Flick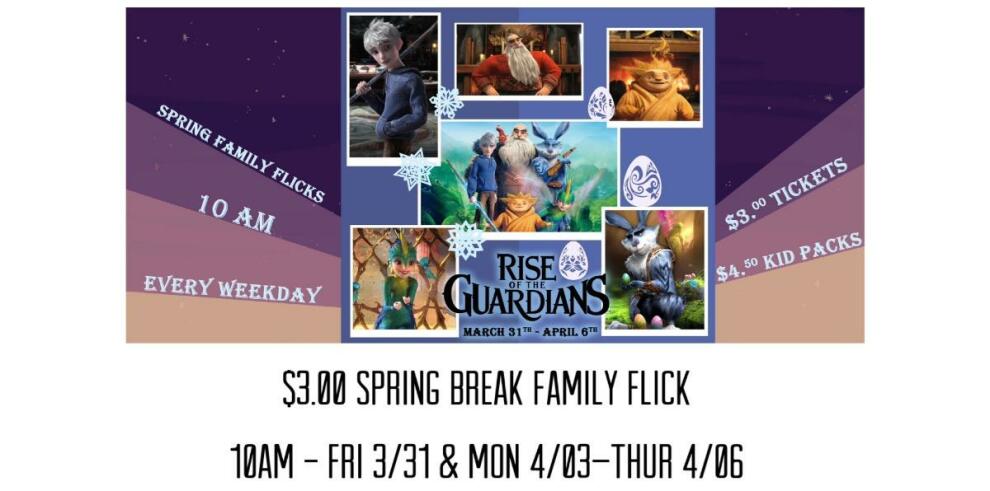 Friday March 31, 2023 10:00 AM EDT
Cost: $ 3.00,
USER SUBMITTED
From the venue:
Categories: #Movie #Cinema #KidMovie #ChildsFilm #FamilyFilm #Animated #AuroraCineplex #Roswell #RoswellGA #Spring Break #Entertainment
$ 3.00 Spring Family Flicks --THE RISE OF THE GUARDIANS ( PG)
playing at Aurora Cineplex for Spring Break :
Playing at 10amFri March 31st, & Mon April 3rdThur April 6th
Popcorn Snack Pack deals- $ 4.50
Plus Add a Game of Mini Golf--$ 5.00 for one course ( 18 holes) to play after the movie!
Tickets go on sale Wed 3/29 at Fandango.com--https://www.fandango.com/aurora-cineplex-aawea/theater-page

RISE OF THE GUARDIANS ( PG) Dreamworks Animation film from 2012--Join the adventure with Jack Frost, the Easter Bunny, Tooth Fairy, Santa Clause, and the Sandman.
Voiced by: Chris Pine, Jude Law, Isla Fisher, Hugh Jackman, and Alec Baldwin.

Location--Area 51: Aurora Cineplex and The Fringe Miniature Golf
5100 Commerce Parkway, Roswell, GA 30076
ph: 770-518-0977
www.AuroraCineplex.com
Follow us at: https://linktr.ee/auroracineplex
Extended Spring Break Hours for Movies & Mini Golf--
10am-10pm daily Fri March 31st-- Sat April 8th
10am-8pm--Easter Sunday April 9
More information