Undiscovered Artist Showcase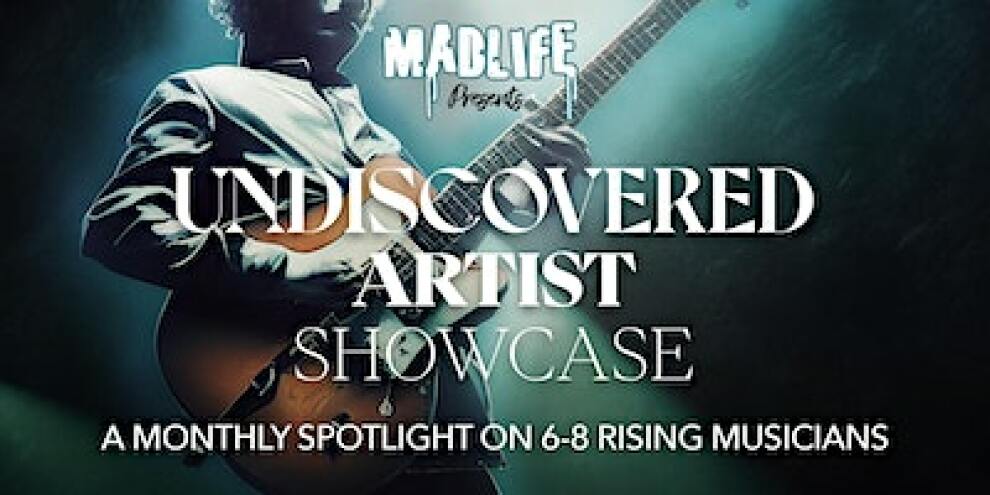 Tuesday November 14, 2023 07:30 PM EST
Cost: $10.00
From the venue:
What is the Undiscovered Artist Showcase?
MadLife Stage & Studios 'Undiscovered Artist Showcase' is an evening dedicated to local and regional artists, aspiring and professionals alike, giving them the opportunity to take our stage and present their performance and songwriting talents to an audience comprised of people who truly appreciate musicians, original music and live performances.
MadLife typically features 6-8 undiscovered artists for each Undiscovered Artist Showcase.
The 'Undiscovered Artist Showcase', is an event for solo songwriters, vocalists and 2-3 piece acoustic bands. Artists need to apply to perform at the Undiscovered Artist Showcase, and performers are thoughtfully curated by MadLife's local artist development and relations manager. The performance schedule is predetermined by MadLife.
Come on out for MadLife's Undiscovered Artist Showcase and proclaim your support for local and original musicians!
Undiscovered Artists Performing:
Carly Glisson Lyon
Ransom Griggs
N eutra-Ground
Jack Boyanton
Ashley Carson
Jeannie Caryn
Paige O'Neill
Joshua Burdge
Brent Nickolaus
VENUE INFORMATION:
All ticket holders are able to order food and drinks during the event. Standing Room Ticket holders generally place their orders with the venue bar staff. Main Floor Reserved Table and VIP Balcony Table ticket holders are served by MadLife's friendly wait staff throughout the event.
Refer to the seating map below for a layout of the venue for this show. Please note the table arrangement is subject to change and not all tables may be available.
If You Wish To Select A Specific Reserved Table:
Holders of VIP Balcony and Main Floor Reserved Table tickets have the ability to select any available reserved table from the moment their tickets are purchased, up until 30 minutes BEFORE doors open to the event (i.e. if doors are at 6:30, cutoff time for selecting a reserved table would be at 6:00). Tables can be selected EITHER at the Box Office or by contacting the Box Office during its hours of operation at (678) 384-2363 ext. 1. Please note that tables cannot be selected online for this show and if you do not select a table, MadLife will select one for you. Selecting a table is not required, but is an option available.
For any wheelchair or ADA needs, please contact the Box Office in advance of the event at (678) 384-2363 ext. 1.
Please Note: Ticket Prices May Increase At Any Time
For any other questions regarding the event or tickets, please contact the Box Office during its hours of operation at (678) 384-2363 ext. 1.
Box Office hours of operation are Wednesday-Saturday 5:00 PM - 9:00 PM.
More information