Stankonia Studios
From the outside, the industrial complex and former home of Bobby Brown's Bosstown Recording Studios on Antone Street doesn't look like much. But this particular street was once known as "studio row." OutKast recorded its best work here with Mr. DJ, who still works out of the space with other hip-hop talent.
Tuesday March 24, 2020 08:00 PM EDT
Categories: HIP HOP I BEAT DAILY THE OFFICIAL PRODUCER BATTLE TO BE HOSTED AT THE LEGENDARY STANKONIA STUDIOS IN ATLANTA,GA. THIS IS THE BIGGEST AND MORE COMPETITIVE COMPETITION FOR MUSIC PRODUCERS! 16 PRODUCER WILL GO BEAT FOR BEAT FOR A CASH PRIZE, A&R MEETING, CHANCE FOR A TRIP TO LA DUR... [
click here for more
]
USER SUBMITTED
Saturday December 8, 2018 06:00 PM EST
BMB Entertainment will present "Welcome to the Lab", an elite listening event and performance showcase at Stankonia Studios in Atlanta on Saturday, December 8th at 6pm-10pm. The VIP event will feature BMB's current roster; including resident royalty Brooklyn Queen who's hits "Emoji" and "Keke Taught... [
click here for more
]
USER SUBMITTED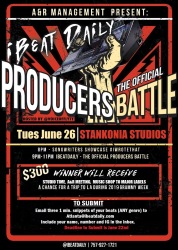 Tuesday June 26, 2018 08:00 PM EDT
"I Beat Daily" The Official Producers Battle. The competition will take place Tues. Junes 26 at the Legendary Stankonia Studios. To Submit for "I Beat Daily" email 3 tracks (we prefer of different genres), along with your name, number, and email address to atlanta at ibeatdaily.com. The deadline is ... [
click here for more
]
USER SUBMITTED
CL RECOMMENDS
677 Antone St. N.W.
Atlanta
,
GA
30318
(404) 355-2121
facebook.com
Recording Studio
Hours
Monday: 10:00 AM – 7:00 PM
Tuesday: 10:00 AM – 7:00 PM
Wednesday: 10:00 AM – 7:00 PM
Thursday: 10:00 AM – 7:00 PM
Friday: 10:00 AM – 7:00 PM
Saturday: Closed
Sunday: Closed