The Bakery
website: The Bakery is a collective of creative thinkers aligned around social justice principles, environmental concerns, and the belief that art is pivotal to existence. We utilize and critique technology as it changes the human landscape while providing resources to emerging artists. Our previous space was unified around a DIY ethos which we carry with us into future projects. We keep community building at the core of what we do. We envision an Atlanta that supports the emerging, DIY, and underground arts as it grows, both locally and throughout the Southeast region.
Following the early shuttering of 825 Warner Street due to COVID-19, we were happy to end 2020 with plans for a new project! Graced with two new commercial spaces, The Bakery announced the opening of our East Point and South Downtown locations.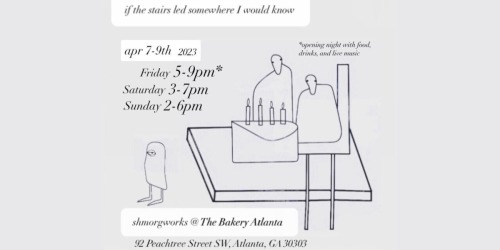 Friday April 7, 2023 04:00 PM EDT
A solo exhibit by L.Morgan on view April 7th-9th at The Bakery South Downtown.
Happens on the following Dates: Apr 7, 2023, 4:00pm to 9:00pm CDT Apr 8, 2023, 3:00pm to 7:00pm CDT Apr 9, 2023, 2:00pm to 6:00pm CDT
[
click here for more
]
USER SUBMITTED