See our
guide to COVID-19 in Atlanta
(this page last updated )
Cremalosa
CREMALOSA: This caramel ginger- bar sundae should inspire anyone anywhere to drive to Decatur.
Website: Welcome to Cremalosa: handmade, artisanal gelato, spun in small batches every day, with the expertise of Italian technique from Owner-Operator and local food writer Meridith Ford. At Cremalosa, she brings a special touch to age-old Italian methods, creating sweet frozen treats of powerful American flavors inspired by the Southern cakes, cookies and candy bars she grew up with. Grab the pooch, your kids, your main squeeze, the in-laws - heck, bring the whole family!
CL's Cliff Bostock Recommends: Here's the place I haven't been that I most want to visit. It's operated by Meridith Ford, formerly dining critic for the AJC. It's already won just about every "best of" competition around. The shop churns out 9 or 10 gelato flavors daily and two seasonal sorbets. I want to put my head in a gigantic vat of the Mascarpone and Caramelized Fig but I wouldn't pass on the Butterscotch Macadamia Brittle. — CB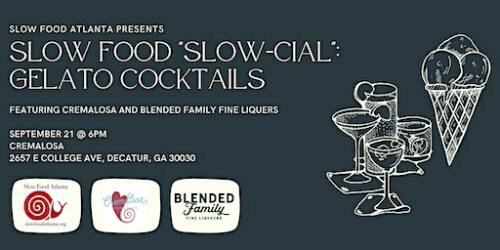 Wednesday September 21, 2022 06:00 PM EDT
Join us on September 21 from 6-7:30 p.m. for Blended Family Spirits cocktails with Cremalosa gelato.
About this event
This "slow-cial" (Slow Food social) will feature cocktails with gelato (with non-alcoholic/non-dairy options) with alcohol from Blended Family Spirits. We'll hear from Meredith... [
click here for more
]
2657 E College Ave Suite B3
Decatur
,
GA
30030
(404) 578-2739
cremalosa.com
Ice Cream Shop
COVID-19
Hours
Monday: Closed
Tuesday: Closed
Wednesday: 2:00 – 8:00 PM
Thursday: 2:00 – 8:00 PM
Friday: 2:00 – 8:00 PM
Saturday: 1:00 – 8:00 PM
Sunday: 1:00 – 8:00 PM