The B-52's: Welcome to Cindy Wilson's love shack
Athens queen bee(hive) returns to keep the party going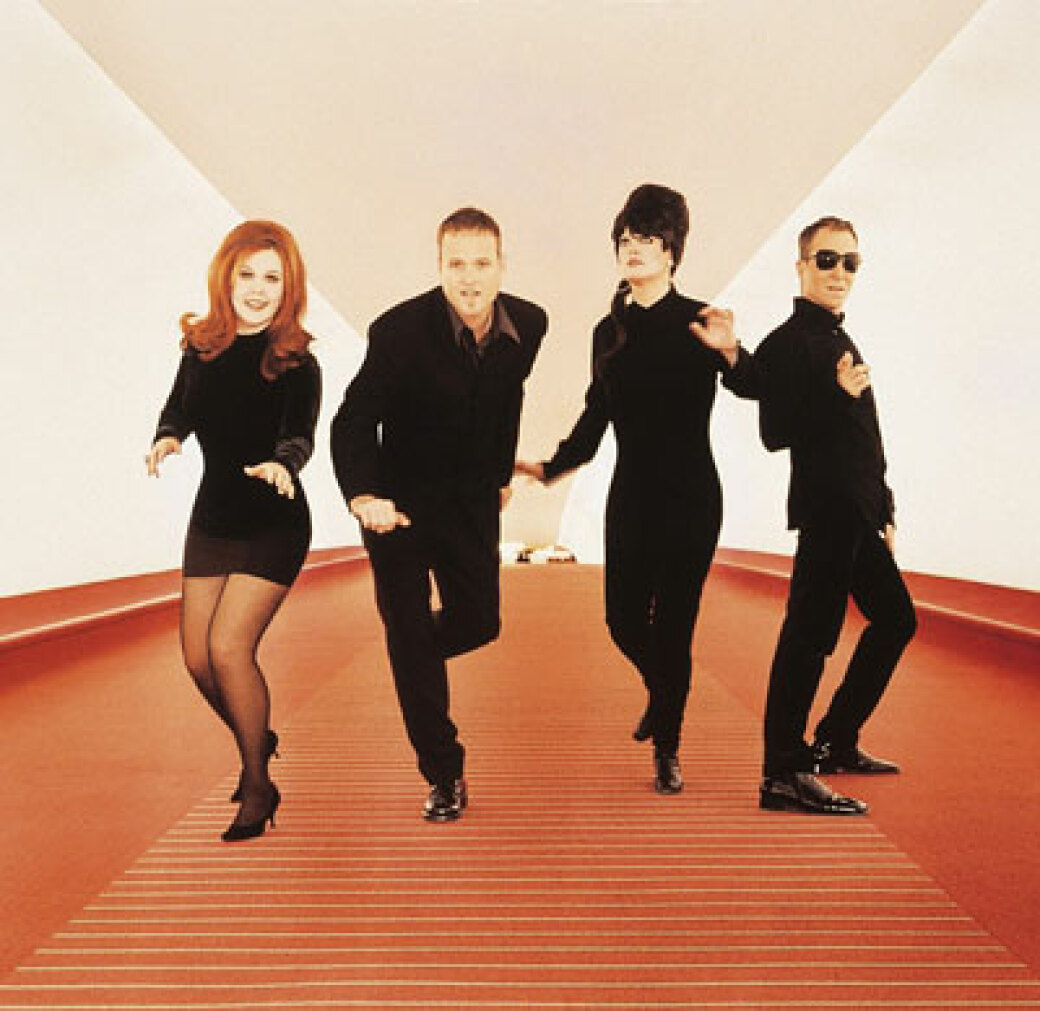 ICON-O-CLASSIC: Cindy Wilson (top, third from left) and the B-52's get their groove back, circa 2005
"We're gonna listen to the new record," says Cindy Wilson excitedly, only moments after greeting her visitor at the front door of her north Atlanta home. As a member of the Athens-born art project called the B-52's for the past 30 years, the pop icon is instantly recognizable as the bewigged, bewitching, big-eyed blond blend of Nancy Sinatra's sensual purr, Lene Lovich's serrated new-wave yelp and Yoko Ono's angular, art-damaged attack.
Tonight, however, she's in subdued, domestic mode; there's no towering beehive over her long, straight hair, and instead of an outrageous dress she's in a tasteful top and pants. She resides in comfy suburbia with her family, the role she originally left the band for in the early 1990s, only to return to the fold a few years later. Safely away from the scores of rabid fans who squeal with delight whenever she spouts "Love Shack's" famous "tiiin roof – rusted!" break, she's relaxed and positively glowing with the anticipation of playing the new album from the B-52's.
And it is a big deal, arriving 15 years after the release of the Cindy-less Good Stuff and a whole generation since her last full studio recording on 1989's Cosmic Thing. Fans anxious to hear the new music will get a sneak preview during the group's current tour, which stops in Atlanta at Chastain Park Aug. 1. "It's the best thing we've ever done," Cindy enthuses as she retreats to the memorabilia-lined basement of her spacious home, disc in hand. Her children are busy watching cartoons, playing computer games and teasing their hyperactive dog as her husband, artist/musician Keith Bennett, drops the CD into a player behind the bar.
Hearing artists say their newest album is the best thing they've ever done usually elicits a healthy measure of jaded skepticism in this writer, having endured the unwarranted glee of countless hopeful musicians since around the same time the B-52's first appeared on "Saturday Night Live" in 1980. But even with a proper game face on, it's hard to ignore Wilson's childlike delight as she curls up barefoot on the couch while the throbbing dance track "Pump" fills the room.
After each song, she giggles proudly, and her unbridled enthusiasm is undeniably contagious. The 12 songs alternately pulse and rock with a thoroughly modern sheen, thanks to in-demand producer Steve Osbourne (KT Tunstall, U2), the signature sound of the band balancing insistent dance-club grooves, and Keith Strickland's inventive guitar flourishes and goofy pop-culture narratives.
The vocals from Wilson, Fred Schneider and Kate Pierson are playful, sinewy and dynamic. The material is sassy, hooky and kitschy. And the whole thing sounds remarkably like it could be a lost project from sometime in the late '80s, yet it doesn't rely on tired retreads or obvious rip-offs from the past.
Standouts from the first listen include "Funplex," "Juliet of the Spirits," the anthemic "Hot Corner" and "Let's Keep This Party Going On." Overall, there seems to be at least five strong-enough-to-be-hit singles. The rest are well-crafted album cuts with no obvious filler. It could very well become the band's best-received album of its career – if it's properly promoted and heard.
And that's an "if" Wilson is acutely aware of.
"This is the worst time in the world to put out a record," she sighs, surrounded by an impressive collection of band-related artifacts, oddball knickknacks, '60s collectibles and awards. "We should have our heads examined for even trying to do something new the way things are now, but that's just the way it's happened." Half the album was recorded at John Keane's studio, she says, not far from the spot the band debuted on Valentine's Day 1977. "We'd recorded in the Bahamas but never in Athens," she continues. "There's an 'Athens vibe,' even though it's changed so much over there. I think it's the magical kiss we needed."
But why did it take so long? "Everybody's in a different city now. It's not like we all lived in New York, like when we did Cosmic Thing." Over a four-year period, the B-52's met in various locations, often in Atlanta, and collaborated during intense, three-day writing sessions.
As her son gently requests a bedtime story and the dog hops on the couch with a slobbery chew toy, she adds, "We're bringing everything that's happened to us in 30 years to this record. There's a maturity to it, but we're not about to grow up. It's still us, you know."
Since the music exists only as a completed master with no cover art, title or distribution deal, the only way fans can hear the new songs is live on tour, mixed in with the hits. "This summer we're taking it out on the road, doing about half of [the album], to see the crowd reaction. So far it's been great, people really like all the new songs."
With a new album currently being shopped to labels, and a busy summer and fall tour schedule ahead, it'd be easy to call the B-52's new wave of activity a comeback, but don't. Wilson says it's far more personal than that. "It's like a 'Here, [a] present,'" she concludes as she leads her kids off to bed, "Or, with the new songs, it's like 'Here, here's a present.' It's a party."
 
The B-52's
w/ Variac. $21.36-$63.48. 7:30 p.m. Wed., Aug. 1. Chastain Park Amphitheater. 135 W. Wieuca Road. 404-733-5000. www.classicchastain.com.
Rating: 4