InCrowd's authentic rock and soul
Black Linen songwriters revive traditional sounds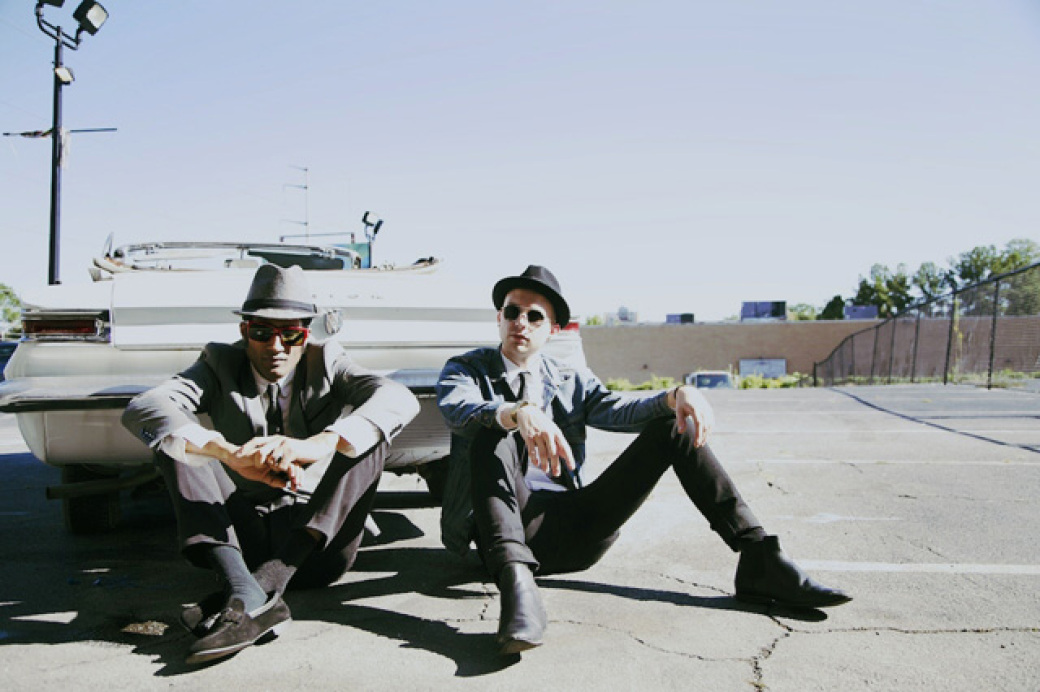 OFF ROAD: InCrowd's Randy Michael (from left) and Jonah Swilley prefer creating new sounds in the studio to chasing a record deal.
Randy Michael is best known around town for his mastery of '60s pop musical stylings. The late-aughts band that established his name as a songwriter and guitarist, the Booze, was heralded by critics for evoking the Rolling Stones' early embrace of rhythm and blues. Michael's post-Booze musical ventures have included following the lead of Quentin Tarantino soundtracks with the group Black Linen.
Armed with a home studio equipped to record tracks in one take and a right-hand man in Black Linen bandmate Jonah Swilley, younger brother of Black Lips bassist Jared, Michael has a new vehicle for creating classic-sounding tunes in nascent production company InCrowd. This new venture finds Michael and Swilley writing songs not for their own bands, but for soul singers and seasoned jazz musicians involved for the love of music instead of immediate financial gain.
The duo has poured long nights this summer into writing and recording songs dripping with authenticity for soul singers Mattiel Brown and Ruby Woo. "Jonah and I, we do this every day," Michael says of the duo's production company. "We only focus on Black Linen when we have a show coming up. If we're not cutting a Mattiel record, we're cutting a Ruby Woo record."
Michael and Swilley both have the drive to write music for both singers' classic soul lyrics. They have also formed their own in-house band of jazz musicians, creating a modern Atlanta equivalent of Los Angeles' Wrecking Crew — the legendary collective that played on scads of hit singles, including the Beach Boys' "Good Vibrations" and the Righteous Brothers' "You've Lost that Lovin' Feelin.'"
When drummer Jordan Manley joined Black Linen earlier this year, Michael and Swilley's new bandmate introduced them to his other band, jazz outfit Metronome. These seasoned players joined the InCrowd in May, giving the burgeoning production team a steady lineup. Fixtures at InCrowd recording sessions include percussionist Kasufhetep, organist Maurice Fisher, bassist TJ Merritt, and guitarists Dylan Cornell and Josh Longino. There's even a horn section on hand to add authenticity to the proceedings, featuring tenor saxophonist Nate Myers IV, alto saxophonist Juran Ratchford, trombonist Wilbert Williams, and trumpet player Robert Harrington.
Before each song is recorded live, Michael and Swilley record a rough cut that serves as a guide for the house band. "We record a skeleton with me on guitar and Jonah on drums earlier in the day, and they fill in that skeleton," Michael says.
Everything about an InCrowd session looks and feels like it could have happened 50 years ago. The crew records in a living room filled with vintage furniture and framed copies of some of Michael's favorite '60s compilation albums — emblematic of the sounds being channeled into Black Linen numbers such as "Mental" and "A Song For Josie," or InCrowd's "Bye Bye" with Mattiel and "Never Met A Man" by Ruby Woo. Even Michael's mixing board is an antique — a Peavey console from Japan he says was discontinued in 1971. Aside from modern-looking musical instruments, the whole setting could have been excavated from a time capsule.
A throwback approach and antique equipment aside, InCrowd thrives in the 21st century. Michael and Swilley see modern technology as an ally in their mission to record and release throwback soul and rock. InCrowd will soon issue digital releases of its recordings, because few neo-soul vocalists seem to grab the attention of independent labels. "We are going to put out records no one else wants to put out," Michael says. "If you are a punk band, it's not hard to get someone to put out vinyl. I've been in bands all of my life, but no one person has ever said, 'Hey, can I put your 7-inch out?'"
So far, InCrowd has uploaded tracks by Brown and Woo to its Soundcloud page and recorded a recently released solo EP by Myers, its own tenor saxophonist, via iTunes. The latter is a collection of instrumental jazz that captures the InCrowd house band's improvisational skills. A digital version of the long-awaited first Black Linen album, White Noise, will follow on Sept. 10. Michael wants to release vinyl, though digital is the most cost-effective way to distribute InCrowd's initial batches of recordings.
While their peers focus on 7-inch singles and tours, Michael and Swilley's version of DIY involves the revisiting of a pop era defined by legendary songwriting pairings and studio musicians. However, such throwback leanings don't mean the duo is chasing the past. To the purists involved in InCrowd, the recording methods at play are not old school or new school — it's simply how rock and soul should be made.