Soul Power's R&B rumbles in the jungle
Zaire '74 concert film offers a backstage pass to an overlooked musical event
Jeffrey Levy-Hinte's concert film Soul Power can be viewed as the warm-up act to the Oscar-winning 1996 documentary When We Were Kings. In Kings, Leon Gast chronicled 1974's famed "Rumble in the Jungle" between Muhammad Ali and George Foreman in Zaire (now Congo). An African/African-American musical festival was scheduled to coincide with the heavyweight bout, but after Foreman suffered a minor injury, the show went on as planned, even though the boxing match was postponed for six weeks.
Superb interviewees such as Norman Mailer, as well as the always arresting Ali, make When We Were Kings an electrifying sports movie. The "Zaire '74" concert now serves as a kind of a footnote to the match, but the 35-year-old concert footage and behind-the-scenes moments make Soul Power feel like a backstage pass to a now overlooked musical event.
Soul Power includes an impressive lineup, headlined by James Brown. Brown opens and closes the film with blistering performances that confirm his title as "the hardest working man in show business." Highlights from American performers include B. B. King's "The Thrill Is Gone" and Bill Withers' deeply felt "Hope She'll Be Happier." A jam session on the transatlantic flight from America to Africa suggests that, for the musicians, the concert serves as a cultural exchange program for musical forms with common ancestry. Miriam Makeba's effusive rendition of "The Click Song" (whose original title defies English translation) offers a particularly winning example of African pop. Celia Cruz and the Fania All-Stars even give salsa time in the spotlight.
Soul Power's early scenes reveal some of the logistical headaches of financing and staging a multinational music festival, but capture no Spinal Tap-worthy disasters. Soul Power doesn't really have a protagonist, so the music film's most magnetic personality, ironically, turns out to be Ali. His trademark gift of gab combines self-aggrandizement with stirring arguments for black power. He argues that it's his responsibility to fight for civil rights because "God has made me bigger than all entertainers in the world. God has made me bigger than all athletes in the world."
Soul Power gives audiences a fly-on-the-wall point of view of African-American artists mingling with star-struck Africans and implicitly reconnecting with their roots. Levy-Hinte misses an opportunity by providing no present-day interviews with the musicians, who surely would have stories to share. While Soul Power's artists offer relatively little reflection, they unquestionably let their music speak for itself.
More By This Writer
Friday July 2, 2021 09:22 am EDT
'Zola' turns viral Twitter thread into stylish cinematic nightmare |
more...
Thursday June 3, 2021 11:45 am EDT
Major motion pictures make comebacks — here's a list of what to expect in Atlanta theaters |
more...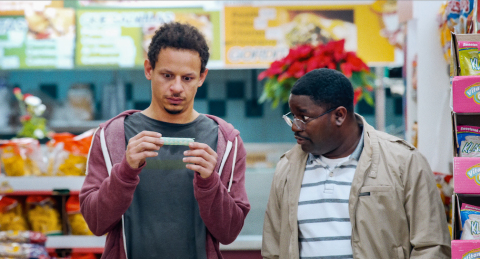 Wednesday May 5, 2021 10:27 am EDT
Unsuspecting Atlantans prove to be the real heroes of the hidden-camera comedy |
more...
Tuesday April 6, 2021 11:24 am EDT
45th Atlanta Film Festival brings world cinema close to home |
more...
Wednesday March 3, 2021 04:31 pm EST
Does it take a pandemic to make the Academy Awards more diverse? |
more...
Search for more by Curt Holman