The Blotter: Laced too tight?
A 33-year-old man wearing a corset and stockings strolled into a Midtown grocery store, selected a single red apple, and then stood in line to pay for his fruit. Another customer reportedly asked the man to cover up. Outraged, the man unleashed some choice words and was asked to leave the store. The man said he would calm down. His calm reprieve didn't last long, though. Suddenly, the man started randomly cursing at various customers. "Fuck y'all," he said. "I got money, motherfuckers, you just want me locked up." A cop carted the corset-wearing man to jail on a disorderly conduct charge.
No photo finish
In West End, police noticed a man spray-painting a wall on Murphy Avenue and warned him it was illegal to spray-paint private property. During the chat, a boozy woman walked up to the group carrying a Yuengling beer can. The woman snatched the paint and began spray-painting the letters "B" and "U" on a wall in front of the officers. The boozy woman laughed hysterically while cops handcuffed her and then gave the officers a fake name. The woman then apologized for being drunk and acting like — her words — an "ass clown."
"While in custody, [the woman] asked if I could take pictures of her and text them to her so she could have them for a good story on her social media," a cop noted. The cop refused to indulge her photo-in-handcuffs request. The woman, 41, seemed disappointed. Perhaps her mug shot will suffice.
Condiment uprising
In Southeast Atlanta, a 30-year-old woman returned home to grab things she needed while relocating from her old apartment. Once inside, she discovered a massive mess. "The kitchen had butter smeared all over the walls, ketchup sprayed all over the floor, powdered [cocoa] poured all over her baby's clothes on the floor, and seasoning spread throughout the kitchen," a cop noted. "The master bedroom upstairs had seasoning poured all over the dresser and the mirror."
The woman's kitchen door was shattered and wide open, and her once-full refrigerator was completely empty. Who led the condiment revolt? The woman said she doesn't have any obvious enemies or spurned lovers seeking revenge.
Metadata meltdown
A man freaked out inside his apartment near East Point and refused to let medics touch him. The man "was angry and accusing AT&T, Comcast and Grady medics of working with the federal government to experiment on him and cut him off," a cop noted.
"You better make them leave!" the man hollered, pointing at the medics.
"Are you threatening them?" the cop asked. "What are you going to do?"
There was a long pause. Eventually, the man said he'd just go back to his apartment and lock the door.
Next, the man requested a police background check to see if anything would bar him from buying a gun. "He did not come back with any warrants but is listed as Denial for a driver's license," the cop noted.
The man's paranoia surged. "He said he didn't feel safe and stated that he paid $8,000 for a phone bill because the federal government was messing with his email," the cop noted. "He said they shut off his [internet] data, but his data was on while on scene. He states that's because I was there, implying that the federal government or AT&T turned it on for him."
The man's desire for a gun and his "clear paranoia" were very alarming, the cop noted. "He states that Comcast trucks, AT&T trucks and the federal government keep coming by his house and that his neighbors are spying on him and taking peeks at him." Still, paranoia is not illegal. Since he refused medical help, cops left the man, 43, to freak out at home.
Random regrets
A 42-year-old man found a bizarre letter with a dog photo on his front porch in Midtown. "The person was making an apology for their behavior," a cop noted. "They explained that their dog was killed by unknown means about eight months ago." The letter was signed, but the man didn't recognize the writer's name. No suspects.
Items in the Blotter are taken from actual Atlanta police reports. The Blotter Diva compiles them and puts them into her own words.
More By This Writer
Thursday July 1, 2021 01:36 pm EDT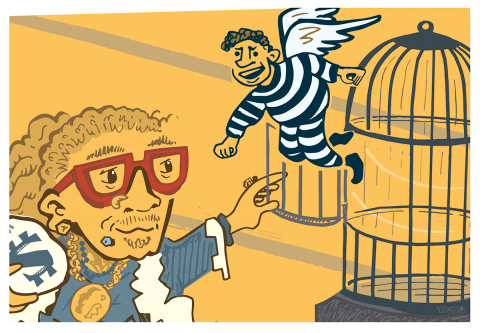 Wednesday June 2, 2021 06:26 pm EDT
Tuesday May 4, 2021 07:40 am EDT
Monday April 5, 2021 11:35 am EDT
Monday March 1, 2021 03:29 pm EST
Search for more by Lauren Keating
---