Zipporah Thompson brings celestial vibes to her new Whitespec solo show, Dark of the Moon
Zipporah Thompson investigates self and black identity with a new show at Whitespec.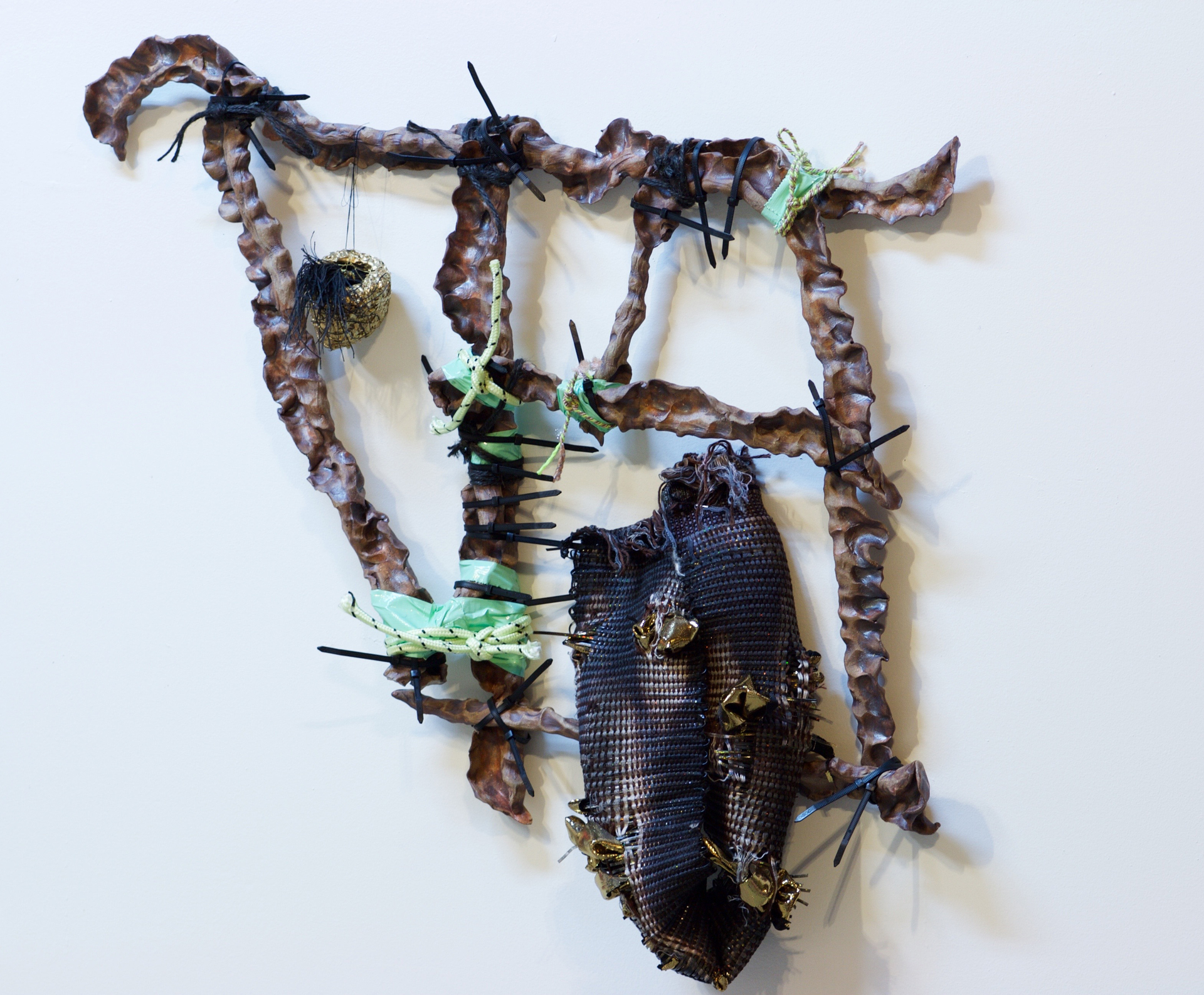 Athens-based artist
Zipporah Thompson
explores death, chaos, and space in her new exhibition,
Dark of the Moon
, at
Whitespace Gallery
's Whitespec. Thompson, a visual artist and sculptor, has previously shown her work at the Georgia Museum of Art, the Zuckerman Museum Art, among others. She's currently a 2015 Hambidge Center Fellow.
Here, Thompson talks to CL about working with multiple textures, cosmic chaos, and the concept behind her new show.

Tell me about Dark of Moon and the concept behind it.

Zipporah Thompson: I'm truly excited to exhibit Dark of the Moon and to present this series of new work! The show is inspired by moonscapes, and more specifically by the dark phase of the moon — which is believed to be a transitional time marked by the death of the old and the birth of the new. The work explores the rhythmic ebb and flow of the lunar phases and serves as a parallel to the alchemical, metamorphic connections between past, present, and future, as well as connections between physical and metaphysical landscapes. I am also investigating self and black identity through inquiry into the dark, the unknown, and the sublime terrain of the dark moon and cosmic landscape. The works from Dark of the Moon are a compilation of these ideas and combine various media and concepts into sculpted, collaged hybrids.
This exhibition seems mostly focused on dreams and celestial forces. How do you approach a piece, as far as your creative process, with the theme in mind?
Z.T.: Dark of the Moon is indeed focused on dream worlds and celestial forces, although the work is also a continued exploration of death and chaos. During this particular phase of the moon, there is a short period of absence of the moon, the loss of light, and with it, the death of old things in order to pave way for new. This cosmic chaos is interpreted in the work and explored as a means of trying to make sense of the unknown.
I've found that after I've researched a given set of ideas thoroughly, only then I am able to freely and most successfully create. I tend to think of my practice similar to that of a scientist (and at times, a rather mad one), or to that of a chef. In another life, I'd also like to think of myself as an archaeologist, collecting my way through life, piecing and observing fragments, cataloguing, preserving, and holding dear to me the things I find most beautiful.
You used a wide range of materials in those collaged hybrids, from fibers to dyes and clay. What materials did you choose for this particular exhibition?

Z.T.: As you can tell, I really like to mix materials as much as possible. I'm a sucker for juxtapositions in texture and material properties, e.g. hard with soft, craggy with slick, etc. For this exhibition, I've really continued with those aspects of my practice. I've primarily included ceramic fragments, dyed rope, cardboard collages, hand-woven fragments, and a collection of various artifacts. There are a few foraged and reused materials, including trash bags and cardboard. The work in one way or another typically always involves materials with heightened tactility. Also those that blur the lines between found and created, old and new, beautiful and grotesque. Ordinary, abject materials are transformed and find new existence.
With so many different layers, how do you know when a piece is done?
Z.T.: I don't know that I ever truly know when a piece is done. Many times the nature of my work allows me to revisit, to re-piece, and to rework the individual elements. I will say, however, that for me something typically resonates between the work and myself as artist and creator. This something is powerful and it radiates from the work to let you know that your job is complete.
Check out the opening of Thompson's Dark of the Moon at Whitespec Fri., Jan. 8 from 7-10 p.m.