Omnivore - Five courses for New Year's
You'll never guess where we went for dinner New Year's Eve.
La Pietra Cucina, of course. Chef Bruce Logue prepared a five-course menu of his "progressive" Italian dishes. Among them was a third course of risotto with shellfish (above) and a fourth of braised American buffalo shortribs with fregula and kale (right).
The first course was roasted chestnut crema with seared scallops and porcini dust. The second  was house-made cotecchino sausage with Umbrian lentils and quince mostarda. The dish represents good luck and money.
Our friends Brad and Eric, the part-time residents of Rome, said Logue's cotecchino demonstrated the way his cooking deviates from heavy Italian style. While the sausage — creamy and fatty --  is a classic New Year's dish, they said Logue's version was far lighter than the cotecchino they've eaten in Rome. "If you ate this much of it in Rome, you wouldn't be able to eat another thing," Brad said.
I'll take his word for it. Still, after a dessert of warm panettone with amarena cheries and Sicilian pistachio gelato, I was in an altered state — I think you call it "bloated" — and could hardly wait to get home and expand for the New Year.
More By This Writer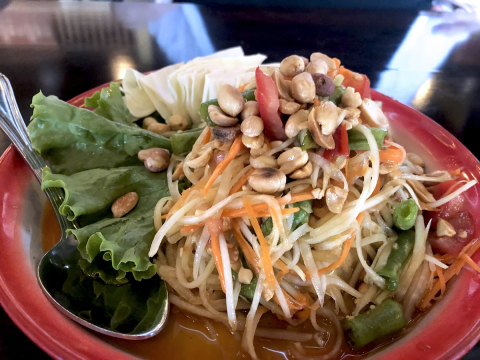 Thursday July 1, 2021 02:12 pm EDT
From Buford Highway to Chattahoochee Avenue — that's a lot of territory, indeed |
more...
Thursday June 3, 2021 09:53 am EDT
Lunch at El Viñedo Local, dinner from Krystal, lecturing cheap tippers, exploring new foodie media |
more...
Monday May 3, 2021 12:42 pm EDT
Grazing surveys some Atlanta hot dogs |
more...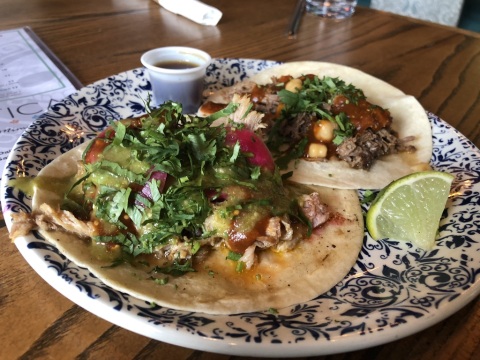 Tuesday April 6, 2021 01:32 pm EDT
The borderless menus of Botica and Mukja |
more...
Thursday March 4, 2021 10:01 am EST
And a cheap fix you can buy right off the shelf |
more...
Search for more by Cliff Bostock