Opinion - Metro Atlanta's homeless strategy gets overhauled
The end of the Tri-J and birth of an uncertain silo approach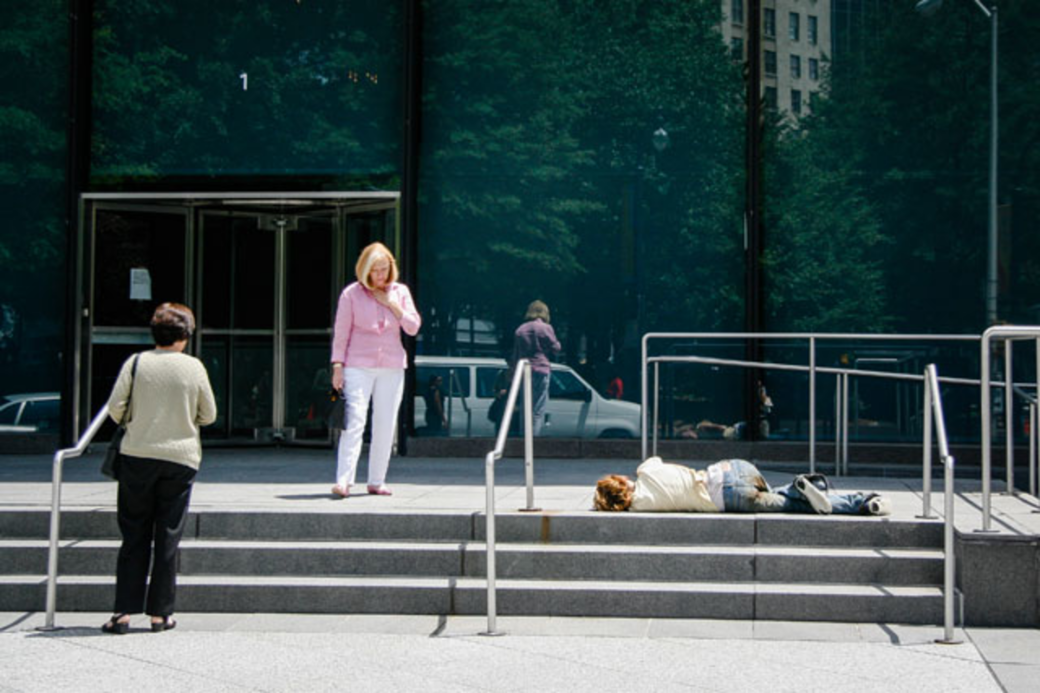 "There's no love in Atlanta," says Laverne, a 50-something Florida native, as she sits on a ledge across the street from City Hall on a recent Friday in April. Parked next to her is a shopping cart packed with neatly folded blankets and plastic bags to store laundry.
To her right is Warren, a 52-year-old Atlanta native who says he doesn't want $1 million, "just a place for my family." He's living on the streets and searching for permanent housing while his wife bunks with relatives. That night, the two would most likely join other homeless people sleeping near state government buildings in an alleyway behind Central Presbyterian Church.
They will soon need to find another place to rest their heads at night. On Monday evening, CPC voted to install a fence and block access to the alleyway due to growing safety and sanitary concerns. In a few months, two shelters are scheduled to close. More bad news could follow.
Recently, the largely overlooked network of nonprofits and government officials that try to reduce homelessness in metro Atlanta have had little reason to celebrate. For various reasons, local governments have embarked on an uncharted path and started working in silos — an unlikely approach to a problem that doesn't respect borders. Let's hope the strategy pays off.
Last year, the Tri-Jurisdictional Collaborative, which included Atlanta and Fulton and DeKalb counties, dissolved. The group had worked together to request federal funding for local nonprofits tasked with feeding, clothing, and counseling homeless men and women. But homeless numbers have barely budged since 2003. So DeKalb and Atlanta formed their own respective organizations. Meanwhile, Fulton decided to focus on areas outside the city's limits. Ten years of cooperation was scuttled in a few short months.
Last week, partly because of Tri-J's shutdown and county budget cuts, Fulton announced it would shut down the emergency shelter at Jefferson Place that holds up to 150 men. In addition, Springdale Place, which can accommodate up to 150 women and children, would be shuttered. Alan Harris, who's helped homeless men and women navigate the tricky path to qualify for federal benefits, said Jefferson's closure "further reduces the number of safe, clean shelters for men. What will happen is they will spill onto the street and be worse off."
With fewer options and no new beds to replace those that are lost, more people could be forced to bundle up and settle into the doorways of Downtown buildings and under bridges. The city, tired of watching people set up tents underneath the Downtown Connector, has partnered with the state to remove them. The United Way, citing budget crunches, is focusing its outreach efforts on homeless veterans, a group that can be helped easier than others thanks to special federal funding. "Our outreach efforts for other homeless populations have been reduced and it's a matter of making the best use of limited resources," says Protip Biswas of the United Way.
In addition to Tri-J's disintegration, there's no end in sight for the ongoing legal battles waged by the Metro Atlanta Task Force for the Homeless, the firebrand nonprofit that operates the city's largest shelter at Peachtree and Pine streets, against Central Atlanta Progress and the owners of the building that houses the shelter. Fulton County Superior Court Judge Craig Schwall, who tasked a special master to help sift through the legal arguments, has yet to decide how the case should move forward. Whatever the outcome, the other party will surely appeal, leaving a question mark over the facility's future.
Are there success stories? We're sure there are. But some homeless men and women will tell you they're getting pushed out of places to sleep on the street. Some have a hard time getting settled in housing after living unsheltered for years. And others need more help. "Homelessness goes deeper than a person with a backpack and no dwelling," Laverne says. "You have people with mental illness who can't provide for themselves." It's Fulton, by law, that's supposed to provide those mental health and addiction counseling services. But the county for years has not taken ownership of its responsibility like it should. The city can be blamed for not engaging their colleagues across the street over the years. But the responsibility still rests on county officials' shoulders.
The city's newfound focus on permanent supportive housing — long-term shelter often times coupled with mental health or addiction services — stems from new federal priorities favoring that option over temporary housing and services. In addition, the city's own findings show there's pent-up demand for that type of shelter. But helping the homeless requires more than just a roof over someone's head. Because each government is going at it alone, questions are then raised regarding how homeless men and women will find all the help, such as counseling, they need.
"If you don't engage Fulton County to provide those services you're going to fail," Harris says. "There's this total fragmentation of the delivery of services and no one seems to recognize that if you leave out Fulton County then you have no chance."
But that seems to be what's happening. Fulton needs to step up and find the cash to make sure it's fulfilling its obligations. The city's chosen its path but it needs to work with its neighbors. And the homeless in Atlanta need a lot more help than they're receiving.