Neighborhoods - It's all good at Cafe 1226
A no-risk revitalization of Bankhead's heart and soul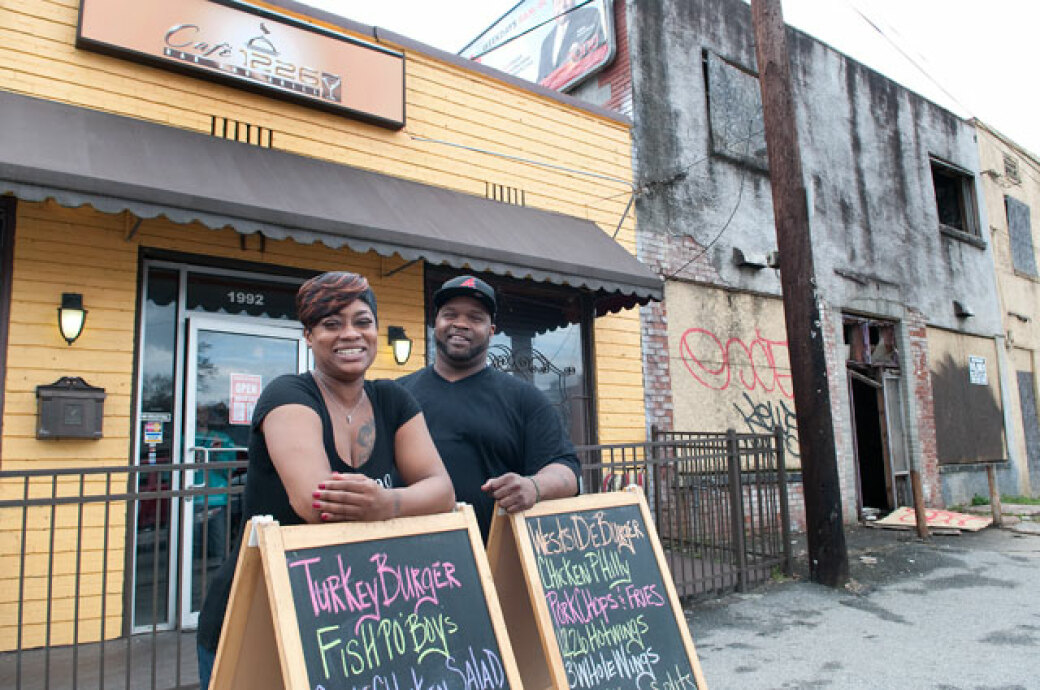 HOOD LOVE: Cafe 1226 owners Keisha Cullins (left) and Chris Weems are bringing a new vision to Bankhead.
It's a beautiful, sunny Sunday afternoon and I'm driving aimlessly down Bankhead Highway. I know it's not called that anymore, but just roll with me.
The route between Northside Drive and I-285 isn't scenic in the traditional sense. But in a city slowly being blanketed over with cookie-cutter blandification, there's nothing like it: Old, abandoned fast-food chains converted into Asian-owned beauty supply stores. Mom-and-pop beer stops masquerading as quickie food marts. Gas stations that probably sell more walk-up lottery tickets than self-serve fuel. Auto repair shops with parking lots that look like graveyards. And Family Dollars for days. Three of the discount stores are located along a four-mile stretch alone.
I have no idea what I'm looking for. Until I find it.
To the left of the fork in the road, where Donald Lee Hollowell Parkway forks into Hollywood Road, sits the cutest little business in Bankhead. It's called Café 1226, and it's a sight among eyesores. The exterior is painted a mellow shade of yellow with brown trim. Attached to a crumbling shell of a building with gaping black holes where windows and doors used to be, the new lounge and restaurant practically glows in the dark.
The sign on the door reads closed, but Café 1226 has officially been open for business for seven months now. Inside I find Keisha Cullins, who greets me from the kitchen in back. The décor is dope. Two black leather love seats with center-console cup holders line the wall opposite the bar. High-top tables are set with deep red tablecloths, restaurant china, and fancy glassware. A small DJ booth is set up near the kitchen. Flat screens dot the walls. A colorful chalkboard hanging behind the bar advertises in precise handwriting the Westside Burger and other specials. It's an intimate space, comfy but classy, like nothing I expected to find on Bankhead.
"I'm trying to bring something new to the hood," Cullins says, smiling from behind the bar as she tells me about the café she co-owns with her husband Chris Weems. Their menu ranges from soul food staples to turkey burgers to lamb chops. They signed the lease last June, expanding Cullins' booming catering biz into a physical location, and named it for her birth date. For Cullins, though, it was not love at first sight.
"We pulled up in the parking lot and I was like, 'Unh unh, I ain't feelin' it,'" she says. But her husband saw beyond the rough exterior. "He saw the potential the place had before coming in. He was like, 'We can make it work right here.'"
Q: If white people who buy homes or start businesses in challenged inner-city communities are deemed "urban pioneers," what are African-Americans called who do the same?

A: High-risk lenders.
Indeed, "capital was our biggest challenge," Cullins says. "But thank God we had good friends — and just hard work."
With all the talk of gentrification centering on intown Atlanta, it's easy to overlook how much of this otherwise affluent, majority-black city is still struggling-class and forgotten. Even more enlightening is the sense you get when you stop the car in a neighborhood like Bankhead, touch the streets, and meet people who cause you to question all the stereotypes. The crime statistics for Bankhead and neighboring Washington Park can be deceiving. While violent crimes account for a higher percentage of total crime here than in any other part of Atlanta, there are trendier neighborhoods — from Midtown to Old Fourth Ward — suffering from higher rates of violence over the past five years, according to the Atlanta Regional Commission.
In other words, the stats rarely tell the whole story. And on this invisible side of Westside, natives determined to revitalize their communities have as much to fear about the neighborhood's future as potential gentrifiers have to fear of its past.
Cullins grew up in nearby Vine City during the crack era, when hoods like these earned their rep. Even then there was a more nuanced picture than the one painted nightly on local TV news. Her family moved from the Eagan Homes projects to a house on Magnolia Street when she was still a kid. Though Cullins was surrounded by the trappings of the hood, "I just chose a different avenue," she says. "I was like, I'm gonna grow up and be somebody and I'm gonna have something."
What she has, in fact, is a lounge and restaurant that challenges all the perceptions about Bankhead and gives the neighborhood a hip drinking-and-dining option without having to travel to Buckhead. For Cullins and Weems, who live in Union City, opening a restaurant in the area wasn't a risk but an investment in the future.
"I feel really safe over here. Even though it's stereotyped as a bad area, it's not like that," Cullins says. "All it takes is for one person to have a vision, and then other people will start to follow."
Longtime friends and newcomers are already following her lead. On a recent Wednesday night, the spot was packed for the café's weekly "Empire" viewing party. "The community has been really good to us," Cullins says, describing the café's crowd as mature. "All of our customers are repeat customers, and they bring in new people."
But the success she foresees could be double-edged. She hopes that investing in the community will inspire others to do the same. At the same time she knows it'll quicken the turnover she already sees coming — a change that will inevitably push many within the neighborhood out.
"I give it three years, tops, and it will be completely different over here," says Cullins, who worked in real estate for a period before the housing bubble burst, leading her to start her catering business. "The developers are coming. They already come in and sit in here to use the Wi-Fi and do work."
When this brave new world hits Bankhead, she wants to be around to benefit from it. Which is why she recently locked in her current lease with her landlord for five years. She says her landlord also has long-term plans for the location, including cleaning up the adjoining property. She's hopeful about the future. But she also knows there will be casualties, especially to the area's cultural identity.
We talk about all the rappers who put Bankhead on the map — from late '80s Kilo to late-aughts Shawty Lo — and how the area cemented Atlanta's pop-rap credentials over the past two decades. Hip-hop's popular hood narratives have also added weight to the negative characterization of communities like Bankhead, but not without celebrating the fortitude it takes to rise above such circumstances. And that's where the real value lies.
"Everybody that has really made it has come from this side of town," she adds, acknowledging the inevitable. "The people who built this community, who actually lived in the blood, sweat, and tears over here, won't be able to live here within the next five years." But if Cullins has anything to do with it, they'll still know where to come and get some Bankhead soul.
As I steer my way back toward Northside Drive, the smell from my black Styrofoam take-out plate starts tickling my nose like a scene out of an old Looney Tunes cartoon. Before I can make it out of Bankhead, I'm forced to pull over at a Shell gas station. Under the lid, a veggie plate of collards, dressing and gravy, mac-n-cheese, lima beans, and corn bread looks as good as it tastes. Refined in every sense, but still super soulful. I hope it's a sign of things to come.