Neighborhoods - Buckhead - 2014
A dog walk through one of Atlanta's swankiest neighborhoods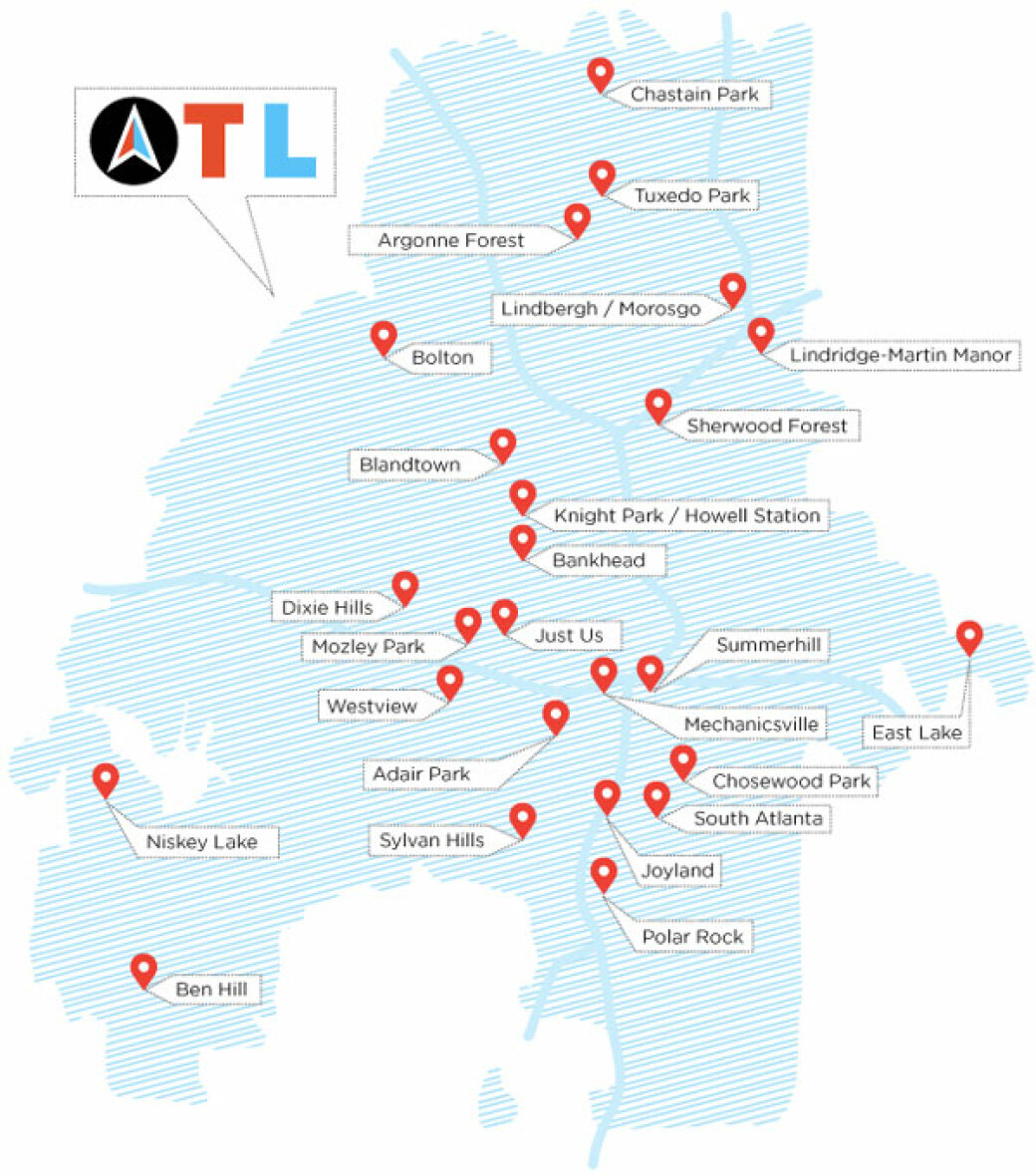 After checking in at the front desk, Anne Austin takes the elevator to the 28th floor of the Ritz-Carlton Residences in Buckhead. Austin, who's been walking dogs as an independent contractor for eight years, is on her way to pick up Roxie, a 13-year-old rescue dog she walks weekly. The view from Roxie's high-rise apartment stretches all the way to Stone Mountain. To the right of the kitchen hangs a large framed photo of Roxie relaxing on a small sofa. It's clear she lives the good life, which is fitting for a resident of Atlanta's swankiest neighborhood.
As the pair departs for a walk, the doorman opens the door and wishes them well. Everyone seems to know Roxie by name. After passing by the parking deck, they head to a nearby residential area with large, magazine-ready homes. Roxie frequently stops to smell the flowers lining the street.
"Buckhead isn't the most pedestrian-friendly neighborhood in Atlanta," Austin says as she leads Roxie past the long driveways, circling back toward Peachtree Road. "But they've made a lot of improvements, like wider sidewalks. I've got to give Mayor Kasim Reed a shout-out for that."
While bustling Peachtree Road may not make for the best walking conditions, Austin says Buckhead is pet-friendly. The outdoor seating areas at Anis Bistro, Buckhead Saloon, and the Ritz-Carlton Buckhead Cafe, among others, all welcome pets.
She also points to Lenox Park. "It's a rare find in a large city," she says. "The little dog park there is a great place for smaller dogs, especially for dogs that are new to being off leash and running around a park." Lenox Park is also smaller and less populated than Midtown's Piedmont Park, something she appreciates. "Piedmont and Brook Pun parks are crazy busy and large. It's a little overwhelming."
As they turn onto Peachtree toward Lenox Square, they pass Tomo, one of Austin's favorite restaurants in the neighborhood. "Especially their tuna nights," she says.
Before long they arrive back home. Austin stops by the valet station. "You know what she wants," she says to the young man working the station. He leans down behind the podium to retrieve a treat for Roxie, which she happily gulps down.
After Roxie is returned, Austin gets in her car and heads to the nearby Pine Hills neighborhood to pick up brothers Elvis and Eli, two oversized pit bull mixes. Their owner found them abandoned as puppies in Shady Valley Park four years ago. Despite the dogs' rough start there, Shady Valley is known as a good place for families who live in the neighborhood, and features a playground, tennis and basketballs courts, and an open field for football or soccer.
For Austin, Pine Hills is the perfect area to get a little exercise, whether on her own or with a four-legged companion. The hilly neighborhood is good for Elvis, who's dealing with a torn ACL. "Pine Hills works very well for Elvis because being on hills helps keep the weight off of his torn ACL," Austin says. "It allows us to exercise him and to help him lose weight."
Austin and the two dogs pick up the pace to a jog before Eli catches sight of a neighborhood cat and they take a quick detour. Pine Hills' quiet and shady streets are in contrast to Peachtree Road's traffic, restaurants, and shopping centers. It's hard to believe it's only a couple miles away. But such is the case with most of Atlanta's neighborhoods. One moment you're surrounded by tall buildings and hurried pedestrians, and the next you're tucked away in a quiet residential area, keeping an eye out for children at play — or perhaps a dog enjoying an afternoon stroll.
Lenox Park
A nice-size park with a trail for running, jogging, or walking. While slightly less known to non-residents, Lenox Park is well-known to people who live in the neighborhood, and is busy most days with families, pets, and more. It's also home to plenty of ducks, so be sure to bring some bread. Lake Boulevard and Lenox Park Boulevard.?
Shady Valley Park
A family-friendly park featuring a playground, tennis and basketballs courts, and soccer field. 2720 Shady Valley Drive. www.atlantaga.gov.?
Tomo Japanese Restaurant
Located in the same building as the Ritz-Carlton Residences, Tomo features contemporary Japanese food from chef Tomo Naito. 3630 Peachtree Road, Suite 140. 404-835-2708. www.tomorestaurant.com.?
Red Bandanna
Located in the Shops of Buckhead, this chain of pet stores features top-quality pet food, supplements, treats, shampoos, toys, and more. 2221 Peachtree Road, Suite F. 404-355-1420. www.redbandannapetfood.com.?
Anis Cafe & Bistro
French-Mediterranean cuisine in a charming house with a cozy, pet-friendly patio. 2974 Grandview Ave. 404-233-9889. www.anisbistro.com.?