Neighborhoods - Castleberry Hill - 2014
Creeping after hours with the Crimson Fist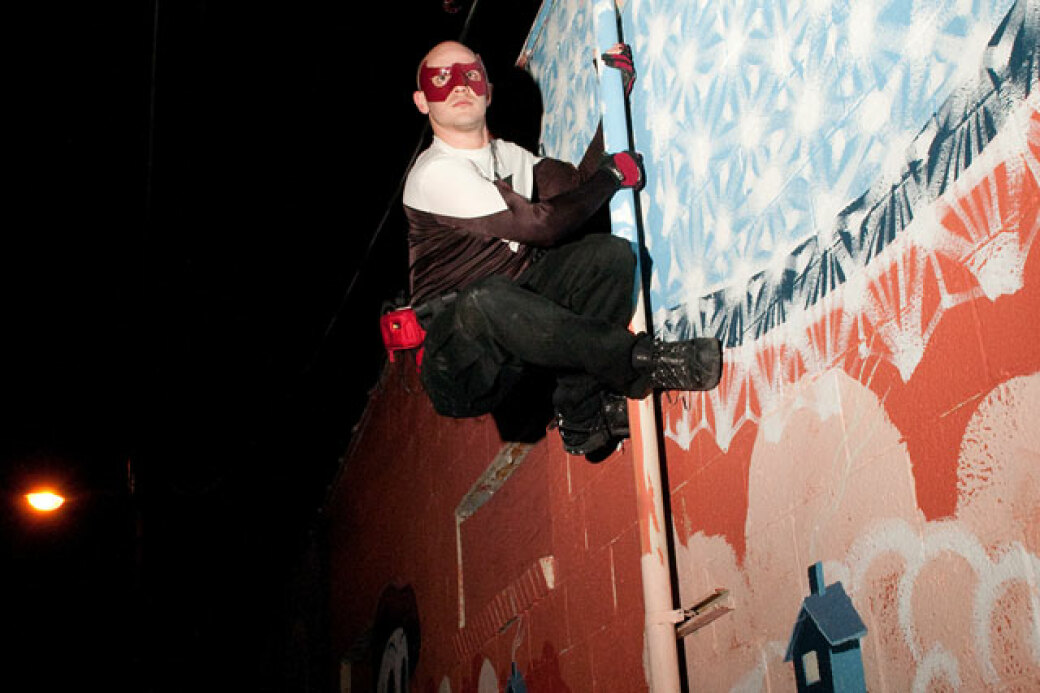 MASKED MASCOT: "Castleberry is like this great little oasis in the middle of the city." - Crimson Fist
It's 1:04 a.m. and Crimson Fist is perched cat-like on the side of a brick wall he just scaled with his bare hands.
Dressed in black cargo pants and utility boots, a skintight nylon top, and a Batman-like mask that hooks over his ears like eyeglasses, Castleberry's vigilante spends as much time fighting off attention as he does fighting crime.
"Ninety percent of the feedback I get is positive," he says, "even if people think it's a little weird."
But weird works in Castleberry. Its assorted mix of art galleries, clothing retailers, late-night lounges, and neighborhood eateries draws resident loft dwellers, nearby Atlanta University Center students, and a steady stream of outsiders who crowd the sidewalks on weekend nights. That's prime time for Crimson Fist. Tonight's a slow, slightly drizzly Tuesday, though. So our tour begins quietly around midnight at the entrance of Bottle Rocket, the sushi bar that doubles as the Fist's not-so-secret hideout.
He mostly sticks to side streets, where car break-ins tend to occur. Since he has a reporter and a photographer as his sidekicks, he shows off his pepper spray, zip-tie handcuffs, and a pair of Blast Knuckles (Tasers shaped like brass knuckles) that can deliver 950,000 volts in one blow. He promises he's only used them once.
After walking up Walker Street we bust a right down Nelson Street, walking past the Wine Shoe, Krucial Kuts Barbershop, Vitesse Exchange, and one of the latest additions, the barbecue restaurant Smoke Ring. They're all closed. The neighborhood is so quiet it's hard to believe a masked neighborhood watchman would even be necessary.
But crime fighting isn't the only thing that draws Crimson to the neighborhood. He counts its street murals, second Friday gallery strolls, and annual events such as FLUX among his favorite in the city.
"This neighborhood's phenomenal. Castleberry is like this great little oasis in the middle of the city," says Crimson, who already foresees the day when his services might no longer be required in the neighborhood.
Part of his mission is also fueled by a deep-seated need to repay society for his former misdeeds. "My younger self was not a good person," says the 27-year-old who prefers to keep his identity secret but admits to funding his past teenage drug addiction by breaking into cars. It's partly what makes him so good at knowing how to spot suspicious behavior.
Things are so slow tonight that the only thing the Fist is fighting is boredom. That's when he offers to climb up the side of a brick building using a pipe. After he holds the pose long enough for a few snaps of the camera and jumps down, an Atlanta police cruiser rolls up. "What are you guys up to," the officer asks through his window.
"Just doing an interview," Crimson informs him.
The officer reminds Crimson that he's just a phone call away in case anything goes down and he needs him. "You've got my number, don't you?" the officer asks.
"Yeah," Crimson responds. "911, right?" Apparently, superheroes have a sense of humor, too.
??
Drink Art?
The new vegan Thai restaurant is headed by former NBA star Shandon Anderson, who interned at New York vegan restaurant Candle 79 and executive chef Phinit na Sangkhamanee (aka Alex). Crimson Fist credits the opening of the location to the recent drop in car theft along adjacent Stonewall Street. 199 Walker St. 404-592-5275. www.drinkart.com.?
Bottle Rocket?
The sushi is shut-your-mouth good, according to Crimson. His favorite, the rufio roll, is salmon wrapped in seaweed then tempura fried and served with spicy mayo Sriracha. Besides the fact that the restaurant occasionally provides him with a meal on the house, it's also his favorite place because of the neighborhood "town hall" atmosphere, he says. 180 Walker St. 404-574-5680. www.bottlerocketatl.com.?
Smoke Ring?
The new barbecue spot helmed by chef Jordan Wakefield is on the superhero's shortlist of Castleberry's best eateries. And the barbecue plate is a good place to start. With smoked chicken, sliced brisket, fried Brussels sprouts, and jalapeño bacon cornbread, it should be part of any neighborhood watchman's wholesome diet. 309 Nelson St. 404-228-6377. www.smokeringatlanta.com.?
Elliott Street Pub?
"It's one of the most fun places we have in the neighborhood," says Crimson, who comes for the turkey and slaw sandwich and stays for the live music. But he doesn't stay too long, he admits, because the people are such a riot he fears he might get off task. Even masked men must maintain their dignity. 51 Elliott St. 404-523-2174. www.elliottstreet.com.?
255 Tapas Lounge?
When Crimson describes 255 Tapas as a "crazy party spot," it's a good thing. Crowds typically spill onto the sidewalk on weekends. Plus, it's cooler than a nightclub with a much better menu. Sliders, anyone? 255 Peters St. 404-522-2612. www.255tapaslounge.com.?