Chris Childs Trio finds that less is more
Faun And A Pan Flute Marimba further explores his compositional style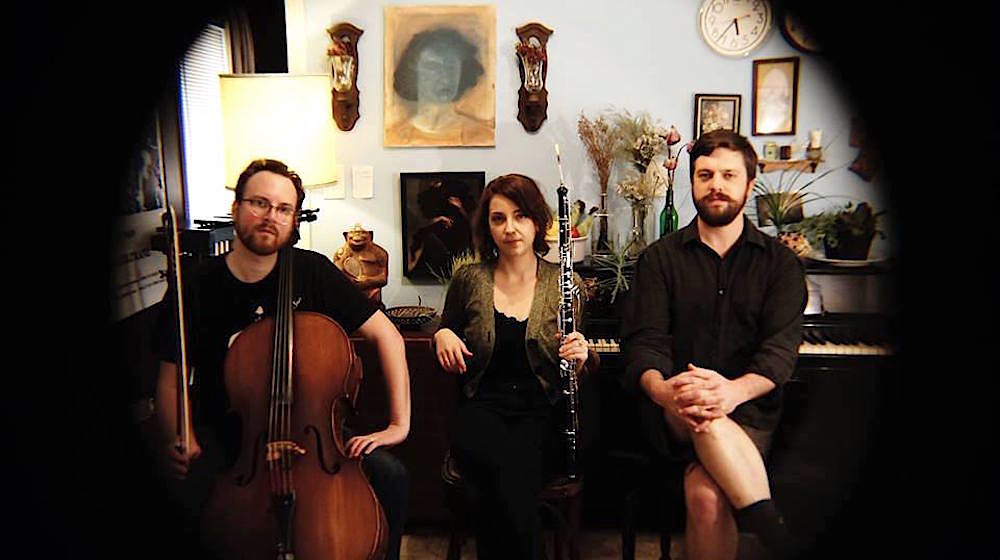 On an overcast Monday evening in the East Atlanta Village, Chris Childs motored around his house preparing for a private show in his living room, and stuffing clear cassette shells with covers and freshly dubbed tapes. In the background, his old Recordex 330 Series II cassette duplicator whirred diligently. Childs is the marimba player for experimental jazz-rock seven-piece Faun And A Pan Flute, and former Hello Ocho pianist, vibes player and percussionist.
Today, however, he's assembling tapes and adding them one by one to a growing pile of finished products stacked atop his piano merch to sell on the road during the Chris Childs Trio's East Coast tour kicking off the following day.
Childs personally selected Faun And A Pan Flute's cello player Ben Shirley, and former Georgia State University classmate and oboe player Carolyn Johnston to head out on the road performing "If I Were A Little Boy, I'd Be A Girl,?۝ a meticulously crafted 30-minute work of modern classical composition.
But first, the trio is playing a private living room show unveiling for a handful of friends, Childs' latest opus. "If I Were A Little Boy, I'd Be A Girl" further explores the compositional side of Childs' work that he first revealed in September 2015 when the Chris Childs Orchestra debuted a large ensemble work at the Mammal Gallery, titled "\??s??l??n(t)s\.?۝
On the surface, this latest work takes shape as a stripped down operation, only because of the trio's size. "It's only three pieces, but it's still very complex," Childs says. "When you're working with fewer instruments you have to dive deeper into your own style, and get to know the intimate characteristics of each instrument.?۝
If I Were a Little Boy, I'd Be a Girl by Chris Childs
Dubbing stacks of tapes to sell, in all its nostalgia, seems particularly daunting in the era of online streaming (each tape also comes with a Bandcamp download). Childs spoke of a battle earlier that day with his car's tape deck when it ferociously devoured the only master recording of "If I Were A Little Boy, I'd Be A Girl," forcing him to start over.
He warily presses pause on the tape machine, while explaining that it acts up sometimes if he pushes it too hard. Machines need rest, too.
The Trio began in 2016 when Childs bought a piano and spent much of the year filling up a notebook with templates, musical phrases, chord progressions and abstract concepts. In the beginning, "If I Were A Little Boy, I'd Be A Girl" was written while Childs was on tour with Hello Ocho. He stumbled upon and even posted Facebook messages seeking out pianos to sit at and write in each city on the tour. "I would record clips and ideas on my phone and ended up using quite a bit of it," Childs says. "It's nice to look at a section and think, ???Oh yeah, that was conceived while the boys were cooking breakfast in Vermont.'?۝
Childs stays busy writing drumline pieces for Austin Peay State University in Clarksville, Tennessee, while also putting the final touches on Faun And A Pan Flute's forthcoming LP, 2014-2016. The chaotic pace of his work schedule shows no signs of easing up as the rest of the year unfolds. "As long as I'm trying to pursue my own musical work on top of everything, it will always feel hectic," Childs says.
Childs, who studied music performance with a concentration on percussion at GSU, has developed a vast appreciation for classical music since he joined marching band at age 13. But he plainly states that the "traditions and stuffiness" of classical music's academic mindset are a turn off.
As such, the Chris Childs Trio is on a mission to bring classical and chamber music to DIY music circles in more relaxed and inclusive spaces. "Through the right kind of curation you can share music like this with people that might not realize they are capable of enjoying chamber music," Childs says.
In the trio, Johnston, who is primarily an oboe player, switches over to an English horn, which is an auxiliary instrument to the oboe. The parts she performs were originally written for clarinet.
During Monday night's performance in Childs' living room, the music evoked a soothing sense of tranquility as piano lines flowed through a din of horn and cello. "The musical challenges are unique in ways that aren't comparable to working with a larger group," Childs says. "Everything feels very exposed, and it's really challenging to create an interesting space when you're writing for three acoustic instruments whose qualities and timbres are limited to the inherent parameters of the instrument.?۝
And while he remains the sole composer of the music, Childs remains dedicated to a collectivist approach when employing classical music in a modern context, be it in his living room for a handful of friends, or in DIY music venues and galleries around the country. "I try to put the music in environments that feel embracing and inclusive," Childs says.
The Chris Childs Trio performs with Quinn Masonry & Friends and Mick Mayer at Eyedrum Art & Music Gallery. $7. 8 p.m. Thurs., June 29. Eyedrum Art & Music Gallery. 88 Forsyth St S.W. 770-676-1605. www.eyedrum.org.