Macarons get a southern twist
Charlette Bell of My Fare Lady crafts macarons inspired by classic Southern flavors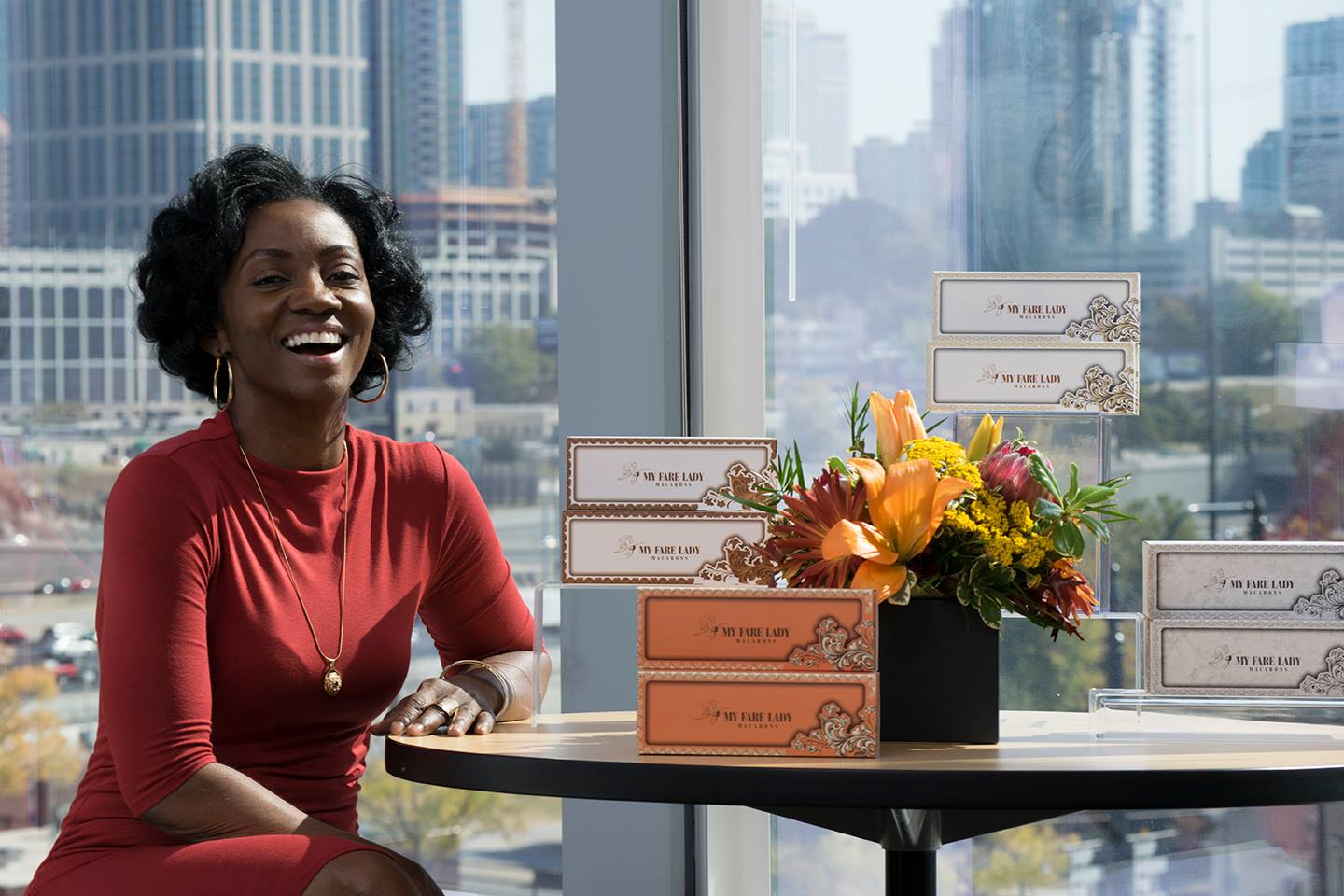 Charlette Bell grew up in Columbus, Georgia, hanging around her grandmother's kitchen. Even though she wasn't yet old enough to contribute to the cooking, she was always somewhere in the vicinity, the scents of sweet potato pie, collard greens, and cornbread wafting around her. "Once I got older, I decided that I wanted to bring some of those things into my world," she says.
A year ago, Bell, now 49, launched My Fare Lady Macarons, a catering company and an online monthly macaron subscription box service. But hers are no ordinary macarons — Bell's confections hark back to her Southern roots: My Fare Lady's signature flavors include collard greens, cornbread, and sweet potato pie. "I'm taking those favorite flavors that we're used to in our black heritage and presenting them in a very sophisticated way," she says.
The Italians and the French lay claim to the macaron, a meringue sandwich cookie traditionally made in light, familiar flavors such as lemon, raspberry, and chocolate. The dessert first popped up in Italy before Catherine de Medici introduced it to France in the 1500s. Macarons began trending stateside in the early 2000s, with some foodies branding them "the new cupcake."
After graduating from Georgia's Albany State University in 1989 with a degree in computer science, Bell, a lifelong home cook, began testing pastry recipes on her friends. She started with her favorites: pound cake, coconut cake, and of course, sweet potato pie. "I got no complaints, and they always came back for more," she says with a laugh.
Two decades later, in 2010, Bell found herself in the same position many other Americans did during the recession: laid off by Bank of America after 20 years of loyal employment. So she decided to turn her longtime hobby into a career and enrolled in Le Cordon Bleu Atlanta's baking and pastry program. There, she fell in love with the macaron and came up with the idea to infuse her grandmother's quintessential Southern flavors into the classic European dessert.
My Fare Lady's logo (a woman wearing a large fancy hat) and punny name are further nods to Bell's grandmother. "She was the lady of the house," Bell says. "She was the one that would prepare the food and bring folks to the table."
At a recent tasting, dozens of Bell's picture-perfect, brightly colored macarons adorned a winter wonderland-themed spread. Orange and fuchsia peach cobbler varietals sat in miniature cast iron pans, flanked by towers of espresso and vanilla bean and trays of crimson red velvet and crisp green pistachio.
No value assigned
Bell particularly enjoys showcasing the macaron's versatility with savory flavors like caprese and smoked salmon. Her collard greens and cornbread macaron has a cornmeal meringue exterior and a filling composed of homemade pimento cheese, andouille sausage, and collard greens. Bell will even infuse macarons with liquor at clients' requests. The alcohol is cooked off, but the cookie retains the boozy flavor.
Bell says she isn't looking to open a brick and mortar just yet. She's focusing now on spreading the word among macaron connoisseurs and novices alike using social media and brand ambassadors. Most of her current business comes from corporate offices and sorority and fraternity events, but Bell recommends the subscription service for those who need a regular sugar fix. Each box ($18.50-$20) features five macarons, in flavors such as lavender grey — a Bell original featuring a lavender meringue shell and an Earl Grey cream filling — or salted caramel, including one flavor of the month. Last month's flavor, red velvet, was so popular Bell expanded its availability through January. This month, she's featuring sweet potato pie.
For February, Bell is planning a dark chocolate red wine macaron, something she's never attempted before. "I'm really itching to see how that one's going to turn out," she says with a nervous laugh. "I'm just as curious as everybody else."