First Look: Escobar
Doors open in Castleberry Hill for rapper 2 Chainz's first bar and restaurant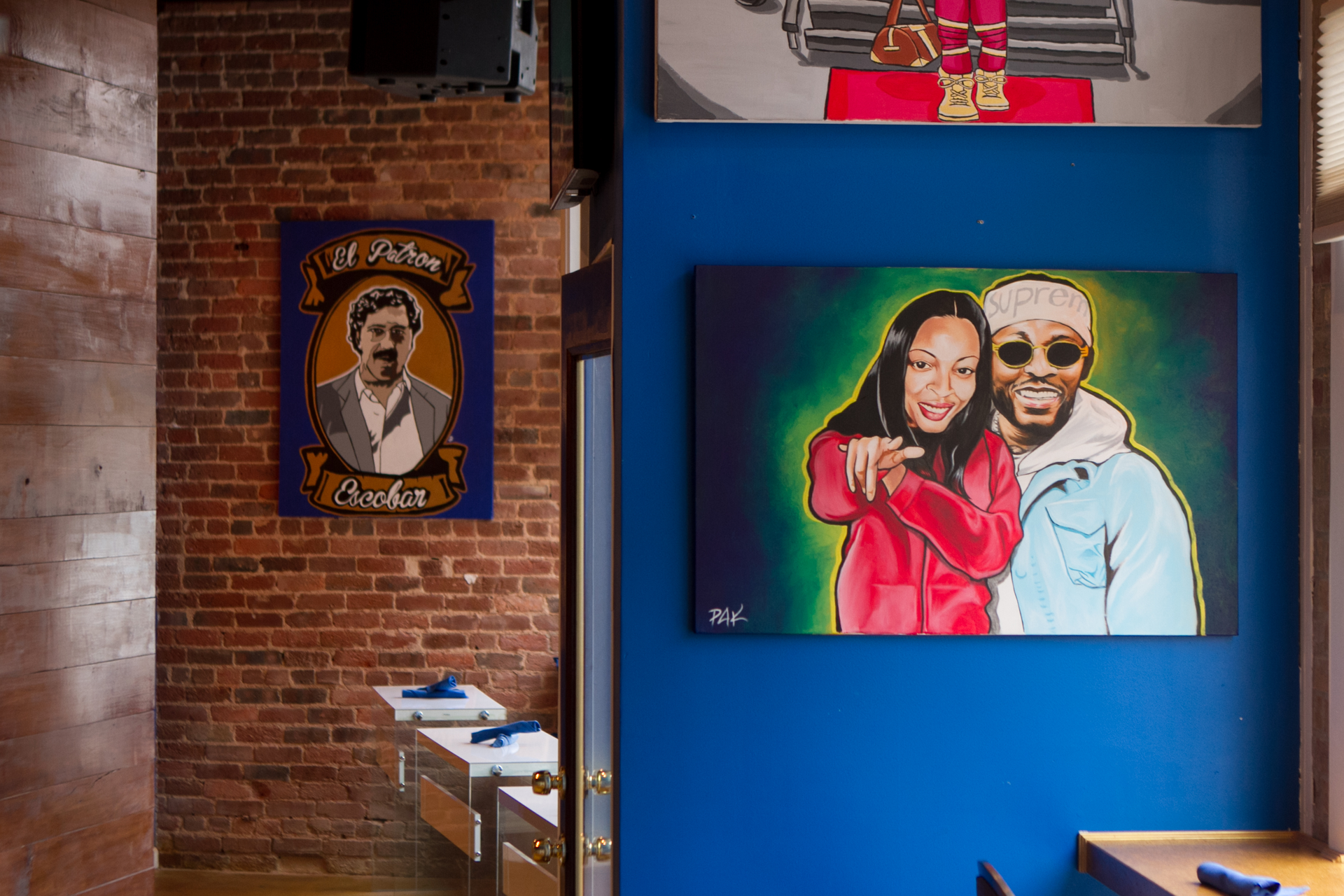 Colombian drug lord Pablo Escobar's notorious legacy lives on almost 24 years after troops mowed him down on a rooftop in a blitz of bullets. Escobar, the same man who took his nine-year-old son to visit one of his cocaine factories, is still considered a family man in some circles; a man who used his mounting wealth to lift his own family and others out of poverty. Though far less gangster in his commercially accessible, jubilant rap hits, and open preference for weed over nose candy, Tauheed Epps aka 2 Chainz spreads his wealth similarly, 
gifting one family of 11 a house last January
and another
a wheelchair-accessible van
several months later.
Now, Chainz gifts the city of Atlanta his first eatery: Escobar Restaurant and Tapas.
The Castleberry Hill spot, nestled two doors down from City of Ink in a building Chainz owns, opened doors in early December. Its innards house low-slung seating via minimalist, clear chairs and clean white benches. A thick aroma of golden fried fish and sweet hookah smoke hangs throughout. A gold Benz DJ booth juts out from a far corner, its headlights firing up after 10 p.m. to alternate blinking in lieu of a disco ball across a formidable dance floor. Pop art portraits of the late Escobar line royal blue walls — including a spin on his infamous, shit-eating grinning mug shot — alongside an enormous painting of 2 Chainz himself.
No value assignedEscobar is just what the neighborhood needed, according to co-owner Mychel "Snoop" Dillard. "Peters Street is sorta known for nightlife but it isn't known for food," she says. "So we wanted to be able to bring that element to the block."
Escobar isn't Dillard's first rodeo — it's actually her third, a dining-centric follow-up to Downtown's The Hookah Hideaway. At Escobar, sizeable hookah and cocktail menus take a backseat to the real focus: focus. The restaurant opens for brunch and lunch at noon (11 a.m. on Sundays) and serves dinner till at least midnight.
The dinner menu leans heavily toward decadence (a theme perhaps best mirrored in its single-stall, ultra-luxe bathroom, featuring a space-age sink with gold fixtures, a robot trash can, and a mirror with Kylie Jenner-level selfie lighting. If it ever becomes available for rent, please re-direct all future mailings). Chef de cuisine DePhon Robinson's background includes catering film sets and cooking for celebrities like Gabrielle Union and Queen Latifah.
No value assignedEscobar's seafood especially shines. Twin lobster tails ($30) — available grilled or fried — arrived neatly plated over a bed of creamy stone-ground cheese grits, its richness cut by a slightly spicy tomato coulis. Escobar crab cake ($12) fuses real lump crab beneath a shell of light breading injected with zesty dijon mustard vin blanc. The mustard brown sugar salmon ($17) somewhat disappoints, its flavor largely fishy with a splash of what tastes like actual pancake syrup, though the garlicky spinach served on its side offers fresh refuge. The macaroni and cheese ($6) marks another surprising home run. A crispy carapace gives way to delicate noodles swimming in a buttery cheese blend and orgasm is almost met.
Calamari ($9) reigns king of the tapas menu. Tender rings of meat have resistance, ensconced in salty, peppery breading and served up with Escobar's signature remoulade, making it a no-brainer pairing with a sugary cocktail.
Because Escobar's cocktails are just that: a sweet tooth's dream, poured heavy. A stormy night fish bowl ($22 for small, $40 for large) marries smooth bourbon with fruity brightness by way of black raspberry liqueur, raspberries, lime juice, and cranberry. Any visit to Escobar would be remiss without what's presumably the rapper formerly known as Tity Boi's favorite: 1 + 1 = 2 Chainz ($12). The potion mixes green tea and honey with Hennessy. If this sounds like the cocktail a pseudo hippie undergrad would make with found ingredients while emptying a dorm room at the end of spring semester, that's because that's exactly how it tastes. An earthy base meets a syrupy, medicinal twang to create a strange nostalgia. But this is what appears to be the house cocktail, and who are you to question the man behind the masterpiece known as "Birthday Song"? 2 Chainz clearly knows better than all of us.
No value assignedThough Escobar offers plenty of table seating, the restaurant is best experienced hugging the bar. It's a spot with a 360-degree vantage point to absorb the golden accents, celebratory atmosphere, and bumping soundsystem laying on hits zig-zagging across 2 Chainz's discography — a downright charming detail, especially considering specifics of the night Creative Loafing visited. Only 20 minutes into a two-hour dinner, the 6-foot-5 artist and entrepreneur slunk out from the kitchen to take a seat beneath his own portrait where he held court for the remainder of our stay.
2 Chainz is far from the first Atlanta rapper to open a hometown restaurant. Sadly, the city has a long history of hyped spots that quickly shutter (RIP Ludacris's Straits and T.I.'s original Scales 925). Dillard says Escobar won't follow suit because the dope spot isn't resting laurels on Chainz's rap legacy.
No value assigned"Of course he's a big part of it," she adds. "He's gonna help us get that grand slam in the beginning but that's not going to be something that carries the life of the restaurant." Dillard praises Chainz's spirit of collaboration and lack of micro-managing. When first incubating the concept, she says, the rapper "was like, 'Oh, no. We need to do this together.' He's a really creative person. He's really different."
Considering his cool joggers and the positioning we witnessed — sitting beneath a behemoth painting of himself, quietly hunched over a sticker-splashed laptop, presumably working — such a claim is supported. Yeah, 2 Chainz is different. And so is Escobar.
Now, please enjoy this just-dropped video for "Good Drank," featuring Gucci Mane and Quavo and filmed on the premises.