New legislation HB 155 could expand state's music industry
State Rep. Amy Carter and Georgia Music Partners take over Capitol rotunda for Georgia Music Day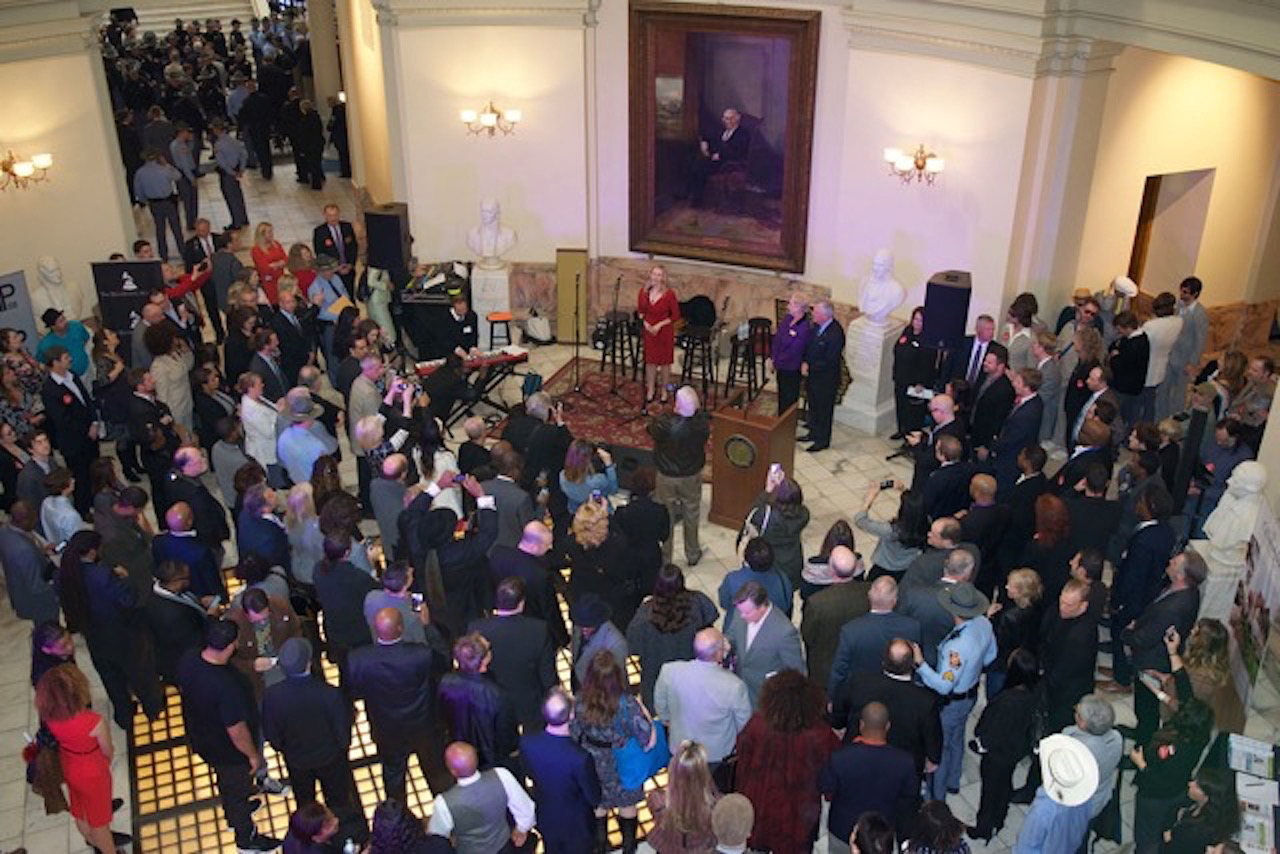 On Wed., Feb., 1, State Representative Amy Carter will introduce a new piece of legislation titled the Georgia Music Investment Act, also known as HB155. If passed, the legislation could facilitate a substantial boost to Georgia's music industry economy, and foster an industry presence on par with cities such as Austin and Nashville, where local governments, musicians and businesses have developed a sustainable infrastructure.
"We need to find a way to retain the talent we are developing and attract companies and new opportunities to Georgia," says Georgia Music Partners Chair of the Legislative Affairs Committee Mala Sharma.
Georgia Music Partners is a volunteer advocacy group of musicians, industry professionals and educators working to expand Georgia's music industry. Sharma worked as a part of the Joint House and Senate Music Study Committee, which studied the state to learn how to rebuild Georgia's once-thriving music economy. Georgia Music Partners (GMP) has no full-time staff members, so every donation and membership dollar it raises is used to help pay for advocacy and lobbying efforts. Creating more jobs in music and more state-of-the-art recording and performance facilities also means fostering local talent.
HB155 aims to stimulate growth in areas of recording music; scoring music for film, television and video games; and in attracting more large-scale music and theatrical productions to Georgia for auditions and rehearsals.
The bill will offer a 20 percent-25 percent income tax credit for projects that are recorded or scored in Georgia, and for tours that rehearse here. To claim the 20 percent income tax credit, a production company must meet a minimum threshold of $300,000 for live performances and $70,000 for recorded performances. If the production or recorded product brandishes a Georgia-made logo, it can qualify for an additional 5 percent income tax credit.
The bill attracts these productions that are already taking place in other states by offering incentives that are similar to the film industry incentives that have built up Georgia's film production industry.
"If we scored just three midsize film projects, we'd create job opportunities for hundreds of musicians, hire studios, rent gear, pay for caterers, cartage, etc. ...," Sharma says. "The productions get the tax incentive for the project, but our companies and musicians get work opportunities they wouldn't get otherwise."
To educate lawmakers about the significant cultural and financial impact that music brings to the state, GMP has also organized the fourth annual Georgia Music Day in the Capitol rotunda.
This year's Georgia Music Day begins at noon, and features performances by Mac Powell of the multi-Grammy-winning Christian rock band Third Day, and Nicole Thompson, Director of Orchestras for Taylor Middle School in Johns Creek. Thompson is a top 10 finalist for the music educator Grammy. Her students will perform, as well. Speakers lined up for the day include Rep. Carter, Georgia State Senator Jeff Mullis, and Atlanta City Councilmember Kwanza Hall. More speakers will be announced soon.
Musicians of all stripes, songwriters, music teachers, engineers and producers, music industry business owners and employees, and others who are interested in Georgia's music industry are invited out to meet with Georgia lawmakers — and all are encouraged to wear red as a show of support
"I've lived in Georgia for a long time, and I've seen how a strong music scene can boost the economy for an entire region," Sharma says. "I went to school in Athens during the time that R.E.M. and the B-52's were big. Sometimes people don't understand the impact of artists. They are businesses as well. I watched R.E.M. hire crew members and techs, art directors from Athens.
These groups played a major role in revitalizing Athens' derelict downtown area of the late '80s and early '90s, turning it into a storied live music destination. The goal for Wednesday's Georgia Music Day is to foster this kind of growth. "When local artists are supported and successful," Sharma says, "so are we all."
Georgia Music Day takes place in the rotunda at the State Capitol in downtown Atlanta. Wed., Feb. 1. State Capitol Building, 206 Washington St. S.W.