The Blotter strikes back
Atlanta's infamous crime column returns to Creative Loafing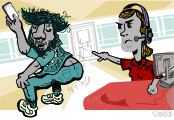 See: All Blotter columns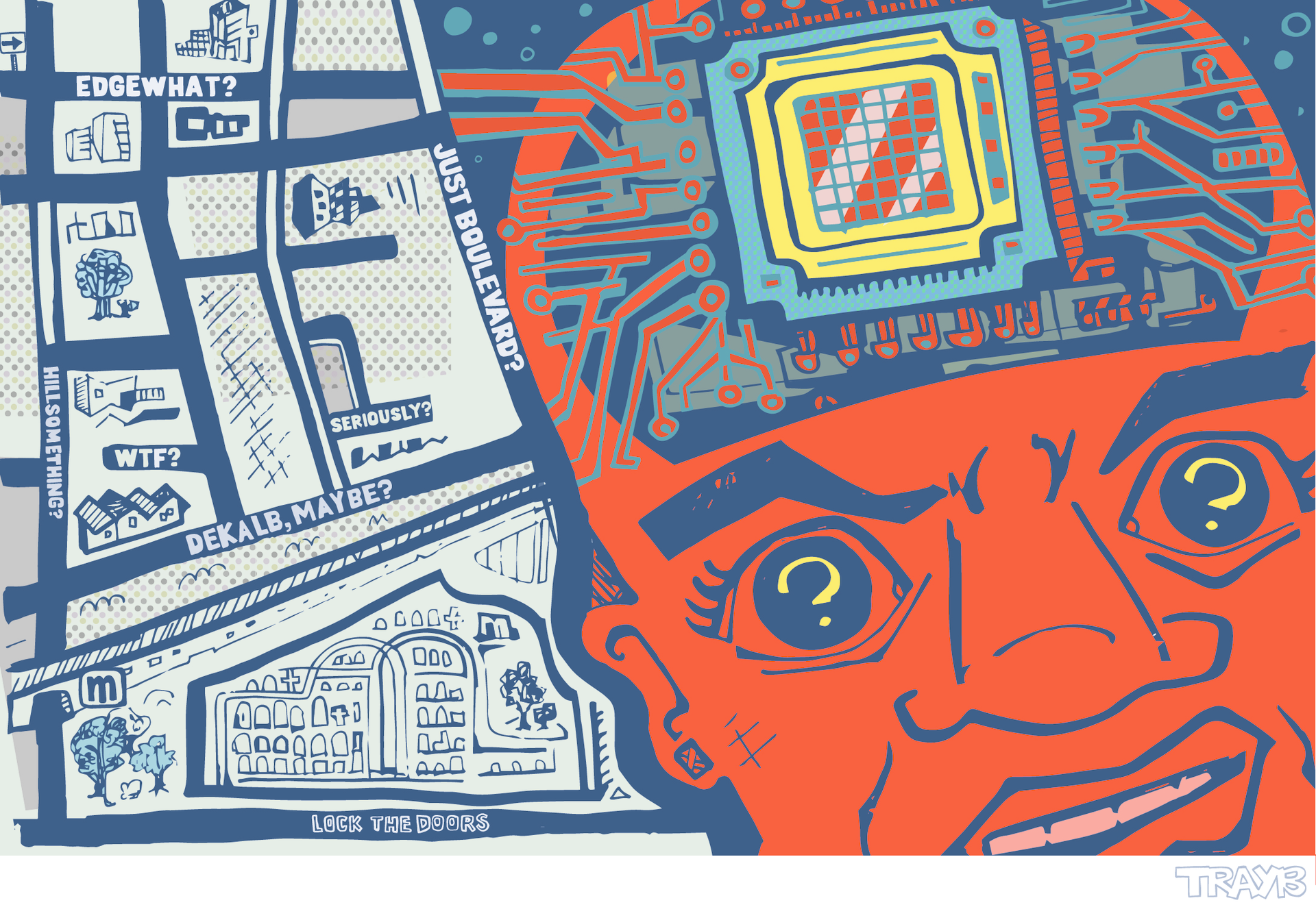 All right, all right. We got your calls, DMs and countless email messages, among other correspondences, urging us (the good folks at Creative Loafing) to bring back the Blotter. Atlanta's most infamous crime column, featuring true-life accounts of illegal activity derived from local police reports, the Blotter had been running every week in the pages of CL's print edition and on our website for years … until it was discontinued this past summer. But, rejoice! Your prayers have been answered: The Blotter is officially back in business — with the famed team of writer Lauren Keating and artist Tray Butler at the helm once again. This time around, however, the column will be published once per month. So keep your eyes peeled on the second Thursday of each month for new (and, undoubtedly, bizarre) tales of assault, battery, theft and ... I'm almost afraid to imagine what else.
— Carlton Hargro
LADY MACHINA"It was dark and rainy," a cop recalled. "A black [Mazda] was blocking two lanes of traffic, one northbound and one southbound, on Boulevard." The car was parked at about a 45-degree angle across the double yellow lines (at Boulevard Tunnel near Decatur Street), and no one was inside the vehicle.The cop left his patrol car to investigate. Suddenly, a loud, cursing woman appeared. "She asked me why they changed the names of the streets," the cop noted. "She said the car was hers and answered with attitude." The woman refused to turn over her driver's license, insisting the cop "did not have the authority" to see her ID."It was raining, and our conversation was not going anywhere. She was not complying and the car was a hazard." So the cop took the woman to the Boulevard police precinct and sent backup officers to figure out what was wrong with her car.Turns out, the woman's zigzag parking was by choice. "There was nothing wrong with the car," the cop noted. After much prodding, the mystery woman finally revealed her identity. The cop noted, "She did request that we take her to Atlanta Medical Center to get the computer chips removed from her brain."
BARE ASSERTIONIn Downtown Atlanta, cops noticed a grinning man "standing on the sidewalk naked" as afternoon rush-hour traffic whizzed by on Forsyth Street. His clothes were in a nearby pile. The cop asked the naked man to get dressed — and he refused. So the cop handcuffed the man, 59, and put him in a patrol car. The nude man said he hadn't taken any drugs and he's just fine, but he's burning up and needs a place to rest.
DOUBLE SHAFTEDA Virginia guy and gal in their early 30s were visiting Atlanta, and staying in a hotel Downtown. After a few cocktails, they decided to get frisky. "They were having intercourse in the hotel room," a cop noted in the police report."I had finished first, and he was still trying to get his," the girlfriend recalled. "But I was getting tired, and I wanted him off me." Frisky time ended abruptly, and the couple got into a heated argument.Still bickering, the couple went downstairs to the valet area of the hotel's south tower. They decided to go out for a drink and cool off. So they asked a valet to retrieve the girlfriend's white Ford Fusion. The couple's argument escalated to yelling and utter outrage by the time the valet returned with her car. Fuming, the couple nixed the outing and decided to go back to their hotel room so the girlfriend could gather up her stuff and leave. She said her boyfriend suddenly "got even more mad," grabbed a flower vase from the hotel lobby and hurled it into a white Ford Fusion, shattering glass everywhere. Small problem: It wasn't his girlfriend's car. Two identical white Fords were parked in the valet area.Completely unaware, the boyfriend continued his rampage, breaking a window and smashing the white car's windshield. "You are attacking the wrong car!" someone yelled. Once that realization sank in, the boyfriend whirled around, located his girlfriend's white car and kept going, smashing her windshield and windows.Hotel security guards witnessed both attacks and called police. The boyfriend went to jail, charged with second-degree property damage.
HOT RIDEOutside an Ansley Park veterinary clinic, an employee saw two suspicious men break into a Mercedes-Benz in the parking lot. Their motivation? Not theft. The two men started passionately kissing inside the blue Mercedes and kept canoodling for more than an hour.The employee asked the lusty men to leave. They refused. So she told her boss, a veterinary doctor, who quickly realized the car in question belonged to him. The veterinarian walked outside and spotted two men "kissing with their pants off" inside his blue Mercedes-Benz. Ahem. The veterinarian made his presence known. One man quickly bolted from the car and sprinted away (apparently without pants). The vet detained the second kissing bandit, a 30-year-old from Duluth, and called police.A cop arrived and interviewed the Duluth kisser, whose eyes were "red and glossy." Slurring, the kisser said he had no recollection of how he got inside the Mercedes — or who he'd been kissing. He didn't have a single clue about his make-out partner's identity. The Duluth kisser went to jail, charged with drunk and disorderly conduct.
THE BIGGER THE ENGINE, THE SMALLER THE …In Capitol View, a cop spotted a gray Porsche speeding along Metropolitan Parkway and weaving into traffic — with one tire blown, riding on "the bare rim of the front wheel." The officer stopped the Porsche and spoke with the driver, a 41-year-old man. He said he was only speeding to try to get to the tire shop to put air in his tire.The cop noted, "[The driver] asked me several times to hold his car key because he needed to throw up. I told the driver that I did not need to hold the car key for him to throw up.""Get out of the Porsche," the cop said. "He walked over to the curb and began pulling down his pants and said he needed to defecate and was going to do so on the side of the road."The man "talked excessively" and vomited during field sobriety tests. When he realized a DUI charge was unavoidable, the man got angry fast. "He said he was going to have me fired, and I should start thinking about what job I want to have after," the cop recalled. "The man said he was running for City Council. [He] stated that God was going to judge me for this when I die." Alas, a Google search reveals no political candidacy for this man. Nice try.
BREAK THE BANKAt a gas station on Boulevard, a white Jeep pulled up and two guys jumped out and walked inside. Store surveillance video shows: "One male went to the counter and started distracting the clerk, while the other one walked over to the ATM machine and started vandalizing it. The male put white-out on the scanner, stuck a fork in the lock and poured [Krazy] Glue on the bill acceptor."The two men hopped back in the Jeep and sped away. No items reported missing.


Items in the Blotter are taken from actual Atlanta police reports. The Blotter Diva compiles them and puts them into her own words.
Thursday September 5, 2019 10:43 am EDT
Sleeping it off in a bed of carrots |
more...
Thursday August 1, 2019 04:47 pm EDT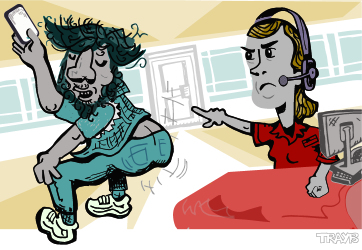 Friday July 5, 2019 10:14 am EDT
Friday May 3, 2019 12:11 pm EDT
Tuesday January 1, 2019 05:30 pm EST
Tuesday December 12, 2017 03:50 pm EST
His Audi was left unlocked and running |
more...
Monday December 4, 2017 06:45 pm EST
Is there nothing sacred about making pals in chat rooms anymore? |
more...
Thursday November 30, 2017 07:04 pm EST
Plus, an allegedly boozy bartender charged with a DUI |
more...
Monday November 20, 2017 05:14 pm EST
Plus, 'No, officer; I was just urinating in public!' |
more...
Thursday November 16, 2017 05:56 pm EST
Plus, 'If you're not going to be with me, you can't be with no one else.' |
more...