$20 Dinner with Chef Ahki
The plant-based chef to the stars cooks up a healthy vegan meal for less than $20
My first interaction with Sepsenahki Aahkhu, aka plant-based chef to the stars Chef Ahki, was over Instagram. I'd posted a rather comical image on CL's feed of Ludacris and Mayor Kasim Reed posing with giant scissors at a ribbon-cutting ceremony for the rapper-turned-restaurateur's new airport eatery, Chicken+Beer.
"Just WTH Atlanta needs," wrote Chef Ahki, reposting the picture for her 75,000-plus followers. "More chicken and beer as we lead the nation in diabetes and heart disease."
The woman had a point. Georgia consistently ranks among the least-healthy states in America, with chronic, diet-related ailments like heart disease and diabetes as the leading causes of death. And yet, we foodies love celebrating the cholesterol- and sodium-laden victuals that get us there. So I emailed Ahki, asking if she'd be down to meet up for a chat. She not only agreed, but also accepted our long-standing chef's challenge: to cook up a complete meal for four with only $20 or less. In this case, the meal would also be completely vegan, completely healthy, and, according to the chef, completely delicious.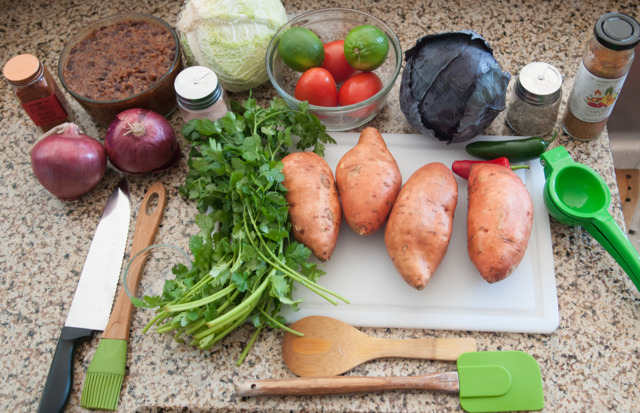 NO MEAT HERE: Chef Ahki bought all her ingredients for the meal from the DeKalb Farmers Market.Joeff Davis
It's one of those increasingly common warm winter days in Atlanta. CL photographer Joeff Davis and I pull into a quiet cul-de-sac just southwest of the Perimeter, up to a large brick house that looks brand new. Due to her newborn baby, Nashoba, Chef Ahki has asked that we meet at a client's house rather than her own. That client happens to be Christina Johnson, ex-wife of CeeLo Green and star of the VH1 show "Atlanta Exes."
The décor is sparse but opulent (shout-out to the chair of my dreams: a throne made out of a giant disco ball-mirrored face), and the kitchen is airy and bright. Ahki greets us warmly, her trademark blonde locks newly shorn, her black apron emblazoned with her name and slogan: "MY FOOD IS ELECTRIC." Electric is how she refers to the alkaline, plant-based, vegan diet she follows and promotes.
"Today, we'll be making chili-stuffed sweet potatoes with guacamole and ancho chipotle slaw," she says, pulling a quartet of bright orange tubers from the counter full of produce before her, freshly washed with a blend of water and apple cider vinegar. Everything's been purchased this morning from Your DeKalb Farmers Market, Chef Ahki's favorite place to shop and one of the primary reasons she moved to Decatur. "I just wake up and mosey over there," she says. "I feel like I'm there every other day."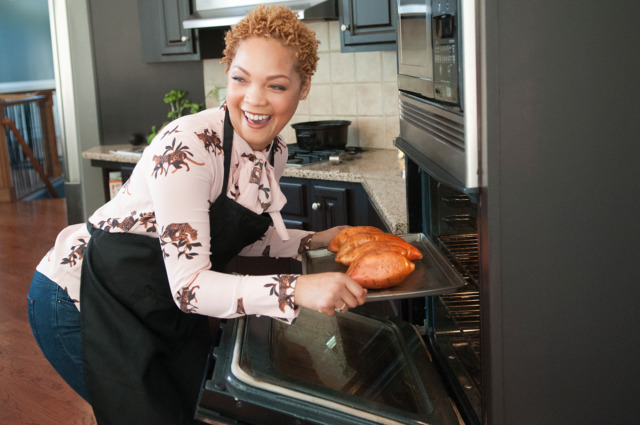 BAKING TIME: After massaging her sweet potatoes with olive oil and spices, Chef Ahki puts them into the oven.Joeff Davis
The chef massages her sweet potatoes with a blend of olive oil, agave and spices before popping them into the oven. Then she starts chopping cabbage for the coleslaw, which will be served on the side. Her knife deftly slices away at the crisp purple head, hitting the cutting board with a series of thwacks. The resulting slabs look like cross-sections of some beautiful alien brain. Ahki tosses them into a bowl and makes it rain with pink Himalayan salt, a special ancho chipotle spice blend from the farmers market, lime juice, vegan mayo and a very generous drizzle of honey. "Got to sweeten up that slaw!" She does a little hip-shaking dance across the kitchen.
For Chef Ahki, eating right is fun but also deeply personal. Born and raised in Oklahoma, she comes from a long line of traditional medicine women. Her maternal grandmother is Choctaw; her paternal great grandmother is Cherokee. But Ahki, now 37, says despite growing up hearing stories of her great grandmother's legendary folk remedies ("she helped anyone the doctor could not help") and harvesting watermelon, okra, wild pears and persimmons from her grandparents' backyard, she eventually became citified — lost to the land that had nurtured her.
"My mother raised us on McDonald's and Hamburger Helper, fried chicken," she says, laughing, but her smile fades as she catalogues the very real effects this kind of eating had on her family: breast cancer, diabetes, ovarian cysts, hysterectomy.
Ahki's large gray-green eyes begin to well. "I'm sorry, that's hard for me to talk about." She pauses, hand to face, before taking a deep breath, resuming her resolve. "Everybody was sick! And the more I learned, the more I realized so many of these things could have easily been prevented had we just made some changes in our diets."
By age 19, she decided to make the change for herself and went fully vegetarian. But for the first several years she continued eating the same old junk food — fries from McDonald's, bean burritos from Taco Bell — just without the meat. Meanwhile, she focused on her dream of becoming a singer.
Ahki rubbed shoulders with Erykah Badu in Dallas and toured the country as a backup vocalist for Lauryn Hill. Then she came to Atlanta to record an album, and that's when she discovered a new passion, one that would completely change the trajectory of her life.
And that passion was?
"Colon irrigation."
"Hold on," I sputter. "You traded in your music career to … clean out people's butts?"
Ahki laughs, hard and low and contagious. "Yep, pretty much!"
Deeply inspired by the process of cleaning out the body ("believe me, it's the best thing ever!"), the then 20-something took an unpaid internship at a colonic spa in Atlanta, working under a pair of twin sisters that remain her close friends today. Internship became calling became career. For six years Ahki tended to a loyal legion of dedicated followers, helping them quite literally de-shit-ify their lives, until one day she had another realization: the same clients just kept returning. They'd fill their bodies up with junk and then come to the spa each month to get rid of it.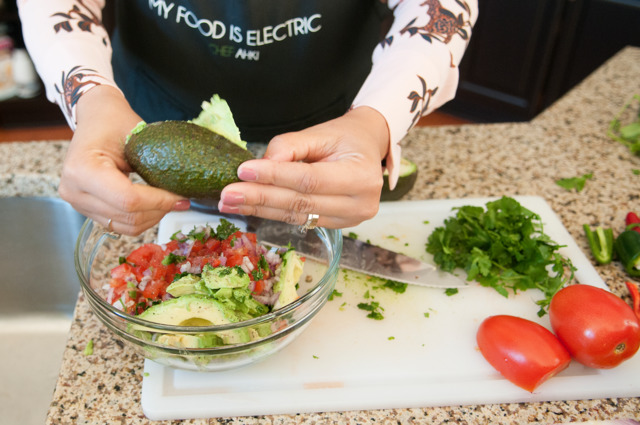 ALL ABOUT THAT GUAC: Chef Ahki adds avocado to a bowl of diced Roma tomatoes, red onion, cilantro and jalapeno.Joeff Davis

"I said, 'You've got to change your diet; you can't just keep coming to me!' But they didn't know how," Ahki recalls. So she changed tack and started hosting small classes, teaching people to be proactive: what healthy foods to eat and how to cook them in ways that don't suck. When social media came on the scene, she began blogging about her experiences, digging back into her own family's health problems.
"The more I blogged, the more pissed I became," she says. "I got really, really angry at big agriculture, big food corporations, and I started bitching really loud on social media." People took notice and her following steadily grew.
Then came Jan. 31, 2012: "DAYUMMMMMMM!!! We Think We May Have Found The Most BEAUTIFUL WOMAN In The World . . . She's GORGEOUS . . . NATURAL . . . And Can COOK!!!"
It was a headline on MediaTakeOut.com, a snarky celebrity gossip blog that garners tens of millions of hits a day. Below it were pictures of Ahki. "I was like, what?" she recalls, giggling. "They don't say anything good about anybody! This is great! They're horrible!"
Overnight, Chef Ahki's Facebook page rocketed from 5,000 to 25,000 followers. And then the phone rang. It was Lenny Kravitz's ex-chef.
"That's when my life changed," Ahki says.
After a successful trip to Florida during which she cooked for the rockstar and his band in preparation for a world tour, she was invited to Paris to work as Kravitz's live-in personal chef. She stayed for four months. The two became friends and Ahki says she even got to sing some backup on his latest album after he heard her crooning in the kitchen. "I'd deliver his food in the studio, and he'd be like: 'Come in here and hit this!'"
Since then, the chef has cooked for a whole slew of celebrity clients, including producer/director Lee Daniels, actor Bradley Cooper and rapper Waka Flocka. She's in talks with Turner's truTV on hosting several cooking shows, including one that involves celebrities, diets and hidden cameras. Through her brand, Delicious Indigenous Food, she authors cookbooks, hosts local and international health retreats, offers meal programs and one-on-one nutritional consultations, and sells custom products like raw black sea moss, herbal teas and seasoning blends online. There are a lot of moving parts, but the goal is simple: "to educate, enlighten and heal through food."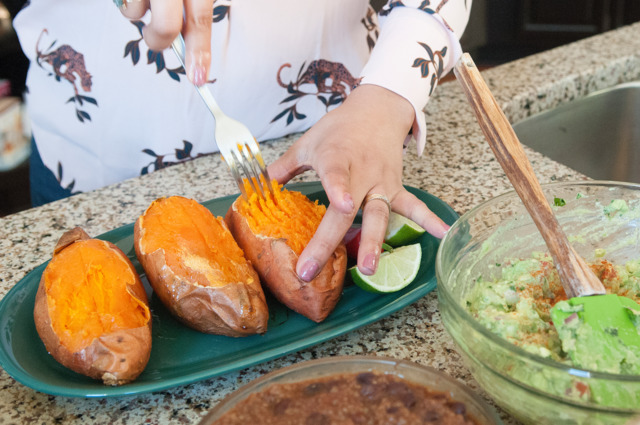 HOT POTATO: Chef Ahki slices her baked sweet potatoes and scoops out a bit of the insides to make room for the chili.Joeff Davis
"Values are seriously misplaced," says Ahki. "I go to a client's house, they have million dollar homes, nice cars, nice everything. And then I go in their fridge and it's like, Best Value, Walmart … like, where are your values? Are you kidding me?"
She sighs. "It's cultural, but it affects all of us. I used to say the black and Latino communities have a culture of really, really bad health from food, but that's not even true anymore. White folks are sick, Asians are sick, everybody's fucking sick. It's not a race thing."
By now, the sweet, sultry scent of baked sweet potatoes has filled the kitchen. Ahki pulls the tray from the oven and cuts into the now soft potatoes, creating a little dugout canoe into which she scoops the steaming chili — made meat-free with a base of black beans and quinoa. Then comes the guacamole. The results are gorgeous: a kaleidoscopic stratum of orange, brown, green and white.
Now, it's time to dig in.
Truth be told, I could probably consider going plant-based if it meant eating like this all the time. The meal is indeed delicious — the heat of the chili mixing with the earthy sweetness of the sweet potato; the cool guacamole providing a kiss of buttery freshness; the slaw pulling it all together with a consummate blend of smoke and snap. Joeff and I finish every last bite, down to the last scrap of potato skin.
The chef smiles, looking down at the empty place where my food once was. "I'm on a mission, and I mean that," she says, "to change the misconception that healthy food is tasteless, boring, too expensive. One plate at a time."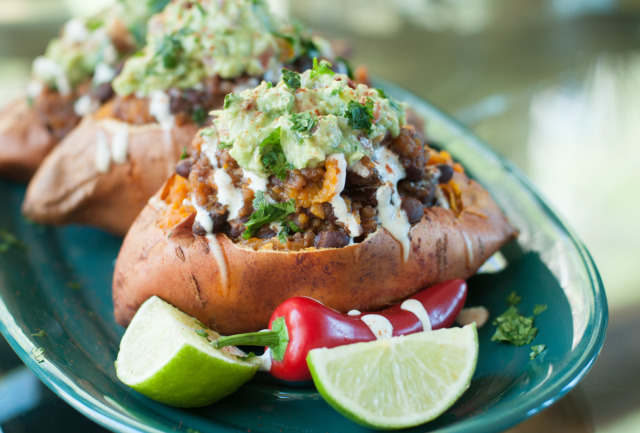 DELICIOUS AND NUTRITIOUS: Chef Ahki's chili-stuffed sweet potatoes with guacamole.Joeff Davis
Baked sweet potato base:
Ingredients:
4 sweet potatoes
2 tbsp. olive oil
1/2 tsp. paprika
1/2 tsp. honey or agave
salt to taste
Directions:
Whisk above items together and rub all over clean potatoes.
Bake potato at 375 degrees for 20-25 min. or until soft.
Split down the middle and stuff or top with the following.
Quinoa chili:
Ingredients:
2 cups precooked black beans
2 cups pre-cooked quinoa
1 cup tomato sauce
1/2 red onion, diced
1 tbsp. chili powder
1 tsp. cumin
1/2 jalapeño
1/2 red chili
2 tbsp. seasoning salt (preferred: Delicious Indigenous organic non-hybrid seasoning salt)
Directions:
Add oil, onion and peppers to a pan and let cook 1-2 min. until soft.
Add spices, tomato sauce, beans and quinoa.
Cook for 10 minutes, stirring occasionally.
Add water if too thick.
Adjust spice to taste.
Add a few scoops of extra baked sweet potato and stir together.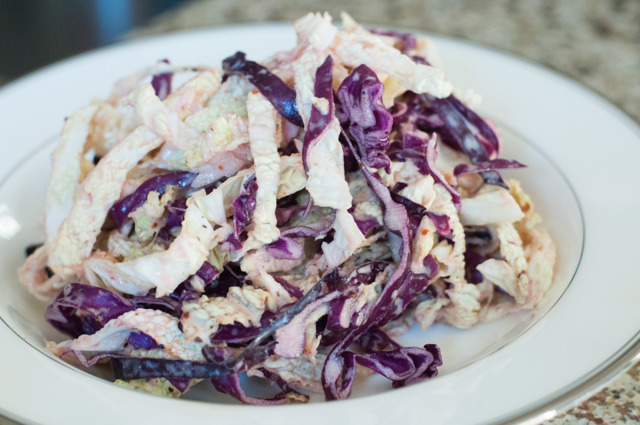 CABBAGE PATCH: Chef Ahki's spicy ancho chipotle slawJoeff Davis
Ancho chipotle slaw:
Ingredients:
1/2 cup vegan mayonnaise
1/2 cup vegan sour cream (optional)
3 tbsp. lime juice
2 tbsp. agave or honey
1 tsp. ancho chipotle spice
1 tsp. salt (preferred: pink Himalayan)
4-6 cups each packed shredded green and red cabbage
Directions:
Stir all ingredients together and allow flavors to marry. Serve alongside stuffed sweet potato.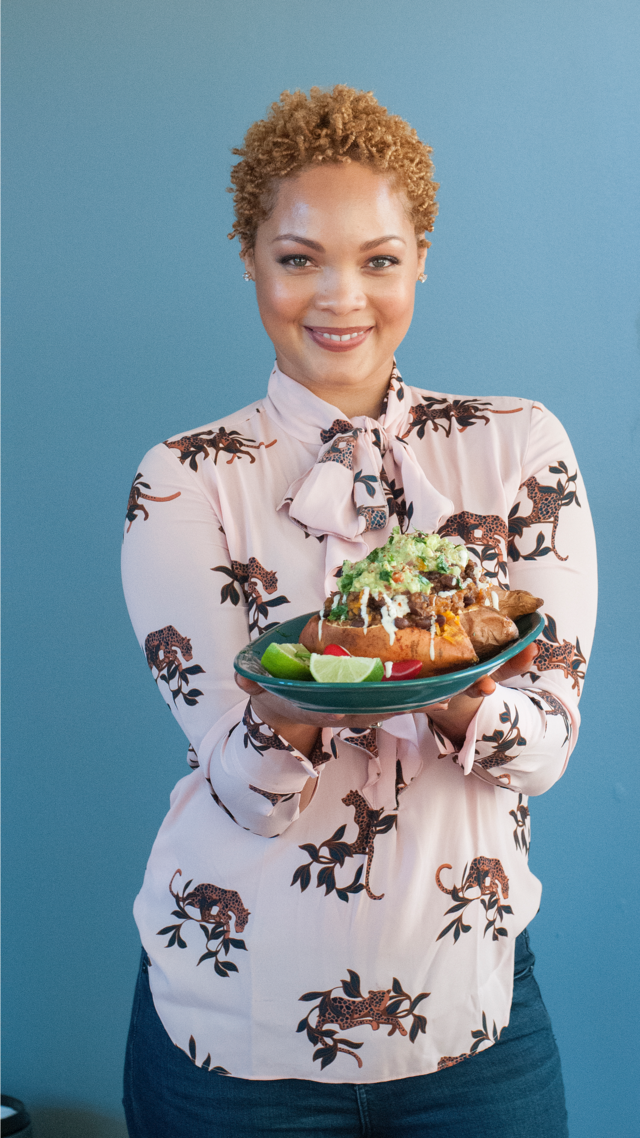 DINNER IS SERVED: Chef Ahki shows off her vegan chili-stuffed sweet potatoes topped with homemade guacamole.Joeff Davis
Guacamole:
Ingredients:
2 avocados, diced
1/2 red onion, diced
2 Roma or cherry tomatoes, diced
1 bunch cilantro, diced
1/2 jalapeño, diced
1/2 red chili, diced
1 lime, juiced
Directions:
Add all ingredients to a bowl, blend, and allow mixture to chill in the fridge until time to serve.
Layer all the above elements together (except slaw, which goes on the side) in order of appearance, top with extra cilantro, crushed red pepper, and optional sour cream, and enjoy!


Receipt:
Sweet potatoes: $2.67
Black beans: 99 cents
Quinoa: $3.99
Tomato sauce: $1.09
Red onion: 34 cents
Jalapeño and red chili: 39 cents
Ancho chipotle spice: 54 cents
Avocados: $1.98
Roma or cherry tomatoes: $1.89
Fresh cilantro: 10 cents
Lime: 20 cents
Cabbage: $1.78
Vegan mayo: $3.99


Total: $19.95
Pantry items: honey or agave, olive oil, paprika, cumin, chili powder, salt, seasoning salt blend, optional vegan sour cream