Text wrap test 2
You may take it as a sure sign that Father Time has truly crept up on you when you begin to hear yourself declaring more and more often, "You know, there was a time when … ."
And it's almost always true. Because being older means you remember that "there was a time when" most things, and the way people did things, were very different, and quite often better.
There was a time, for instance, when photographs played a larger role in the public mind — particularly vivid, beautiful, noble, or shocking images that were memorable at first sight. They were widely available in books, of course, or more often in newspapers and magazines, especially the large circulation "big slicks" — such magazines as LIFE, LOOK and The Saturday Evening Post, plus, for the delight of every lusty teen, National Geographic — publications where pictures could be seen and shared by massive numbers of people to their maximum effect.
And the photographers themselves took on a status of respected professional artists, many of whose names you may remember:
Henri Cartier-Bresson, Robert Capa, Diane Arbus, Ernst Haas, Dennis Stock, Art Kane. Then there were the heroic Farm Security Administration photographers who scoured the country for FDR during the Roosevelt administration to chronicle the impact of the Great Depression: Dorothea Lange, John Vachon, Gordon Parks, and Walker Evans, the latter whose epic travels into the bleakest reaches of Alabama with the writer James Agee produced the classic Let Us Now Praise Famous Men.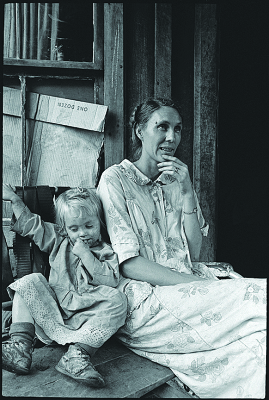 Those were the days — "the time when … ." Since then, with the number of newspapers and magazines shrinking away, plus the advent of digital cameras and smartphones, with anyone who owns one thinking of themselves as a qualified photographer, the practice of professional photography has generally become hard to sustain. But not hard to admire or still be moved by.
The late, great Al Clayton was a consummate artist from the last Golden Age of great photographers. His monumental opus, Still Hungry In America, has just been republished by the University of Georgia Press, and is once again opening eyes across these United States.
The book, with text by Harvard University professor emeritus Robert Coles and an introduction by the late Sen. Edward Kennedy, captures the starvation in Appalachia and the Deep South during the 1960s, as witnessed through the haunted eyes of often malnourished children, black and white, and their struggling families.
The extraordinarily compassionate and arresting photographs Clayton shot for this book were originally commissioned by the Southern Regional Council to document the findings of a group of doctors who had originally traveled to Kentucky, Georgia, Alabama, and Mississippi to report on conditions of malnutrition amounting to actual starvation.
On June 16, 1967, the doctors presented their findings to a U.S. Senate Subcommittee on Manpower, Employment and Poverty, accompanied by all the devastating 8x10 black-and-white photos that Clayton had taken.
As a journalist and a senior editor at LOOK magazine, I attended this subcommittee hearing, saw the photographs, and, at the conclusion, asked Sen. Kennedy, one of the members, if I could take copies of the photos back to New York. He thought that was a great idea, as later did the managing editor of LOOK, who immediately called Clayton and arranged for us to meet in Jackson, Mississippi.
I'll always remember my first glimpse of Charles Allen Clayton, III, a lanky, dark-haired, six-foot Tennessean with a Nikon hanging around his neck, coming down the escalator in the Jackson Airport. From there, we rented a car and set forth into the Mississippi Delta in search of starving people.
And they weren't hard to find. Ultimately we settled upon a family named Pilgrim, beset with an urgent food shortage and the racist tenor of the times, including the fact that the landlord for their shack wouldn't permit them to plant even the smallest garden beside the house.
The focus of this story was Teresa, age six and the eldest of four children belonging to Nathan and Lerleen Pilgrim, whose mind rarely wandered far from the idea of wanting something to eat.
Our story, "The Hungry World of Teresa Pilgrim," depicting for the first time in a major national magazine the actuality of a food-deprived American family, was published in LOOK just before Christmas 1967 and set off a torrential national response, along with an array of awards and prizes and the eagerness of editors to publish more of our clearly successful collaboration.
In fact, we followed that up in 1969 with the horror story of the Nigerian Civil War, in which a portion of the country, calling itself Biafra, declared its independence and was immediately besieged and blockaded by the Nigerian Army, with the help of the USSR, and forced into massive famine and bloody mayhem. Our story, "BIAFRA: Despair, Hope On the Edge of Extinction," appeared in LOOK to huge acclaim and also earned Clayton a prestigious Overseas Press Club Award for Best Coverage of Foreign News Event.
Clayton became a critical favorite among his fellow photographers  as among the best of the best, particularly with the original 1969 publication of Still Hungry In America, which, along with our Teresa Pilgrim story, inspired vital revisions of the Food Stamp Act of 1964.
Clayton and I worked together on serious projects and vagrant whimsies for the next 30 years, including more major stories for LOOK and other magazines, ads and other ideas, not to mention our persistent cult classic, The Hog Book, which is about hogs. We conceived of our work as being like words and music. Throughout it all the distinctiveness of Clayton's photographs is found in the profound sympathy and intimate closeness as reflected in the eyes of his subjects. As he put it, he hoped to "portray their despair without violating their dignity."
With the reprint of Still Hungry In America, a new generation can once again bear witness to the tragedy and timelessness of what some citizens were forced to endure — and what is never too far from happening again to many more among us in our newly uncertain future.
William Hedgepeth has covered an ever-changing United States for LOOK and LIFE magazines, Saturday Review, and Intellectual Digest since the Summer of Love. He resides in the mountains of north Georgia, outside Blue Ridge.
Al Clayton's photography included with "The Collector's Eye" exhibit at Still Hungry In Americaumiere Gallery through May 25th. Hours: M-F, by appt., Suite 29B, Building 5, 425 Peachtree Hills Ave., Atlanta, 30305. (404) 261-6100.
1. Janelle Monae | "PYNK"
Janelle Monae's revelation that she identifies as pansexual caused the term to be the most searched word on Merriam Webster earlier this week.  In "PYNK," the Atlanta-based singer celebrates female sexuality while wearing pants that look like a vagina. The song was one of the first offerings from Monae's "Dirty Computer," her first album in five years.