HIGH FREQUENCIES: Ray Dafrico talks about music ... and 'the resistance'
The singer/guitarist plays the EARL June 1
CUTLINE: TUNNEL VISIONS: Ray Dafrico's latest album recalls a time of innocence, before fascism was a threat, and American freedoms were being systematically erased.
Those who frequented Atlanta's famed 688 Club in the early '80s certainly remember the Nightporters. The band, fronted by Ray Dafrico and Andy Browne, with Tim Nelson and Paul Lenz in the original line-up, might as well have been the club's house band in the last half of its six-year run. The Nightporters always seemed to be playing the club that took its name from its street address on Spring Street.
Forming after the initial explosion of Atlanta punk bands — the Fans, the Brains, the Restraints and the Swimming Pool Q's immediately come to mind — the Nightporters, along with bands like Guadalcanal Diary, the Basics, Operator, Arms Akimbo, and BlueTV were part of the next generation of Atlanta groups to form when college radio and alternative music was gaining momentum — and bands like Journey, REO Speedwagon, and Boston were still the staples of commercial FM radio. Borrowing more from the Clash than the Rolling Stones, the Nightporters were a young, loud and snotty mix of both.
The Nightporters had the songs and the stance of the time, and appeared to be on the verge of greater things, until a singer-songwriter from Milwaukee, WI, moved to town and stole the rhythm section of Neilsen and Lenz to form Drivin 'N' Cryin. The songwriting partnership of Dafrico and Browne forged on, but with numerous bassists and drummers filling in, the Nightporters never regained the initial momentum propelled by the original line-up's brash stage shows and the single "Mona Lisa."
Dafrico is still making music, recording when and where he wants, and performing gigs whenever he gets the right group of musicians together. With Tunnel Visions, a new CD, in the stores, he's marking its release with a show on Friday, June 1, at the Earl, playing with Toby Marriott on bass and Sandra Senn on drums. Other bands on the bill include Kenny Howes and the Wow!, Catfight! and the Wussy Pillows.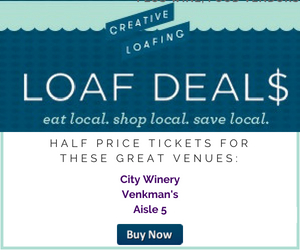 What was the original inspiration for you picking up the guitar, early bands like the Stones or later bands like the Clash?
I started being influenced by music at a very young age. I've always been a bit shy and kind of a loner, and my family moved around a lot: New York City, New Jersey, Philly, Chicago, and, eventually Atlanta. My dad traveled for work and he would get offered different jobs. It was always, 'Okay, time to move again,' which made it hard to make friends. Since I didn't have friends, I just listened to the radio constantly. I was a huge Partridge Family and Monkees fan.
I kind of always knew I would be a guitar player. Early in high school I would dress like I was in a band. I would wear my cool, striped trousers under my regular ones to school, then go to the bathroom and take the outer ones off since my parent's wouldn't let me wear them to school. I did it every day. People must have thought I only had one pair of pants!
Actually, back then we called bands 'groups.' I knew I wanted to be in a 'rock group.' I used to save my money from cutting lawns to buy records. I think the first ones I bought were re-issued "I Want To Hold Your Hand" and "Strawberry Fields Forever" 45s, and stuff on K-Tel Records.
I had a few guitar lessons from this old man in the back of a music store, on a horrible acoustic guitar that my parents had bought for me to take lessons on. I was a total cliché '70s kid, latch key around my neck and all, playing street hockey all day long … It wasn't long before I got into The Stones and Dylan and the Kinks and then punk music. I first heard the Who's 'Squeeze Box' at the local diner on one of those mini juke boxes they would have on the tables. One of my friend's older bother was a huge Stones fan and he also had Patti Smith's Horses. I remember looking at the inner sleeve of Hot Rocks and saw that picture of Keith from about 1968 with his hair all sticking up and thought, "That's me!" I could really relate to the look and attitude.
A few years later I met the first punk rockers I ever saw on the boardwalk in Avalon, NJ. They had skinny ties and torn, leopard-skin shirts. I thought it was so cool and different. I was immediately hooked. I was about 14 or 15 at the time. When I got back to Atlanta I started planning on how to have a real band. I bought a Fender Music Master Bass and taught my self to play by ear, listening to songs that had simple bass lines like Talking Heads' cover of Al Green's "Take Me to The River" and Bruce Springsteen's "Fire", which, at the time, was a hit for the Pointer Sisters.
How did the Nightporters finally get together?
I met Andy Browne through an ad I placed at a music store (Metro Music) in Buckhead. It had a long list of music I liked and it was all over the place: Bo Diddley, Stones, Kinks, Clash, T Rex, Ramones, John Lee Hooker, Dylan, Generation X … and the only person who answered the ad was Andy, who said he was "from England." I went over to his house and we hit it off. Both of his brothers were in bands so he knew a bit more about how to play.
Andy knew Ritchie Nesmith, and we started playing at parties — sometimes as a three-piece and sometimes with a singer — and everyone wanted to beat us up. But you could tell we were tapping into something cool. We actually played 688 for the first time as a three-piece opening for the Restraints on a Tuesday night. I wanted to make an impact so I smashed my Fender bass in half and threw the neck into the non-existent crowd, just like Jeff Beck in "Blow Up". I already knew Tim Neilsen because we played soccer together and would jam together. We had band names like "AK-47" and "the Geezers." We were goofballs. Like Bevis and Butthead before they even existed. So I told Andy about Tim and he became our lead singer for a bit, then Tim bought a bass and I switched to guitar and we started a run of exploding drummers until we found Paul Lenz, who had worked for R.E.M. doing lights when they were still touring in a van. The rest is history.
After the Nightporters broke up, what did you do?
I became extremely depressed and went to England. I thought about going to film school in London. I crashed in a lot of flats that didn't have heat, and it was freezing, so I decided to come back to Atlanta. I started the band Shades of Shame. We recorded with Peter Buck and Brendan O Brien, who I knew because I had a job in a warehouse with him, Darryl Rhoades, and Dan Baird and Rick Richards from the Satellites. Rex Patton was our boss, if you can believe that! Brendan was still unknown and working out of Ricky Keller's studio on Spring Street.
Despite a lot of interest, Shades of Shame never got a deal. I was kind of a lost soul. I played bass in Michelle Malone's first Drag the River, toured for about a year with Snatches of Pink, that featured Sara Romweber (Dexter's sister) from Let's Active, and later I had a few other bands: Soulfinger, Kathleen Turner Overdrive, White Chocolate, Kickstand, the Shanghai Gesture, and the Ray City Rollers.
More recently, you've become very much the political activist. You take stands on a variety of issues with your Facebook posts, but, more importantly, you organize and march in demonstrations, on election day you were even offering rides to the polls for those who needed them?
The day Trump got elected I got into the resistance. I had spent a lot of time near Atlantic City when I was younger. I knew then, when he built his hotel and casino there, that he was a con man.
I've always despised the guy and people like him. As punk rockers in the '80s, we hated Yuppies and vain, superficial people. Ronald Regan was another one … anyway, I got a small group of concerned citizens together and we began meeting with local politicians — David Perdue's office, Jonny Isakson's office, John Lewis, Hank Johnson ,and Stacey Abrams before she was running for Governor — about our concerns with Trump. The Republican's were useless. They actually believe the "fake news" rubbish that Trump spews out, and think that we're all "paid protesters!" The Democrats were very encouraging and helpful. In fact, when Congressman Hank Johnson found out I lived in the 6th district, he said "We need your help, there's this guy named Jon Ossoff that's going to be running for the Congressional seat in the 6th." That's how I found out about Jon and started volunteering for him, which really changed my life and that of many other people as well.
A lot has happened in a short period of time. I've been on almost every (anti-Trump) march in Atlanta, and I led the first "Impeach" march with 600 people marching five miles from Midtown to Buckhead. I thought, "Why is everyone doing marches in town? Everyone is onboard there, it's preaching to the choir." I felt we needed to go where we weren't wanted — Buckhead!
John Lewis has been a major influence on me. I always ask, "What would John Lewis do?" And the answer is, "Make good trouble!" I've also been attacked by Brian Kemp, who threatened me on Facebook because I told the truth about him on the news and how the servers were wiped in the 6th district election the day after a lawsuit was filed against them, leaving no trace of the hacking and vote-flipping that went on. Now he's running for Governor AND running the election. Can somebody say conflict of interest? There have been citizen criminal complaint charges filed against him recently so we'll see how that plays out, but I still have plenty of statute of limitation time left so "yeah, I just said that"!
I'm also man enough to not have to carry or glorify guns, despite having one pulled on me for putting up an Ossoff sign and people trying to punch me for canvassing, which is legal, it's not soliciting. I think it was Peter Townshend who said, "The guitar is mightier than the sword," and Keith Richards said it was rock 'n' roll that brought down the Berlin Wall.
What caused this shift — this taking to the streets?
I think people were shocked that someone like Trump could actually be elected and started realizing that politicians, at least the ones in the majority, aren't doing anything but awful things and are not listening to what regular people: aka (not rich) want or what common people's needs are. 
It also has become very clear that we are going to have to make them listen by taking the power away from them and by putting people who care into office.
Not that this is all new, but it has reached an all time high — or should I say low? For me healthcare is the main issue, that is a basic human right for everyone and corporations shouldn't be making money off of it.
I have Celiac Disease and despite all the "gluten jokes," it is no joke. I lost 40 pounds and was close to death and in the ER all the time and no one could tell me what was wrong with me. I am better after being on the diet for 10 years, but I still suffer from the many other problems it causes. I'm basically in constant pain. But back to the question, there are basic things that people need to live and making these things inaccessible to most people is beyond me. The same with discrimination, climate change denial, and refusing refugees. Conservatives who have been in power need to have compassion for fellow humans — and they obviously don't, despite what they say about having "Christian values." I'm agnostic, but care about others.
Do you feel you've been successful?
I'd like to think so, yeah … Stacey Abrams, 75% of the vote!
It's a slow process. In the fall we will see how much actual change there is. The thing that worries me is the Bernie/Hillary syndrome. I'm a Hillary (Clinton) guy. I wasn't in the '90s, but I didn't care then. I grew to appreciate her and can't believe how many people bought into the right's (and left's) propaganda against her. As far as Bernie (Sanders), I respect and love what he says and wants to do. The problem for me is he never seems to follow up with actually getting it done. That is frustrating. It's like all talk, no action. I do think he has inspired the younger generation to be involved and that may be the key factor moving forward, but please, people, don't throw Pelosi and Hillary and the older generation under the bus. They are fighting the same fight and have been doing it long before the resistance or "Feel the Bern" slogans started appearing. I'm probably somewhere between Clinton and Sanders now, and I think that's the sweet spot for Democrats. I think it's naive to expect there to be zero money in politics, but that if there is money, it should be applied to a good cause.
Do you feel you've made a difference?
Definitely!  The Republicans in Georgia now have a challenger in almost every seat in the state. That is progress! We stopped the horrible 'barcode'
voting machine bill for the moment and the GOP know they are now facing an uphill battle on every level because there are now so many people that are active and networked.
I think Trump is his own worst enemy — and will be his own undoing if Stormy and Mueller don't do it for him.
Has social media made activism easier — or harder?
Well it's a trade off. It's much easier to reach a lot of people quickly, but it also leaves a lot of room for misunderstandings. I grew up with a phone hooked to a wall so I like to hear a person's voice. I don't like to text because you end up sending 20 texts to explain what you meant by the last text or because something is not spelled right!
Besides supporting the Democratic party, what other causes have you been active in?
That's true, I'm a Democrat and have always been a bleeding heart liberal, but the funny thing is, I'm not really a causes kind of guy. I'm just a guy and I don't really like politics and drama! I feel like saving the world at this point is, you know, crucial! But I will always be a rock 'n' roller first. I've just been sidetracked — hopefully only temporarily.
Yet none of this is really reflected in your music, in your new album, Tunnel Visions, or am I just missing it? The name itself seems like it could be a statement on many peoples' views today.
Most of these songs were written a while ago, so they don't reflect the moment all that well. Although yes, the title is about how I have been feeling the last year or so and what the country has been going through, but also that it was recorded between the tunnels of New York. One song, "Pill Hill," is about the lack of affordable or free national heath care in the U.S., so there is some activism in there. The song "Give it a Try" is partly about trying to have a positive outlook under difficult circumstances. I have a lot of songs. Some of these were written to be potential Nightporter songs, but I have been kicking around the notion of doing a whole album of just protest songs, or covers of protest songs. People have actually suggested I do that. I just don't want protesting to take over my true passion, which is music.
You recorded this album in New York?
I like to record in different places just for the experience and feel. We did this in a funky studio called N.Y. HED, which is underneath a cookie store in the East Village. The Fleshtones and Subsonics have done stuff there. The last album I did was recorded at FAME Studios in Muscle Shoals, AL, and I was lucky enough to have Spooner Oldham play on it. He liked my songs a lot.
Why not Atlanta?
No specific reason, I guess I've never done anything for the sake of convenience, musically that is … Atlanta has felt kind of dead musically for me for a while. Not that I wouldn't record here, but, I've been around here forever and it's changed so much, it kind of bums me out. I used to complain it was too small of a town, but now it's just out of control and over developed with no plan at all. I realize now what a cool scene it was. Maybe it's because I'm older, but maybe it's because it really was a special time. On the other hand it's harder for me to travel now so maybe I'll do the next one here, although my dream is to have Mick Jones produce me in Ronnie Lane's mobile studio or KONK studios in the UK. I'm getting a lot of airplay in Europe at the moment so never say never!
How did your recording with Cait O'Riordan come about?
It just kind of fell together. I've always loved her voice and thought it would be great to do a duet on the Rolling Stones song, "Child of the Moon," which was the B-side to "Jumping Jack Flash." Shades of Shame used to play it. Cait and I are Facebook friends and I asked her and she was in New York the same time we were recording and she said, "yeah, be there in 10 minutes" and walked over and cut the songs. She's really sweet and sounds amazing. "Rejected" is the other song she sings on.
Do you want to keep a band together, or do you think its better to get a new group of musicians together, tailored for the individual project?
I prefer to keep a band together, but I think that's also a somewhat unrealistic goal. It's almost impossible to even squeeze in a rehearsal these days. People are always asking me why I've been in so many bands, and I tell them, "I'm not, I just feel like if it's different line up, you should change the name." It's all like the same band to me I just change the name a lot. I never used to play under my own name because nobody can pronounce it. Finally, I said, "Screw it, just do like Dylan and call it Ray Dafrico and his band!"
Contact Tony Paris regarding band news and music-related events at cl.highfreqs at gmail.com. Information sent via Facebook or Messenger is consciously ignored.
---