Chelsea Shag returns to her roots
'Satellites' deluxe reaches new heights of acoustic soul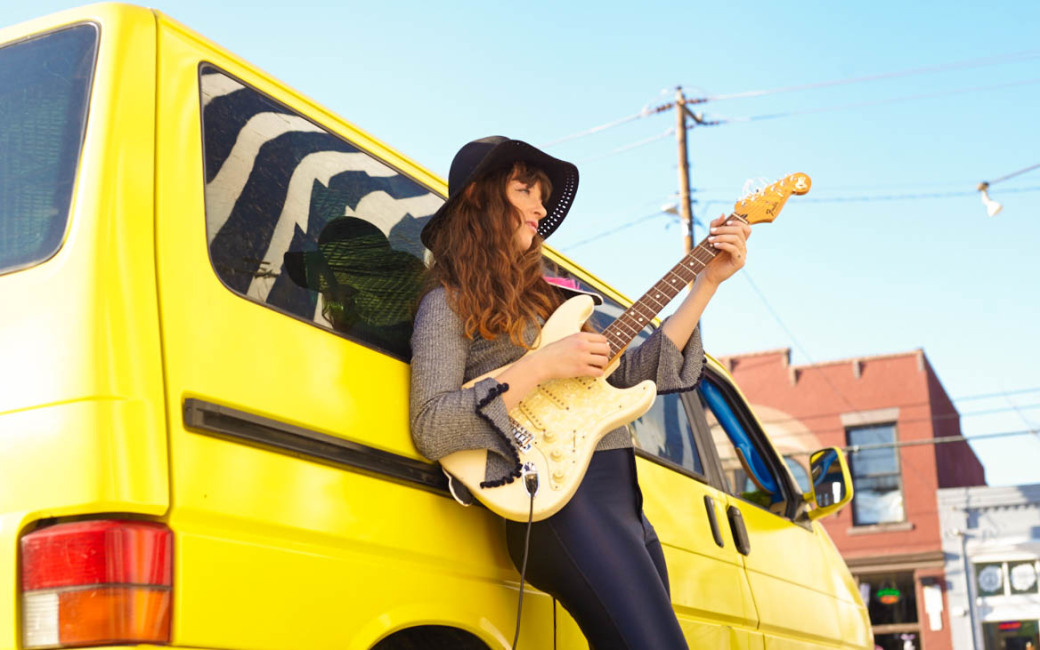 LOVE AND LOUD COLOURS: "Have your own funk love, just make your love funky and whatever it may be. Embrace the love." — Chelsea Shag
Chelsea Shag's music is a kaleidoscope of sound that transcends easy categorization. The Nova Scotia-born Atlanta transplant moved to Georgia in 1996, and Southern living has left a mark on her careful, colorful blend of folk, funk, hip-hop, and blues songwriting. Over the last year, Shag's schedule has been punctuated by a new video for the song "Poise," and, on May 11, the unveiling of a new EP, titled Satellites, via Madison Records.
Lately, the singer, songwriter, and guitarist has gravitated toward more pop songwriting terrain, but on the heels of releasing the EP, she's taking a step back to rediscover her roots with a deluxe re-release of Satellites due out by the end of the summer. 
Since 2016, Shag has been hard at work crafting the songs on Satellites, which take shape as paeans to letting go of past relationships and thriving in newfound love. While working on a separate new full-length album, due out in 2019, Shag and her manager, Kara Hammond, felt it was time to reintroduce Shag's raw singer/songwriter persona, whose songs bleed with the soul and passion of the '60s.
"People know the polished pop songs but we wanted to show what the songs originated as, rather than what they became in the hands of other people — which is beautiful — but we wanted to go back and release a few acoustic tracks to show how it starts," Hammond says.
Colours, released in 2016 is a youthful take on personal relationships, love, and music, as portrayed in songs such as "Us Kids," when Shag sings: "So much time, so much freedom / We don't know what to do with / Us kids get stupid." Since then, her songs have grown increasingly refined. 
"There were a lot of songs on Colours that I wrote when I was much younger," she says. "The new album is more thought out. I had more time to sit with it and conceptualize an idea for it."
With the latest EP, Shag brings her attention to how easily people are able to stay connected to the past via the pervasive role social media plays in daily life. But Shag has no interest in looking back, as illustrated by the lyrics to "No Guarantees": "We're a bond forced through satellites / There will never be a place for you and me / No love in a time capsule and there are no guarantees." "Funk Love" is a rocking anthem to love, exploring the ecstasy, warmth, and excitement that is unique to each new partnership. 
Madison Records brought in Los Angeles-based producer Stefan Skarbek, (Amy Winehouse, Lily Allen, the Spice Girls) to assist with the production of Satellites. Skarbek draws out Shag's voice above everything else, emphasizing the overall message of love and letting go that's conveyed with her music.
Echoing the way rock music in the '60s helped to frame the civil rights era and the political turmoil of a country steeped in anger over the Vietnam War, Shag's songs reflect the power of her personal convictions. Spreading her message of love through music is more important to her now than ever before, as the Trump administration plunges the country into deeper and darker political discourse. "I just want to be myself for others," Shag says. "I'm not afraid to sing my truth, because people need to hear the truth. I always wrote about heartbreak, but then I met my love and I just want to sing about it, because I have that love. I don't want to be scared. I used to be scared, but now I just don't give a fuck. Especially in this time." 
Regardless of what turn she takes musically, Shag's vibrant vocals and command of the blues guitar forge a deliberate and soulful fusion that brings her songwriting full-circle — picking up right where she began, forever moving forward.
---