HIGH FREQUENCIES: It's a six-string thing
'The men don't know, but the women understand'
GUITAR FEST: Clockwise, from top left — Glenn Phillips, Moses Mo, Reese Boyd, Roger "Hurricane" Wilson, Jesse Williams, Spencer Kirkpatrick and The Pussywillows (center).
"I had this idea of doing an Atlanta guitar show a long time ago," guitarist Glenn Philips tells me, "and Larry Hurley, the promoter who put together the Hydra reunion last year, took the idea and ran with it."

What Phillips is referring to is "Guitarclectic," a guitar fest in the Hard Rock Cafe's Velvet Underground performance venue this Saturday night at 7 p.m. The idea behind the event is to bring together some of the "old guard" Atlanta guitarists with some of the city's newer players.
The line-up is impressive, featuring:
with a house band made up of drummer Steve Pace (Hydra, Krokus, Whitford/St. Holmes Band), bassist Gary Gilbert (Kerry Livgren/Kansas), and David Cook on keyboards.
While all of the guitarists share a history with Atlanta, few of them have shared a stage together before.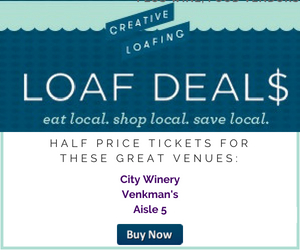 Phillips says he's "jammed with Spencer Kirkpatrick over the years. We used to trade guitars with each other back in the '60s — he got his first Telecaster from me, and I got the Flying V I used to play in the Hampton Grease Band from him. And if my memory is correct, I think I gave Roger Wilson some guitar lessons many decades ago, and we used to play together at those."
Wilson, who this year celebrates the 45th year of his Roger Wilson Guitar Studio being open, says Phillips's memory is correct. But he wasn't a beginner when he decided to take Phillips' guitar lessons. "I'd already been playing a long time," he recalls, "and was already teaching, having just opened up my studio in '73. Glenn was offering guitar lessons for five bucks. I had already seen the Hampton Grease Band back when I was in high school, so I knew what kind of player he was. I had been taking lessons since I was nine. I could read music and play guitar, but there were just some things I didn't know, so I took one lesson, then I went back for one other one. He opened up a whole world of scales and modes to where I could relate everything to the fingerboard — and just go from there. I kept it within my style, I didn't branch out into crazy jazz or anything, but with those two lessons, he gave me enough information to last me from the past up until now. I have been running off that information for the last 40-plus years."
Longstanding relationships are indeed what makes it easy for these players to share the same stage. As Kirkpatrick acknowledges, "Of all the guitarists playing, I have known Glenn the longest, having met him in 1966 the year after Bruce (Hampton) and Harold (Kelling) co-founders of the Hampton Grease Band along with Phillips adopted me into the Northside music scene. Kirkpatrick lived in Grant Park, while the members of the Grease Band grew up around Chastain Park. I met him on a Saturday afternoon in Harold's basement while listening to John Mayall's Blues Breakers LP and digesting what was to become the vocabulary for electric guitarists for several decades to come.
"We always got along well and traded guitars a lot. We were essentially smart-ass boys with a passion for all things with six strings! Hydra played a lot of gigs with the Grease Band, at the Catacombs and Piedmont Park. We were all in the same tribe!"
Kirkpatrick hasn't had as close a relationship with the other guitarists playing "Guitarclectic."
"My first time playing with Mo was at Smith's Olde Bar for the 2007 Atlanta Rock Reunion when we played several tunes in a large jam format. I've always thought Mother's Finest was a great band. Roger Wilson had a guitar shop on Piedmont near Lindbergh that I used to frequent. A great guy, and a great player, but I've never had the chance to play with him. George Price I met several years back on a gig at Dailey's downtown. A very gifted player and a very smart man whom I have a lot of respect for."
As for new Atlanta guitarists on the bill, Kirkpatrick, like the guitarists he grew up with, hasn't had much exposure to them. Kirkpatrick only recently met Reese Boyd at a rehearsal for Saturday's show, but already gives Boyd the thumbs-up. "He's a fine player who, I think, will be around for a good while." And he knows Jesse Williams through a mutual friend, noting the singer/guitarist is "showing an old soul approach" which he likes.
The Glenn Phillips Band has played a gig with the Pussywillows, the band fronted by singer Hannah Zale and guitarist Carly Gibson (Phillips invited Gibson to jam with his band that night).
"Before this gig, we loved and admired many of the players on the bill," Zale tells me, recalling the night they shared the bill with the Glenn Phillips Band at Steve's Live Music shortly after the Pussywillows first formed.

"I think veteran musicians and baby musicians should pair more often. We have so much to teach each other about the industry, art, and performance. The old adage that age is just a number is really true. Age is a mindset and we often find, when on tour, that the people with the youngest hearts are rockers in their 60s. Cross generational friends and bandmates should be more of a thing; we all need each other," Zale acknowledges.
While it's just the two them performing at the Hard Rock, the energy level for the Pussywillows runs high. "We're excited to play with the big boys! I think we are both most excited to meet Moses Mo of Mother's Finest. What an inspiration!
Mother's Finest guitarist Moses Mo has enjoyed the work of the elder guitarists throughout his years in Atlanta, recalling the days of Funochio's on the Strip on Peachtree Street, Underground Atlanta, and at the Great Southeast Music Hall. But, like them, he is eager to hear the younger players Saturday night. "There's a lot of new, young talent being presented and I can't wait to hear them! The Pussywillows, the Jesse Williams Band, and Reece Boyd I'm excited to hear live," he says. And though he doesn't get the opportunity to get out as much as he used to, he's already familiar with their music. "I like discovering new music. I'm a YouTube addict!"
"It sure came out of nowhere," Wilson says of this Saturday's guitar fest. "These guys, Spencer Kirkpatrick and Glenn Phillips, they were opening up big shows back in the day. They were like monsters when I was just thinking about it. There are some great players that have been mainstays in Atlanta, so I am extremely honored to have been chosen to be there. I also consider myself fortunate to still be standing with many of them. I'm sure it will be a great reunion."
Phillips waxes nostalgic about the upcoming show.
"When I discovered a live electrical outlet in Piedmont Park in 1968, the Grease Band started playing there every weekend, and it quickly turned into a gathering place for many great Atlanta bands with many great guitarists. Those shows gave us all a chance to connect with each other as well as with an audience that loved guitar-oriented music. It gave us all a chance to become part of a community, and this show at the Hard Rock is a much appreciated opportunity to do the same."
Schedule performance times are as follows:
7:00 –  Reese Boyd
7:30 –  The Pussywillows
8:15 –  Roger "Hurricane" Wilson
9:00 –  The Glenn Phillips Band
10:00 – Moses Mo and The Real Cool Band
10:45 – George Price
11:20 – Spencer Kirkpatrick's All-Star Jam with Jesse Williams.