The politics of pinball
Atlanta Pinball Museum overcomes gambling laws for the sake of gaming
TRANSPORT YOURSELF INTO ANOTHER DIMENSION:The Stargate pinball machine takes Hightower back to simpler times.
Call it blissful nostalgia. In 1997, Tim Hightower was a typical high school student. He worked at Joe's to Goes, a fast-food restaurant down the road from his home in Snellville, a town with the slogan, "Everybody's Somebody in Snellville."  He recalls his love-at-first sight moment with pinball, one of almost childlike purity. "There was this pinball machine in the burger joint I worked at in high school, a Stargate machine. Naturally, I was fascinated. Me and the owner's wife used to go at each other playing that game a lot. And then, I went to college and kind of forgot about pinball."
Fast forward 21 years to the Southern Fried Gaming Expo, an exhibition passing through Atlanta  that featured pinball, as well as arcade, console, and board games. The show flooded Hightower with memories and rekindled his youthful amazement all over again. "When I walked out of Southern Fried Gaming Expo three years ago, I went to go play pinball the next week," he says. "That's when I realized there was nothing in Georgia. It's been a slow, blessed ascent ever since then."
Now, Hightower is revving up to open a glorious ode to the game, and the first of its kind to come to ATL: The Atlanta Pinball Museum, set to open its doors by the end of this year. Because pinball machines are considered a gambling device in Georgia, the museum angle is a way to bend the rules, in a sense. Little did I know, prior to interviewing Hightower, that pinball's long and storied history makes it more than just an arcade game. It's also a game of politics.
The first pinball machines date as far back as the 1930s. Over the decades to come, the machines would be drastically improved and theme-based on popular culture of the day. The idea of a walk through time via pinball machines, with games from every year showcasing the connection to pop culture, is Hightower's ultimate goal. "You're seeing the development of an entire culture," he says. "You can see what was going on in the themes of the time by how the games themselves were. Military for WWII, highlights of the '80s and '90s, and a lot of the new games today are based on Marvel movies."
He plans to purchase old games and restore the damaged parts, enough so that visitors can play them, while preserving the old-school appeal that makes each machine different. "Pinball's been around since like, 1936, and the technology changes and keeps the younger generations interested, but at the same time, it's been around so long that you have the full nostalgia blow on it," Hightower says. "So there is no particular age range on it. A grandparent can bring his grandkid in, and they can go up to a pinball machine and have a great game together and both understand it."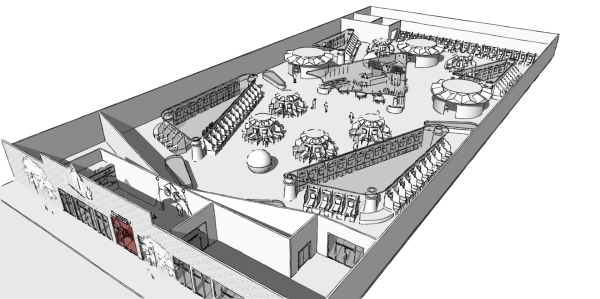 In the state of Georgia, pinball machines are considered Class A Machines of Commercial Gambling by the Georgia Lottery COAM division and the State of Georgia Bureau of Investigation. Atlanta event went as far as banning pinball altogether in what is known as "pinhibition" in 1939. Today, while pinball hotspots like My Parents' Basement in Avondale Estates (which recently added the Iron Maiden: Legacy of the Beast) and Kennesaw's Portal Pinball are thriving, options are limited due to restrictions on gambling devices. Class A Machines are defined as "not allowing a successful player to carry over points won on one play to a subsequent play or plays, provide no reward to a successful player, reward a successful player with free replays or additional time, or reward a successful player with non cash merchandise." In order to have pinball, owners must pay a fee and license each machine individually.
Hightower's solution to this tedious expenditure is to call the mega-arcade a museum and have guests pay a flat rate at the door. "Pinball museums, in the new arcade model that I'm going for, exist in other states and are doing very, very successfully," Hightower says. "The norm is pay-to-play, but people don't like that anymore. They like the subscription model, where you pay up front and receive all the services afterwards. That's the new arcade model."
In such a time of political turmoil, pinball is more important than ever. The game is one of acquired skill, and due to the natural flaws that develop in the game board over time, every machine is different. To play requires expert focus and quick reflexes, regardless of the player's age or background. "It makes everybody equal. Age, race, gender — none of that matters in a pinball game, everyone can compete equally," Hightower says. "In this political climate, it's a friendly game you can play against yourself, you can play it against your friends, I can play it against my mother and she kicks my ass at it. It's a friendly, competitive game that anyone can interact with."
As far as the demographic of pinheads goes, it depends entirely on the setting. "I was trying to find a demographic and there wasn't one," Hightower says. "It all depends on the setting. If you call it a museum, you'll get parents and their children. If you call it an arcade, you get people on dates and a lot of single guys, you know? So it's all in the name. The museum allows everybody to come into a safe environment and experience pinball for the first time."
If the city wants pinball, Hightower's here to bring all the flipper-loving action enthusiasts could ask for. He's preparing to sign a lease for a location off Seaboard Industrial Boulevard in West Midtown. To help with costs, he's launched a Kickstarter Project that allows "backers" to donate money for rewards. He's also selling T-shirts with several Atlanta Pinball Museum designs crafted by local artist Austin "Chonny" Piedra. The current Kickstarter runs through July 7. If the demand isn't met, Hightower will launch the campaign for another 60 days; either way, the Atlanta Pinball Museum will open. The Museum will hold a variety of machines, a bar complete with wine and beer, and a restaurant. "The pinball enthusiasts will come here to experience different tables, but it's also to introduce people to pinball for the first time," Hightower says. He also plans to incorporate several Atlanta-based artists.
Regardless of today's political tumult and the inevitable gambling laws set by "the man," Hightower is determined to prevail, drawing on the same values that propelled him from the beginning: community, continuity, and competition. And for the sake of pure nostalgia, he's currently on the hunt for the Atlanta Pinball Museum's first machine: a Stargate.
---