HIGH FREQUENCIES: The exorcist and sorcerer (Tom Smith and Rat Bastard)
To Live And Shave in LA: Tom Smith and Rat Bastard 25 years from home
"We're sleeping in a colossal industrial loft above a karaoke bar owned by our promoter. She's curled up on the kitchen floor! Must not have made it out of the bar before four …" Tom Smith lets me know via a text message. The Georgia native, now expatriate residing in Hannover, Germany, has acquired a local SIM card, accommodating his need to communicate while here in the U.S. on tour with the band To Live and Shave in LA.
An experimental music collective now in its 25th year, its line-up has ebbed and flowed, with the gravitational pull of Smith and Rat Bastard, the well-known Miami-based producer, musician, and founder of the touring International Noise Conference. Past and previous members include Don Fleming, Andrew W.K., Weasel Walter, Thurston Moore, Sickboy Milkplus, and at least a dozen other musicians and sound sculptors. Their performances have been frenetic, chaotic, and dangerous, with onstage destruction of the physical as much as the musical. Fueled by intoxicants and an abhorrence of much of what has come before them, the results vary performance to performance. It is often not pretty, though always engaging.
Smith's role as a composer, who works on both primal and emotional levels, has its origins in Athens, GA, though he's been on the move, finally settling in Hannover. A quick look at his CV reveals:
•    1979-1983: Boat Of, Athens
•    1984-1991: Peach of Immortality, Washington, DC / Atlanta
•    1984: Velvet Monkeys, Washington, DC
•    1985-1986: Pussy Galore, Washington, DC
•    1990-present: TLASILA, Miami Beach / Atlanta / Hannover.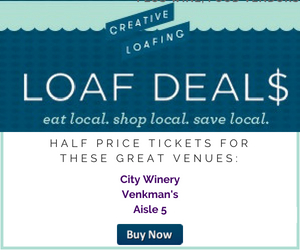 Leading up to TLASILA's Atlanta performance Tuesday, July 3, at the Bakery, I threw some questions Smith's way, and, as time permitted while traveling across America playing shows, Smith responded with answers.
TONY PARIS: You have listed on your FB page you attended Valdosta State College. Did you attend the University of Georgia — or were you drawn to Athens at the time because of what was happening musically?
I dropped out of VSC (pre-cert) in 1976 after taking Electronic Music, Black Rhetoric, and Voice and Diction classes for six semesters; I drove straight to CBGB, like the hayseed naif I was. Midday, May. Door was open. Roberta Bayley was on the phone, unconcerned. Lenny Kaye was at the bar. We talked Nuggets for the next hour. That was my introduction. Stayed about a year. Did coke with the Cramps, saw Suicide and laughed with malevolent glee when Alan Vega wielded his tugboat chain against the squares (you can hear me howling my approval on one of the recordings from Ghost Rider: Live 1976-77). Partied too much. Got fired for mouthing off to my boss at the record distribution outfit I worked for on Long Island. Retreated to Adel Georgia, weighing about 120 pounds. Met Mike Green ex-Fans at some shitty Decatur pizza place I was slaving at after returning to Atlanta. He liked that I was wearing a ratty red sweater backwards, so we became friends. We decided then and there to start a group founded on the aesthetic consequences of dub, and Xenakis, and détournement of recordings slowly emerging from the NY rap scene. By '79 I was ensconced with Mike, David Gamble Method Actors, Jack Herd, Vic Varney Method Actors and a shifting constellation of nominally static hedonists at the Cobb Institute in Athens.
This year marks  the 25th anniversary of TLASILA …
Rat and I first performed on stage together as TLASILA in 1993. Thus, 2018's silver jubilee. I made the first demos in 1990, but the group really came together once Rat and I started working in the studio together in 1991 … and Rat knows all the good places to play.
At the time, what was the approach of the band? Were you equal collaborators — or was this your project?
It was begun by me, abetted initially by friends from Miami's club and underground cinema scene, but it really only took shape once Rat Bastard started working with me in the studio in 1991. TLASILA is as much his as mine.
In 1990 I sought a way forward. Peach of Immortality was nearing its end, albeit on a powerful note (with Tim Lane Seaton). Our more studied improvisational bent (based around live tape manipulation and anchored by bass subsonics), imbued as it was with louche aggression, seemed too quaint for the times. I'd not sung live since Boat Of, but my mockery of vocal norms was too distanced, too mannered. Not that it wasn't intentional or effective. And not that anyone was listening. With To Live and Shave in L.A., I needed to craft a very specific, hysteric pathogen.
The Bomb Squad the hip-hop production team were the most powerful overt influence. Those fuckers were brilliant. I wanted hysteria radiating entropically — sonically, lyrically, culturally. More than a band, TLASILA was designed as a collective whose primary ambit was unsparing critique. Of itself as much as the annoying buffoons who cluttered and artlessly gummed up contemporary modes of representation.
A question for Rat: How does he put up with you?
Rat Bastard: I am completely out of my fucking mind!
Tom, what prompted you to move to Germany?
Love. TLASILA were on tour in Europe for two months in 2008. Claudia Franke was our promoter in Hannover. Liebe auf den ersten Blick. "Love at first sight." We're still together.
I live in Hannover. It's a city of 700,000 equidistant to Bremen, Hamburg, and Berlin in Niedersachsen, aka Lower Saxony. Verdant, vibrant, mit "Hochdeutsch" high German —  the learned German dialect.
Obviously there's something that keeps you there — and keeps you quite prolific. You've initiated a number of new projects as well as been able to put together retrospectives of those from the past Boat Of, Peach of Immortality . . .  What are some of those groups/works? Would  give a brief rundown and what you see as the catalyst behind them?
I love Germany. Guns are basically forbidden, but drinking in the streets in front of cops is no problem. University is essentially free. High taxes provide many social services. It's what America could be/should have been. No place is ideal, but I'm immensely happy. I started Karl Schmidt Verlag on my arrival in October 2008. We just issued KSV 480. Rope Cosmetology was the first of the new projects. Tim Seaton, Ryan Parrish, Balazs Pandi, Feri Kovacs, and myself. Then, Three Resurrected Drunkards, a duo with Hannover tape music maven Pit Noack. Female Reggae Showcase featured the late Chris Grier. Merkwürdig Riechnerv is my current Hannover trio, comprising vocalist Bianca Thomas and bassist Andreas Brüning. I do all the electronics. There are many other collaborations and short-lived ensembles. I prefer things in flux.
Have your projects evolved because you've reached what you set out to do with one, and then moved on to the next, or is each one part of a larger creative process — the continuing evolution of Tom Smith as an artist.
The latter. I still draw inspiration from Marcel Duchamp and Fernando Pessoa. "Completion" is a farcical conceit.
I use the word artist in the broader sense, too. Not only are you a musician, but you also create the packaging and artwork for your projects. Much of your graphic work depicts blurred images and cut-up disfigurements. What are you trying to say with these images?
Not so many blurred images, but depictions of weathered, worn, vandalized and neglected surfaces, absolutely. I never knew of the work of Mimmo Rotella when I was younger, but his canvases harbored similar ideas. It's that trans-temporal Saints Ramones Pistols conundrum — like-minded artists separated by continents. And decades. I love a fused and dusted palette.
Much has been made of the early days of the Athens music scene, its narrative based around the emergence of bands like the B-52's, Love Tractor, Pylon, R.E.M. You were a part of that scene. You even recently unearthed a picture of yourself at the opening of the 40 Watt Uptown. You may not have been the "Anti-Athens-Christ," but you certainly took whatever the Athens scene had to offer and ran with it in the opposite direction. What are your thoughts about those nascent days now?
In 1979, Jesus,I was incredibly angry, ungovernably arrogant, suffused with loathing, but, yeah, in hindsight, you're pretty much on the money. I'm mortified by my encyclopedic social shortcomings from that time, but the aesthetics never faltered. There was much to praise B's (the B-52's), pre-LP live through Wild Planet; Pylon's first 20 shows; Limbo District, and much to abhor and destroy R.E.M., an alt-right precursor soundtrack and inventors of farmer-rock. Normative bias against aberrance is roughly analogous to nativists' dread of the "other." So, my work will never be done, but at least I will be happy in my work! The best thing about Athens was the party. It never abated. So many excellent people.
Your byline used to appear in Creative Loafing. What were you thinking?
Who else was gonna write those John Popper Music Menu blurbs?
Contact Tony Paris regarding band news and music-related events at cl.highfreqs at gmail.com. Information sent via Facebook or Messenger is consciously ignored.