HIGH FREQUENCIES: Dan Baird and Homemade Sin — The race is on!
Dan Baird & Homemade Sin are back on the road
Dan Baird and Homemade Sin return to Atlanta this Friday, playing Eddie's Attic in Decatur. A listening room that's made a name for itself showcasing acoustic acts in a quiet environment, it's a seemingly unlikely venue for the raucous, hard-rocking rumble of Homemade Sin, who usually barnstorms across North America and Europe playing rowdy clubs and midsize theaters. Yet Homemade Sin didn't lose its punch the last time it played Eddie's, in March of 2017; the energy level was just as high, the sounds just as soul-stirring as when Baird rocked those nights of mystery in the '80s in various incarnations of the Georgia Satellites at the now long-defunct Hedgens in Buckhead.
Since those early days, when he and guitarist Rick Richards let all hell break loose onstage, Baird has been firing on all cylinders — until recently. It was just about this time last year that Baird posted on his Facebook page, "Gang, I gotta take a leave of absence for the rest of the year. It's a medical thing. CLL, chronic lymphocytic leukemia." It manifested in his bone marrow about four years ago, a slow-building illness that Baird assumed would give him another two years before he needed treatment. But last July there was nothing slow about it. "I had to go into said cancer treatment PDQ, or it was gonna win quick. Older folks' blood condition that wants to eat up your body and red blood cells as well as leave junked white blood cells like wrecked cars all over the blood stream. Inherited. Treatable. But debilitating in the short term, when it picks up a head of steam, like now." The post shocked friends and fans, and marked a change for the musician who seems to always be on tour.
But the road goes on forever, as they say, and it went on for Homemade Sin without Baird. In the middle of the tour when Baird fell ill, the other members — guitarist Warner E. Hodges, bassist Micke Nilsson, and drummer Mauro Magellan — finished that leg as a trio before being joined by Joe Blanton — "My stunt double," Baird jokes — to complete the dates, and current bassist Sean Savacool. That the dates weren't pulled, and the shows were well-attended, testifies to to the band's power as a unit and to the rabid devotion of their fans.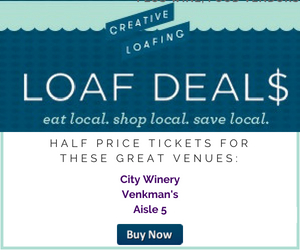 Today, Baird's CLL is a thing of the past. With chemotherapy treatments and a prescribed period of rest, the singer/guitarist is back in the saddle, riding high, wearing his trademark top hat instead of it hanging on some lone microphone stand. After nine months of posting health updates from hospital rooms and his home in Nashville, Baird is back to posting photos of whatever view is outside the day's hotel window, on tour once again.
"Yeah, I'm fine," Baird assures me when I ask if he's feeling 100 percent on stage. "That was a little odd, nine months off, but an easy schedule at the front of it. Not hard, but it was knocking off a lot of rust. The first two shows were nearly an out-of body-experience. 'Hey, I remembered the words … chords … not to get knocked in the head during Warner's guitar flip.' Kinda my own marionette. I felt like it was home on the third gig."
He went even further when posting to friends and fans on Facebook: "Energy levels very good. Voice holding up. The thing that really surprised me was my right shoulder was sore. Yeah, I played guitar at home a lot, but not with the gusto a live show brings. How can ya? That's getting way better, hell It's basically gone. Anyway, it's all coming along nicely. … It's nice to have red blood cells populating the system again, I'll guarandamntee ya!"
In March the band started recording a new album, Screamer, their first since his recovery, that has an August 10 release date. It joins four other Dan Baird and Homemade Sin studio albums, and a number of live recordings in their catalogue. Baird also managed to complete a solo album, SoLow, after the band's March 2017 release, Rollercoaster.
With such a wealth of material to draw from, including the three albums Baird recorded with the Georgia Satellites and his two previous solo efforts, a Homemade Sin show is never boring, not just for the audience, but the band members themselves. There's a reason for that.
"Never use a set list," Baird states emphatically. "If someone in the band wants to fool around with the song's arrangement, cool! Whatcha got? Intersperse old and new material, surprise the band and myself with a song we haven't touched for a while. Make room for things to happen, and they just might. We also only tour four months a year, so we don't beat on the songs that folks came to hear every week."
Baird admits his health complications and the fight to correct them the past 12 months has changed him, "but not violently." He says he doesn't sweat the little stuff like he may have at one time. "I think I'm a little more patient, unless you're drunk and NEED seven more selfies with me post-show!
"Comprehending the fleeting quality of life, in a very firsthand manner, changes anyone. Knowing that 50 years ago, I'm a goner last year. That definitely brings a 'bonus time' attitude and a sense of responsibility to what time I have left. That may dissipate, I hope not."