'Yeti or Not,' the quest for revenge begins
Cartoonist Amanda Semler offers an insider's look into a life spent slaying monsters
The creature is known by many names: Yeti, the Abominable Snowman, Yowie. In most stories, the mythological snow monster is a benign forest dweller; a large and hairy missing link between man and beast, leaving only a shadowy form in its wake. In the freshly minted first issue of cartoonist Amanda Semler's new comic book, Yeti Or Not, the elusive beast reveals itself to be a blood-thirsty man eater, who stalks the inhabitants of small towns and unsuspecting hikers in the woods. Yeti Or Not tells the story of Sylvianne Bordeaux, a yeti hunter who travels the globe, slaying yetis to avenge her father's untimely death. In the midst of celebrating the comic book's July debut, Semler took a few minutes to talk about Yeti Or Not's story and characters, her vision of the savage tormentor, and what the Yeti means to her.
How did Yeti or Not get started?
I worked on the character design for animation at SCAD, while working on a Bachelor of Fine Arts in sequential art. My teacher, Doug Dabbs, said, "If you're really passionate about it, you can do this. Just go for it and send me what you've got!" I sent him all my shot lists and from there it turned into a script, then it turned into thumbnails, and then it became the finished product.
Is there an autobiographical element to the story?
I don't disguise myself in the story, but as I've been working on this book, I feel like it might be a reflection of my psyche. All people who write stories and draw comics have a self-portrait aspect to their work. I feel like the Yeti is all of my big problems — I'm attacking the hugeness of life.
Tell me about the main character, Sylvianne Bordeaux.
When she was 12 years old, her father was killed in front of her by a Yeti in Northern Canada. So she seeks revenge on all of the Yetis on the planet. The story follows her as she travels the world, killing all the different Yetis in different snowy mountains. She has to go to Nepal soon, she's going to Japan soon. I don't know if the Swiss Alps have a Yeti story, but I've been there. People say when you've been somewhere, it's easier to write from that. I tried to put myself back in the Swiss Alps and imagine myself climbing the mountains and going to find the Yeti like I was there too.
Why do you make the Yeti mean?
The creature seems pretty shy and nonthreatening in most stories. I have an end in mind. There will be a zoologist who appears and fights for Bigfoot's rights. This first one is going to be a short excerpt. The next three volumes will be like 60 pages each. I'll delve into the history of the Yeti. Even though Yeti is a character in this, it's more about Sylvianne Bordeaux's obsession and an ongoing battle that she feels she can never win. Even though there are only seven left. The Yeti is mean; it's bloodthirsty. It will kill anything that it smells. But Sylvianne is like that as well — she's a beast. There's another character, Yannick, a Swiss cross-country Olympic gold medalist who was scarred in the face by a Yeti. He seeks revenge too. They meet up when they're hunting a Yeti in the Thun Forest, which I made up. They battle it out in the forest. It's going to be about their journey together, fighting these creatures. They're friends, but there will be no romance. No romance at all. A lot of comic books focus on the romance between characters just to get females interested. I hate that. Friendship is a lot more important, and there aren't many comic books that show a friendship between a female and a male character when that's really what happens in real life. We're not having all these different romances and rivalries. It's annoying. They're just kicking ass!
There are only seven Yetis left in Sylvianne Bordeaux's world?
Seven Yetis, nine Yetis… The way the story starts is that they're all almost extinct. She's already killed off the Yetis in North America, so she's trying to make them go extinct. By the time she gets to the last Yeti there's no hope left.
The thing about the Yeti is that when it smells blood, it attacks. In the next issue, there's a child getting mauled by a Yeti. There's a Yeti on the edge of the town, watching the people, stalking the town. He only appears when there are people around to eat. Sylvianne's father was a zoologist who studied Yetis. Soon, a zoologist will start working for Yeti rights. There's going to be a backstory that ties her father to the villain.
Will some readers root for the Yeti? Yes! I told the story to some of my friends and they said, "Don't kill off the Yeti! He's a good guy, he's just misunderstood!" But I think they're pure evil. Maybe that's why people question whether it's real or not. I think that's kind of evil. Why can't we have a solid answer? Why are we talking about it so much? Why do we care so much? He could be mauling children! We don't know. Some people have asked, "Is there a difference between Bigfoot and the Abominable Snowman?" The answer is yes, and there's no Bigfoot in this story. It's just the Abominable Snowman, just Yeti. Sasquatch is Bigfoot, Yeti is Abominable Snowman. I had different drawings of the Yeti, one with longer hair and one with shorter hair, with slightly different facial structures. When creating a Yeti, you can't just copy a Yeti that someone else has already created, because there are so many different interpretations. I've never seen a Yeti, but I created this monster and I gave it a face. When my friends drew the covers, they didn't know what the Yeti looked like, and they didn't know what I had in mind. The Yeti that I drew looks grotesque. I was thinking of an evil orangutan with shark teeth, like the Wolfman. I wanted it to be humanlike, but not completely. Everyone else had a totally different version that they drew. I did variant A, Anderson Carman did variant B, Julia Hagerty did variant C, and Logan Hendry did D. This was probably the biggest feat from our graduating class. There are a lot of comic book creators in the community, but we don't collaborate enough. I wanted to bring as many people together as I could, and it worked out.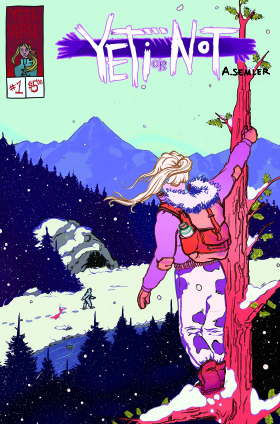 Does feminism play into what you've created with this book?
The comic book industry is being taken over by women right now. More and more women and people of color are telling their stories now, which is great. However, I didn't put my first name on my book. It's in there, but I don't want people to pick up my book and say, "Oh, this is a female lead character by a female writer! It's feminist!"
It is feminist, but I don't want that to be the message that people get from this. A lot of people are interested in the book because there is a female lead character, which I think is awesome, but I also don't want people to turn away from the book because it's by a female.
What artists inspired your work with Yeti or Not?
Well there's Jason Latour, who draws Southern Bastards. He's probably my favorite artist. His work stems from life — drawing on observation — which was a struggle for me because I don't even know what Yetis look like, and I still have to draw him! I talked to Jason at the last Comic-Con I went to. He said to me: "I was broke in New York, and all I could do for fun was go out and draw people. Take my sketchbook, just go out and draw people."
That's one of the greatest pieces of advice that I've ever received. Then there's Chris Brunner, who was my professor at SCAD. I was so overwhelmed. I was fangirling out the entire time. He writes Loose Ends with Jason Latour. It's drawn in a really gritty way. It focuses on how things are inked, but also the way the brushes are used and all the different black shapes. I don't know if I'm ever going to color Yeti or Not. There's this guy, Andrew Robinson, who did a book called The Fifth Beatle about Brian Epstein, and the whole thing is just watercolor painting. He's a huge influence to me. And then Sean Gordon Murphy wrote Punk Rock Jesus. Super gritty stuff is what I'm influenced by. I like guns and death and mystery. -CL-
---