HIGH FREQUENCIES: Another page from Guadalcanal Diary
With a new live album out, Murray Attaway and Jeff Walls reflect on the band's past
LIFE GOES ON: Guadalcanal Diary — Rhett Crowe, at top, and clockwise, John Poe, Murray Attaway, and Jeff Walls.
After 20 years of languishing somewhat in obscurity as a treasured keepsake among fans, the Guadalcanal Diary live album, At Your Birthday Party, is finally a present the whole world can enjoy, thanks to its re-release by Omnivore Records.

The album captures the four-piece band at their best, live in front of a rowdy audience, during a two-night stint at Smith's Olde Bar in January 1998. While the band had already been broken up for almost a decade when they got together for these recordings, the reunion shows reignited the fire that was so much a part of what attracted their fans.

Guadalcanal Diary — singer-guitarist Murray Attaway, guitarist Jeff Walls, bassist Rhett Crowe, and drummer John Poe — came along at a time when "there was a new audience out there that was getting tired of the shopworn '70s rock clichés," guitarist Walls explains. "It was a time when there were a lot of people our age who were receptive to something new and different."

That time heralded the beginnings of punk rock, new wave, alternative music — whatever label stuck when record companies threw a bunch of names against the wall — when new bands trying to disassociate themselves from the pretentious, overblown excess of groups of that ruled the radio airwaves at the end of the 70s. Guadalcanal Diary's beginnings started with Walls and guitarist Attaway first playing together in high school in a punk band. The addition of Poe, and later Crowe, cemented the lineup of a band that would release albums from 1983 to 1989 — and, at the same time, prove too elusive for the labels and descriptions applied to it.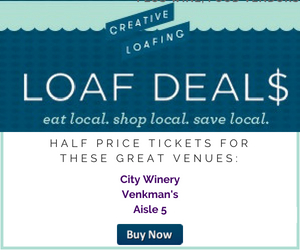 Attaway recalls, "Jeff and I had been writing together on and off since high school. He'd been in a number of local bands and in one of them, John Poe played drums. Jeff and I worked at an electronics assembly sweatshop at the time, and we decided to try putting a band together to play the songs we had. I mentioned that if we could get John to play drums, we'd be ahead of the game, as he was extraordinary. Rhett and I were dating at the time, and she was enthusiastic about learning to play bass, so she went and got a bass and that completed the lineup. You, know, sort of like Zeppelin did."

Though Marietta was their home base, the band was equally comfortable sharing stages with bands from the then-burgeoning music scenes of both Atlanta and Athens. But, with Crowe's brother Curtis playing drums in Pylon, and Walls' guitar work having more jangle than crunch, they quickly became identified more with the Classic City college town than the capital city's downtown scene. Probably for the best.

"I'm not sure we had any real alliance to a town or a scene," Attaway says. "Three of us, Rhett, Jeff and myself, went to Marietta High together, and John moved to Marietta in the early days of the band. At that time, 'Athens band' meant dance music more than anything, so we had to remove ourselves from that, simply because we weren't. 'Atlanta band' could mean anything, mostly in good ways, but saying 'Marietta band' meant nothing, so it was up for grabs. Really, we moved through all those scenes pretty fluidly and, as we got a little more well known, we got associated with the new 'Southern' music like the dB's and Let's Active, and that was a good thing. Then all the crazy tags came around like 'roots' and 'cowpunk' and all that foolishness. I guess we hit them all at some point."

After the release of their first EP, the four-song Watusi Rodeo, on the Amy Franco/Ron Bonds label E.O.D. (Entertainment on Disc or Elvis on Drugs, take your pick), the group went on to record a full-length LP, Walking in the Shadow of the Big Man, for DB Recs, the recording home of Pylon, Love Tractor, and other party bands from the college town to the north.

Touring the states in support of the DB Recs release — their energetic shows making good on whatever promise audiences might have expected from Guadalcanal Diary's association with Danny Beard's label and the Athens music scene, while their literate approach to lyrics attracted a different set of fans — their fan base grew. "We wanted to be XTC or the Kinks or something along those lines," Attaway admits, his dry wit raising its head. "As if. We very deliberately weren't interested in writing love songs, or songs about cars and sex. So that left everything else. Books were our friends."

Jumping from the minor leagues to the majors was what many bands aspired to in those days, and Guadalcanal Diary started to gain the attention of major record companies, eventually signing with Elektra Records. As labels were known to do with indie bands at the time, Elektra wanted to quickly to get them in the studio to record an expensive, "produced" album. But the band stood its ground and demanded the Don Dixon-produced Walking in the Shadow of the Big Man be re-released as their major label debut. Another smart move. Walking … now had the cache of being an indie release, with the power of a major label behind it, the added promotion giving it a second life and enabling the band to reach an even wider audience.

Three Elektra albums later, life started to get in the way, and, the band that had worn so many different descriptions suddenly stood naked.

"Rhett and Jeff had just had their first child (whom they actually brought along on the very last tour, with a nanny) so that was taking a toll on them," Attaway remembers, when asked why a band seemingly on the ascendency would break up. "Moreover, we felt that the label's PR folks never knew what to do with us. In those days, PR departments loved simple definitions like metal, hair metal, death metal … you know this better than I! We were just an energetic band with no 'look' who had songs that people liked. What to do with a thing like that?"

Walls is a bit more detailed. "Things seem so much more important when one is young," he notes. "By 1989, Guadalcanal Diary had occupied almost a third of our lives. Elektra had been more excited with our previous album (1987's 2X4) than anything else we had done. They promised to get behind it with every promotional advantage they could bring to bear. Which of course, never really materialized. We followed 2X4 with Flip-Flop in 1989 and we embarked upon our longest North American tour. It was a three-month long figure "Z" across the US, up into western Canada, across Canada and back down into the Midwest, then back home. The only part of North America that we didn't hit on that tour was the Northeast.

"We had also begun carrying special stage lighting and our own monitor system along with the extra crew required. Over the course of the long tour, we watched as any promised promotional effort for Flip-Flop disintegrated. The tour went extremely well in spite of that (as our tours always did), but when we got home at the end of the summer we were worn out and frustrated.

"Faced with the fact that the next obvious thing on our plate which needed to be done was for us to tour the coldest part of the country during the coldest part of the year with zero label support, we decided that it was time to have a come-to-Jesus. Murray expressed his desire to put Guadalcanal on indefinite hiatus. We didn't know then that Murray already had a solo deal with Geffen waiting in the wings. But the rest of us were also getting tired of what was starting to feel like beating a dead horse. We were fed up to the eyeballs with the music biz and major label politics. Rhett became more concerned with being a good mother than being a bass player in a rock band, and justifiably so. John had secret ambitions of his own to put together a demo of his songs and get some kind of development deal for himself. The four of us were still good friends, but everyone was ready for a change. So, at the end of 1989, Guadalcanal agreed to call it a day."

Having a wealth of songs he hadn't felt were right for the band, and with record labels still interested in his songwriting, Attaway signed the aforementioned solo deal. "I had material that I felt was too personal for Guadal. I always tried, with the songs that I wrote for the band, to stay away from anything that didn't feel representative of the group. Plus, I wanted to keep recording and touring. Once my daughter Emma was born, though, I wanted to stay home and be her dad."

Attaway says he does miss playing music with Walls, Poe, and Crowe, though they all remain friends.

Walls, who still plays regularly and travels the world in the Woggles, is in agreement. "I can't say that I miss anything much about those days, except maybe my youth. I don't have to miss Attaway, Poe and Crowe as friends, just because the band broke up. The three of us have been good friends since high school.



"I do miss that pioneering sense of discovery which animated rock music fans at the dawn of the '80s. I don't think that music carries the same desperate sense of importance with young people today as it did with my generation, or to the generations before me."

With the 1998 shows, which resulted in At Your Birthday Party, and the thirtieth anniversary show in Athens in 2011 without Poe in their rearview mirror, Attaway and Walls got together for two short-lived projects, Bomber City and Blasting Cap.

"Murray and I started both of those outfits simply as a way to play together again and have some fun," Walls explains. "I don't think anyone had any illusions of 'success,' even on a meager local scale. We had accumulated a large catalog of songs over the years which had been written both together and separately. Some had never been recorded and never seen a release. We wanted to play them live. Bomber City turned out to be a rather large and unwieldy aggregation, and therein lay its problem. However, the extended line-up afforded me the satisfaction of performing the most complex and multi-layered music that I've ever managed to pull off live.
"Blasting Cap was an attempt to strip things back down to a more manageable rock 'n' roll level. We loved playing with Robert Schmid, who is a great guy and a powerhouse of a drummer. For Blasting Cap, Murray and I actually collaborated on brand new material for the first time since 1999. But Murray also had his business as a freelance computer analyst and his work was placing a lot of demands on his time. Murray remarried in the Spring of 2015 and he sold his farmhouse near Athens to move back to Atlanta. That pretty much spelled the end for Blasting Cap."
And, for those eager for a Guadalcanal Diary reunion is doubtful. "It would be very difficult logistically and we'd want more money than any sane promoter would pay!" Attaway says.

For the long-time fans Guadalcanal Diary left behind, Attaway sees the release of At Your Birthday Party — on a larger scale than the few copies originally pressed — as a fitting farewell.

"I'm really glad we did this live album," he tells me, "because it's the only recording that truly sounds like the band. And I'm delighted that it's available now."
---