HIGH FREQUENCIES: Martin Atkins collects his PiL 'Memories'
The drummer engages in some Q & A at Avondale Town Cinema Thursday
Martin Atkins and I first met on the patio of the Georgian Terrace Hotel. Right out front. It was a fairly innocuous Spring afternoon, April, 1980. Public Image Ltd., the band Atkins had joined during the recording of its second album, Second Edition (The Metal Box in the U.K.) was on it's first U.S. tour, a tumultuous string of dates that ended with the band members ripping away the hallowed, lip-synching cover of pop music's main barometer ("Does it have a good beat? Can you dance to it?"), American Bandstand.
While Public Image Ltd. onstage was three musicians — Atkins, drums, Keith Levene, guitar; and Jah Wobble, bass — and singer, John Lydon, it was certainly Lydon's presence which made it seem a tornado was touching down each time the band played a new city. This was Lydon's first U.S. tour since the Sex Pistols, and those who missed the English punk band's short string of American dates clamored to see him in whatever incarnation he now presented himself. Others, entranced by PiL's rhythmic beats, throbbing bass lines and ringing guitar riffs, were attracted as much to the band's musical attack — one that drew from the repetitiveness of disco and dub to deconstruct pop music — as to Lydon's sneer.
Yet, that day on the patio of the Georgian Terrace, Lydon, Atkins, and Wobble sat comfortably in the wrought-iron chairs, drinking beers, enjoying the sunshine, with no minders or bodyguards around, as was the case when Lydon (then Rotten), appeared here with the Sex Pistols.
Atkins and I have kept touch over the years, social media of the last decade certainly making it easier for us to keep tabs on each other. The man has been busy since we first toasted each other with a couple of Heinekens at the Georgian Terrace, first with his band Brian Brain and it's releases on his Plaid Records, then, starting the Invisible Records label, playing in a number of post-punk and industrial metal bands, including Killing Joke, Ministry, Nine Inch Nails, Murder Inc. and the Damage Manual, all known for their extremism — and forming Pigface, industrial music's first super group.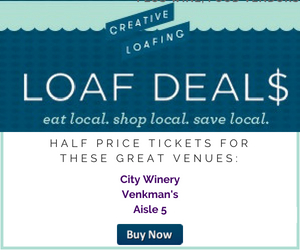 Currently teaching at Millikin University, south of his Chicago base of operations, Atkins has also found time to author three books, the aptly-titled Welcome to the Music Business You're Fucked, along with the more informational tomes, Tour:Smart, and the just-released Band:Smart, a prequel to Tour:Smart.
It's in preparation for his new book, Memories — My Five Years In and Out of Public Image Ltd. (1979-1985) that finds Atkins returning to Atlanta this Thursday evening (Aug. 23). Taking crowd sourcing a step further, Atkins will not only talk about his time in PiL, but collect memories of Public Image's time in Atlanta from members of the audience who may want him to include them in his book.
Whether you you want to talk — or listen — be prepared to be entertained with Atkins at the microphone. Recently, he shared his thoughts with me of what the audience can expect when he appears at the Avondale Town Cinema.
What can people expect from your appearance — is it a talk? A music performance?
These are good questions. I should let you know I've been speaking around the world for 16 years now, from SXSW to keynotes in Australia, Chile, Brazil, Norway, and all over the world, so I'm comfortable presenting and, as you might know from my NPR "minute" that I do for Bob Boilen - I enjoy telling stories. So, that. Me telling stories while showing a bunch of pictures that no one has seen, maybe a few beats taken apart in front of your very eyes and yes, I'm looking for lots of questions, memories and input!
Will you be telling stories about your time with Public Image Ltd., on the road and off?
Yes — picking apart the key times — the first U.S. tour, Metal Box, 1977/78/79 PUNK!, Flowers Of Romance, Japan, Paris Au Printemps, Commercial Zone, and my memories of the show in Atlanta, our in-store at OZ Records and our staying at the Georgian Terrace Hotel.
Will you be answering questions?
Yes! This is why i am doing this. As I say in the preamble to my pledge campaign, this isn't my book in the same way that PIL wasn't just John's back in the day.
Will you be asking questions? Perhaps getting "memories" from the audience about what they saw/remember when you appeared in Atlanta at both Oz Records and the Agora with PiL, that will go in your book?
Yes, that's another reason I am doing this (and in San Francisco, Los Angeles, New York City, Tokyo, and Manchester, too), to get memories from anyone that wants to contribute!
In your press release/posts you say of PiL, "We were the most dangerous band on the planet." In my recollections of the time, that's not an exaggeration. What made PiL so dangerous?
Although John hated to talk about the Sex Pistols, the fact was that the notoriety of that band gave us the ability to be more dangerous than we would have been able to be if we were a 'start up.' The interest in John — by all of the people who didn't get to see the Pistols — gave us a larger audience and therefore the freedom to play with that and take more chances with the knowledge that a certain ammonite of challenge and risk from us was expected. So, we did, musically (from the first album and the artistic concept to Metal Box to the challenge of Flowers and on.), and, from a foundation point of view (our accountant and publicist were on the front cover of Melody Maker with us) to the lack of a light show, no rehearsals — it seems in retrospect that EVERYTHING was different. Sometimes, perhaps, not everything should have been….
Was it the music?
Yes!
Was it the personalities in the band?
Yes — and the friction that the individuals created. It is easy to understand why, in the end, John hired a bunch of people to play the songs. We were all individuals with opinions — I happen to think that is a quality to be nurtured, not an inconvenience, when it comes to creative endeavors.
You mention Virginia Moriarity, an older woman who befriended many touring bands in the '80s. What other memories do you have of Atlanta — or, do we have to wait for the book?
Ha! Yes, you can wait, but a LOT!
Since your time in PiL, things have certainly changed. Music. The music business. The distribution of music. Yet you've stayed ahead of the curve — or, at least, appear to. Is that an accurate assumption?
I think I've stayed involved, for sure. Ministry was a shock to the system when I joined for a tour in 1991. Teaching and my students have kept me more involved, I'm naturally curious so, as things went digital … and, of course, my homage, scratch and sniff blueberry 7-inch singles!
You've also written books about bands, touring, the music business, sometimes documenting these changes, right?
Yes. Tour:Smart — 800 pages about touring!
Band:Smart — the prequel to Tour:Smart, just released, about everything you need to do as a band BEFORE touring.
Welcome To The Music Business You're Fucked —  161 pages with lots of illustrations, to try and get some basic points across to all ages, but, especially at-risk youth.
How do they differ?
Tour:Smart & Band:Smart are both text books (with an irreverent language alert, A.D.D. content spectrum) with LOTS of guest contributors — Why not get opinions and ideas from everyone I know!?!
Will you be selling the latest book — or any merchandise — at your Atlanta show?
Yes, maybe some PiL vinyl that I'm happy to sign, some of my earlier books ….
If you were to give one piece of advice to a musician just starting out, what would it be?
Get the fuck out of bed!  There is NOTHING that you can't do yourself, but you need time to do all of the small stuff — and its all small stuff.
During your time in PiL, did you ever think that the band (and I'm talking about during your tenure) would have the lasting impact it has had — and that 40 years later people would still want to know more about it?
Nope. I definitely had a 'smash & grab' attitude, I think. No-one thought you could have a long-term career. No one thought The Metal Box would still be a thing. Killing Joke have re released the album I am on (1990's Extremities, Dirt, and Various Repressed Emotions) four times on different colored vinyl, remastered, etc., etc. — and PiL are doing pretty much the same with deluxe box sets, etc. Mind-boggling really!
Contact Tony Paris regarding band news and music-related events at cl.highfreqs@gmail.com . . . Information sent via Facebook or Messenger is ignored.
---