HIGH FREQUENCIES: Music for music's sake
Cleve Willis performs; Martin Atkins looks back
This Tuesday evening, Aug. 28, Cleve Willis, joined by guitarist Lee Banks and singer/songwriter Ashley Rivera, will present a songwriters-in-the-round-type session upstairs in Tony's Lounge at the Avondale Town Cinema. Inspired by the intimate "Tuesdays in May" run of shows  — and the ongoing Thursday night singer/songwriter events hosted by Donnie Picou — Willis calls the evening, "our occasional acoustic rock, Southern vibe, Americana night."
The former vocalist with Rockets To Ruin, Willis teamed up with Banks in the Stone Vessel project, to record an album of acoustic material. Meanwhile Rivera has been working with Banks, who plays bass, in her band, Sister Moon. Banks, however, also has his thing going with the dance band, Rhythm Nation. You got that?
Willis is excited for people to hear Rivera sing some of his compositions, "her beautiful voice making my songs a little different," he stresses, adding, "Her own songs will leave you with chills— and Lee is an incredible musician. He plays great blues-based guitar and slide guitar." Together, the three will sing "lead, backup, and harmonies" on songs written by each of them. And, Willis adds, expect "some story telling in between, about the songs, our years of playing in old bands, what's happening now with our music, and hopefully, some funny stuff about ourselves."
Expect an intimate, laid back evening of songwriters trading riffs and presenting their material in a different environment.
Inside Four Enclosed Walls dept. … Last Thursday could have been proclaimed "Martin Atkins Day" in Atlanta. The musician, author and entrepreneur held to a busy schedule, first giving a lecture at Smith's Olde Bar, then hurrying over to the Avondale Town Cinema for another presentation.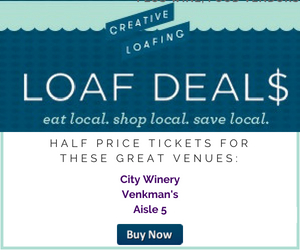 In the Atlanta Room at Smith's, Atkins addressed a crowded room of local Atlanta chapter NARAS members, engaging them with his well-thought out and thought-provoking talk, "Welcome to the Music Business You're Fucked." Based in part on his book of the same name, and integrating information from his two text books, TOUR:SMART, and its newly-published prequel, BAND:SMART, Atkins detailed what it takes for a new artist to survive in the music business. From recording to marketing to the stage to the merch table, Atkins painted a vivid portrait of the pitfalls a musician may encounter once the music has been recorded. Luckily for those in attendance, Atkins also also offered unorthodox and unique methods to avoid becoming a casualty on the road to success. His tenure in punk (Brian Brain), post-punk (Public Image Ltd.) and industrial bands (Pigface), along with his keen observational sense, has given him a broad palette from which to paint a realistic picture, with emphasis on the details.
Atkins offered the other side of the coin during his talk at the Avondale Town Cinema. Far from a lecture, it was an entertaining (and even educational) night of reminiscing, as he prepares to release his fourth book, Memories - My Five Years In and Out of Public Image Ltd. (1979-1985).
A natural storyteller, with a keen sense of timing and a mastery of the Queen's English, Atkins doesn't tell you something to betray a confidence, nor to get a rise out of the listener, but for the audience to get a better understanding of what he's been through and the situations he's faced. And, more times than not, his truths are more telling than the generally-accepted folk lore.
For three hours, Atkins told stories to an audience that sat attentive to his every word, showing slides projected on a big screen behind him, and playing drums to emphasize his creative process, and even airing some previously-unheard material over the P.A., evidence not only of how he overcame obstacles during those years between 1979 to '85, but was able to flourish creatively in the freedom afforded him during his time with John Lydon and company. I'd repeat some of his stories, but that would ruin it for you, wouldn't it?
Free Music dept. … This year's Summer Shade Festival at Grant Park rocked — at least Saturday on the Cherokee Stage. Walking towards the park, I heard some intriguing sounds coming from the stage. I found them to be coming from New Madrid. Combining the psychedelic sounds of early Jefferson Airplane with the rambunctiousness of drivin 'n' cryin, the band explored jam band territory, but all the while, keeping a a sharp edge.
New Madrid was followed by, Blackfox, a band that seems to have doubled in size since recording their album La Brea. The nine musicians onstage offered a full, rhythmic wave of music that altered between the ethno sounds of Ginger Baker's Air Force to the space explorations of Hawkwind, with a little Glam thrown in for good measure. 
Following Blackfox, New Madrid took the stage again to back David Barbe. Known for his band Mercyland, his stint with Bob Mould in Sugar, and, of course, his production skills at the helm of Chase Park Transduction Studio in Athens, Barbe's songs were more of a drone offering, a post-punk approach that proved to be both energetic and quite melodic. Barbe's songwriting encompasses a large musical landscape, one that's as wistful as some of the best pop music you've ever heard, yet with an understanding of building a musical foundation, layer upon layer, with just the right  amount of finesse to counter any bombastic overtures that might be perceived.
While Magnapop was scheduled to take the stage next, their performance was sidelined by guitarist Ruthie Morris having a broken her left arm a few days eartlier.  Nonetheless, it didn't prevent Morris, along with bandmates Linda Hopper and Shannon Mulvaney, from attending the show, taking in the music from the audience side of the stage for a change.
Rather than finding a replacement band for the 7:00 PM slot, the schedule was adjusted by each band playing longer. This certainly was to the advantage of fans of The Rock*A*Teens, who closed the show with a long set that featured songs from their new Sixth House LP, along with favorites from previous releases. Once the four piece took the stage, any complaints that the Summer Shade Fest doesn't rock were fiercely laid to rest. Cabbagetown's homegrown musical gift to the world hit their stride with the first song, and were relentless through the end of their set. They were loud. Loud as f*ck. And no one seemed to mind.
---