HIGH FREQUENCIES: Still alive with the MC5!
Brother Wayne Kramer brings his MC50 supergroup to Atlanta
As tumultuous as the '60s were  — the massive demonstrations against the U.S. involvement in the Vietnam War, the National Guard's killing of four students at Kent State University in Ohio, the riots at the 1968 Democratic National Convention in Chicago — even for the most rebellious of the counterculture, few were ready for the aggressive, radical ideology of the MC5.
Straight outta Lincoln Park, a suburb of Detroit, MI, the Motor City Five — Wayne Kramer, Rob Tyner, Fred "Sonic" Smith, Michael Davis, and Dennis Thompson — didn't just question authority, they provided a manifesto to overthrow it. Fueled in part by the beliefs of their manager, John Sinclair — himself a radical freethinker and co-founder of the White Panther Party, a far-left anti-racist collective formed in a show of support for the Black Panthers — the MC5 urged their listeners to decide, "whether you are going to be the problem, or whether you are going to be the solution." There was no middle ground.
Their debut album, Kick Out the Jams, recorded live at the Grande Ballroom in Detroit, is an unbridled call-to-arms, teeming with explosive lyrics and raucous musicianship that caught off guard those unfamiliar with their radical testimonials and unrelenting musical attack, and, of course, their invitation to "kick out the jams, motherfuckers!"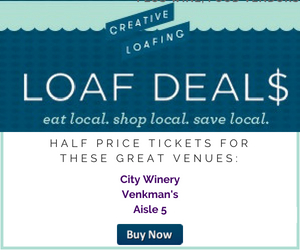 It's been 50 years since the recording of Kick Out the Jams, the band's only record for the "hip" Elektra Records label, recording home of many outspoken folk artists and underground heavies of the era like the Doors and Love. But where those bands could ride radio playlists with pop hits, the MC5 was far more interested in tearing down walls than tearing up the charts. Proving too unwieldy, and consequently dropped from the label, the band went on to record two more, far less aggressive albums, Back in the USA and High Time, with producers more intent on reining them in than letting their terror reign supreme. The MC5 broke up in 1972.
In the ensuing years, with nostalgia for music and bands of the '60s emerging, those godawful "I may be old, but I got to see all the cool bands" T-shirts notwithstanding, members of the MC5 regrouped and toured in various aggregations. However, thoughts of the band reuniting this year to mark the 50th anniversary of the recording of the iconic album proved problematic. Three of the original members, Smith, Tyner, and Davis, are now deceased.
Kramer's solution was to put together the MC50, a super group of musicians, many inspired by the MC5 and Kick Out the Jams, to celebrate the occasion. The all-star lineup features guitarist Kramer, Soundgarden guitarist Kim Thayil, Fugazi drummer Brendan Canty, Faith No More bassist Billy Gould, and Zen Guerrilla front man Marcus Durant, proving the past is present, and that powerful, righteous music stands the test of time. With a series of summer performances at outdoor European music festivals now behind them, MC50 embarks on a lengthy U.S. tour this week, playing Atlanta's Variety Playhouse Friday, September 7.
Calling from his home in Los Angeles, Kramer talks excitedly about the new band and the upcoming U.S. dates. Earlier this summer, however, he approached the first shows with some trepidation.
"I'll tell you, I wasn't sure if it was gonna work or not. And when we did the first few festival appearances, my sense was half the crowd had no idea who we were. Maybe half of them did, or, at least they had heard of "Kick Out the Jams" or something, but the other half, they were just young people at the rock festival having a great time and, 'Oh let's go over and see who this band is.'
"My sense was, after the second song, we won them over, that they understood exactly what it was that we were doing and they embraced it — they cheered and slam-danced — and it was really gratifying that this music that I created with my partners so long ago, is completely contemporary today."
Completely contemporary … that's one way to describe the MC5's music, though timeless is how I see it. In many of the pieces written about the MC5, they're referred to as "proto-punk" or precursors to punk rock. That's never set well with me. Sure, the energy is there, but …
Kramer agrees. "I don't have a problem with people who say that, but I'm with you in the sense that I didn't really hear it. I mean, the punk rock label certainly ignored the experimental side of the MC5 and the free jazz side, and the poetry and the agitprop theater side," he says, adding one other big distinction. "We could play. The punks kind of like set that aside, so, yeah, it took me a while to come around to it," he laughs.
"If we expand our definition of punk to the idea that each generation has to find its own voice as distinct from the preceding generation, then, you know, it all fits into a long line of succession, going back to Beethoven was a punk, and Stravinsky was a punk, you know?"

With the original impetus for Kramer putting together the MC50 to observe the MC5's 50th anniversary, there is another, very simple reason, for Kramer embarking on this tribute.
"I like to play music for people and I like working with good musicians. Not many bands can still function 50 years later. So I made some lists of all my favorite guitar players and drummers and singers and then started working through the lists. The word got out. Some people called me, and I called everybody else. It actually turned out better than I could've hoped for. I'm thrilled with the lineup."
At this time, it's not just the music of the MC5 that should be remembered, but the band's spirit that needs be celebrated — and used as a rallying cry. The causes people marched for in the streets during the '60s — civil rights, women's rights, human rights, reproductive rights, LBGTQ rights, healthcare, and more — are being attacked. If not now, when? The Ku Klux Klan has become mainstream. Nazis are being referred to as "very fine people." And a malignant narcissist is illegitimately occupying the White House.
Once again, it's time to decide "whether you are going to be the problem, or whether you are going to be the solution." Yes, 50 years later, the testimonials of the MC5 still ring true. "Brothers and sisters, you must choose. You must choose." It takes five seconds …
"I don't disagree, the parallels are disturbing," Kramer acknowledges. "There's a perpetual war going on, on the other side of the planet for 17 years now, with a nation that poses absolutely no threat to the United States. This is exactly what Eisenhower warned the American people about — the military industrial complex, where politicians, arms manufacturers, and generals create a situation where there's perpetual war because they think war is good business.
"We have an absolutely incoherent policy for war in the Middle East. Nobody knows what we're doing there, and nobody seems to care except for the families whose young men and women go over there and fight and get wounded and die.
"That's not very many Americans. That's a small group, mostly of traditional military families and people of limited economic means who join the military to get a step up. There's also the ancient rite of passage for young men, and now young women, to see if they can walk through the fire of war and come out the other side — and that has nothing to do with politics."
With war in the Middle East being fought by U.S. troops for close to two decades, under five different U.S. administrations, it's the current administration that Kramer — and a growing number of Americans — see as the cause for alarm, not only because of an endless war, but because of what many see as the complete breakdown of democracy in this country.
"We have a wretched grifter in the White House who has utter contempt for the rule of law. And I say that as a man who's been to prison. I believe in the rule of law," Kramer says, noting his 1975 arrest for selling cocaine to undercover federal agents and his subsequent imprisonment in the Lexington Federal Prison in Kentucky. "The corruption from the highest levels of Congress down to the city councils creates a degradation of atmosphere: women's rights being trampled on, people of color being shot by police in their own communities. So, yeah, I, want to go out there and carry a message. It's the same message I was carrying 50 years ago, which is a message of self-determination, of self-efficacy, and that each person can make a difference, but they have to do it wholeheartedly. They have to be in it with both feet. You have to be committed, and you can make a difference. You can go out there and take action and make this world a better place."
That is exactly what Kramer hopes to do through Jail Guitar Doors USA, the charitable organization he and his wife, Margaret Saadi Kramer, formed after meeting with outspoken British musician, Billy Bragg, who started Jail Guitar Doors in the U.K. The organization — yes, its name is based on the Clash song, "Jail Guitar Doors," which was inspired by Kramer's time behind bars — brings musical instruments into prisons for use in rehabilitation.
Jail Guitar Doors USA's mission, as stated on its website, "works toward a more fair and just America… providing musical instruments and mentorship to help rehabilitate prisoners through the transformative power of music. … We seek to advance new solutions to diminish prison violence and recidivism … and partner with social service groups to help people in prison successfully rejoin the outside world. And we actively work to educate leaders and decision-makers on how to bring real reform to the criminal justice system."
Once the incarcerated return to the outside world, the question remains: What type of world will they be entering? Greed has overcome compassion and empathy. Inequity is a common cause of racism, sexism and classism. With social media, people insulate themselves in their own echo chambers, creating a dense cloud of confirmation bias.
"Income inequality is the core of much of what's wrong in our country today," Kramer agrees. "The fact that these hedge fund guys and bankers and Big Pharma, Big Tech … especially the hedge fund guys, at least the tech guys make something … If you look back on the robber barons of the last century, at least they created the railroads, the auto industry, the telephone industry, the oil business — the hedge fund guys create nothing except wealth for themselves and their clients — and they've stolen all the money. There's no money left for the rest of us."
That said, Kramer maintains a positive outlook. "I have faith in young people and people of good conscience that at a certain point they will be inspired to take action. And I don't mean hitting a 'like' on Facebook. I mean getting up off the couch, going out, getting with your friends; organizing and putting pressure on legislators; organizing voter drives to vote out the people that are ruining the country and vote in people that are in fact public servants."
Not unlike the high school students who organized the March for Our Lives demonstrations after the Stoneman Douglas High School shooting in Parkland, Florida, earlier this year?
"Weren't they brilliant?" Kramer responds.
They were getting into "good trouble," I tell him, explaining the concept Congressman John Lewis uses to define the actions of those protesting for the greater good, whether during his years in the Civil Rights Movement or now, when students are marching for stricter gun control laws.
Kramer laughs. "I like that," he says.
"There's also a third stream in this, which is Vladimir Putin," he continues. "When the Soviet Union collapsed, he was furious. He was beside himself. He vowed to return Russia to its former imperial glory and set out on a plan to destabilize the West. When all those Eastern Bloc countries joined NATO, that ground his balls. He hated it. And he's been very systematic and very patient. And to be honest, he's been brilliant in orchestrating American dissent, in electing Donald Trump, in causing Brexit to happen. I mean these things didn't happen in a vacuum. They were nudged and orchestrated beautifully by the Kremlin. I'm not a conspiracy buff, but this stuff is common knowledge. If you just blow the dust off a little bit, it's easy to see what's been happening.
"I recommend a great book. It's called House of Trump, House of Putin. It just came out. It's an investigative journalist's work of great credibility and stunning revelations. There's no hyperbole in it. It's all just known facts."
I should read this book before I delve into The Hard Stuff, Kramer's own autobiography released this month, that details his time in the MC5, his life, his prison conviction, and more?
"I would!" he laughs. "It's more important."
Which brings us back to the reason for our telephone call, the MC50 appearance at the Variety Playhouse. "We're going to bring it!" he declares. "Kim Thayil, Brendan Canty, Billy Gould, and our secret weapon, Marcus Durant! We're bringing the hard rock! It's balls to the wall! I want to see all the hard rockers there."
Yes, it's time to kick up some noise ... it's time to kick out the jams!
---