Q&A: Scofflaw rams through two years
A conversation with the Westside brewery as it celebrates two years of success this Saturday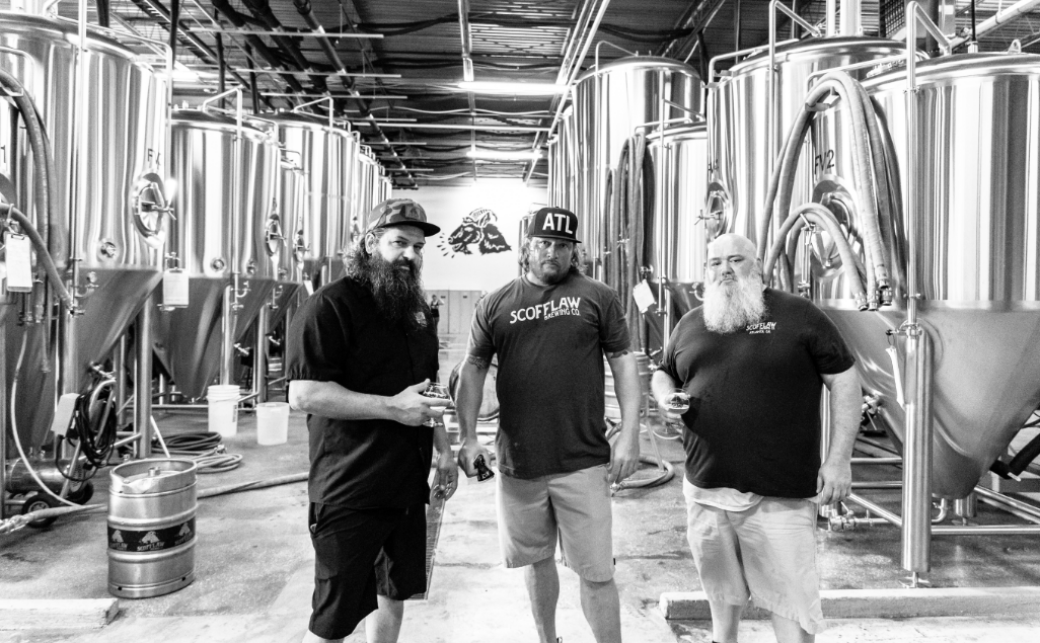 A LOOK BAAA-AACK: Scofflaw founder Matthew Shirah (middle) and COO J.P. Watts (right) talk Atlanta's most brazen brewery, co-founded with Travis Herman (left).
Under the shadow of alcohol prohibition in America, those who stole away to secret speakeasies and basements to drink outside the law were shamed as "scofflaws," criminals who lived by their own rules. Prohibition is long gone, but the scofflaw spirit lives on in modern rebels of society, surviving through hard work, familial bonds, and Southern grit. Operating in accordance with those values, Scofflaw Brewing Company has grown exponentially since 2015, when co-founder and CEO Matthew Shirah started homebrewing in his mother-in-law's basement.
Earlier this year, Scofflaw entered a partnership with Scottish brewery and pub chain BrewDog, which has helped brew Scofflaw's core beers like Basement and Hooligan India Pale Ales from its facility in Columbus, Ohio. The partnership came with a facelift to Scofflaw's can design, and expanded annual production to an estimated 30,000 barrels in the United States. After almost a year working together, BrewDog will soon bring Scofflaw to the sophisticated palates of European craft beer drinkers by hosting Scofflaw brews in dozens of locations across the pond. This Saturday, the brewery will celebrate two years of success with a massive birthday party.
Scofflaw is known for high-volume Indian Pale Ales and stouts, and an unapologetically brash personality embodied by the twisted images of goat mascots on their cans and merchandise. To Shirah, COO J.P. Watts, and co-founder and brewmaster Travis Herman, the brewery is a chance to make great beer for their community and live by their own rules.
"We do things our own way, whether we succeed or fail, and we aren't hard on ourselves when we do fail," Shirah says. "Nobody's success is built on mistakes, but every fuckup is an opportunity to not make that mistake again. We're growing in the right direction, but we know that we aren't going to get there in a straight line, so we don't try to."


Scofflaw is one of the fastest-growing breweries in Atlanta after only two years. Were you expecting this success when you started?
Matthew Shirah: I'm just facilitating people having a good time by making beer for them to drink together. Our brand is brash and out there, but it's nothing more than who we are and who we grew up as — just redneck kids raising hell. We have 41 employees now after 24 months, so my job is to make sure that we all stay focused enough on our own tasks that we protect everybody's livelihoods. The way I see it, if one of my brewers has a new kid, we have to be successful so he can afford to feed that kid. We protect each other, whatever it takes.
J.P. Watts: Last year our business grew 6.5 percent every week. We always thought we'd be happy just making a paycheck and hanging out with family, but we're already past double our original end goal. The most common misconceptions are that we're funded by some rich investor, and that we built to be this massive, which is definitely not true. When we started doing this, it was just about quality of life for us and our families. But now that we're as successful as we are today, we're not going to stop. It's a hungry monster and we're just going to keep feeding it. What does make us happier than getting a paycheck is to give somebody else a paycheck, so now that we're successful we can keep creating more jobs for more people.
How did you get your start in brewing craft beer?
Shirah: Me and J.P. have been together since we were 15, living in a trailer park up in North Carolina. I studied finance at Appalachian State University, spent some time in the army, and then moved down to Georgia to get my masters in business from Emory University. But I got sick and tired of the daily grind of corporate work. Nobody was happy, and they were distanced from their family by their jobs. I had just had a child and I wanted to be a present father, so I was not going to let that happen to me. We were drinking mostly Miller Lite at the time, but J.P. got me into craft beer and we started experimenting with brewing it in my mother-in-law's basement. Our friend Travis, who was working in a pharmaceutical lab and is now our brewmaster, moved his family here from Arizona to help us, and I spent two years learning to understand beer on the molecular level from him. We really could not have done it right without Travis.
What's up with all the goats?
Shirah: We needed some kind of mascot for our designs, and I've always thought they were cool animals. The goat really is just an extension of our personality. They're stubborn, hard-headed assholes who just do whatever they want and don't listen to anyone. But they're also damn cute, and they love playing with people — in fact they mostly just want to be held. At our anniversary party, we'll have around 10 miniature goats from a local farmer in a pen outside for the kids or whoever to play with. Little hard-headed-ass goats with little bitty horns, cute little things. Watts: Our second-busiest day this year, besides our last anniversary, was when we had a petting zoo at the brewery. There was no special beer release or anything — 4,500 people just showed up to a petting zoo that day, including a lot of families. We didn't make a ton of money but the kids had a damn good time.
What sets Scofflaw beer apart from other breweries in Atlanta?
Shirah: We make a lot of IPA's right now, but that's just because we're focusing on creating a quality product that we know we can do well. It takes a few years to get a solid barrel-aging program off the ground and even then, it's easy to fuck it up. It's trendy in the industry to constantly come out with new beers, and we're guilty of that too, just because it's fun for us. But making money to keep your employees in their homes and fed is not in those rotations. It's in the high-quality standard product that people drink over and over again. I try to think outside of the craft beer bubble and make a product that people want. Basement IPA is our best-selling beer, but it doesn't make up more than half of our sales. That's good brand health for us because we aren't dependent on just one beer to drive our business.
Where did you get the idea for the F*** Cancer and F*** Arthritis beers?
Shirah: The F*** Cancer thing started when a friend of ours died from leukemia, and we wanted to raise money for his family and research for the disease. Our goal was $10,000, but we did way more than that. My daughter has juvenile arthritis, so F*** Arthritis was for her. It's an autoimmune disease, and it's not widely known. She goes to this thing called Camp Twin Lakes, where kids with arthritis, burn injuries, and other problems go, and it gives them a sense of belonging. She has a blast and it's a meaningful experience for her, so we helped raise money for that. Some people just get dealt a bad hand, and it sucks when you can't really do anything about it. The best I can do is make beer and hope it helps people feel better.
What are your plans for the future?
Shirah: We recently leased the building adjacent to the brewery, so we're going to expand our packaging area into that building and expand our existing space into a larger fermenting cellar. We're up to 200 barrels now, and we're working on making more stouts and sours in the future. We also want to expand our demographics and appeal to a more diverse audience. A lot of breweries, you walk in and it's just a bunch of white dudes, but we want to be more inclusive of women and people of all races. We want everyone to be part of the group.
So what can we expect from the anniversary party… besides goats?
Shirah: It's going to be huge. A ton of people came out last year, and we expect it'll be even more this year. We'll be around talking to everyone and sharing stories, and we'll have 30-40 beers available. That's all of our standard beers, of course, but also some unreleased stuff and variants. We'll have barrel-aged, cocoa, and vanilla variants of our Absentium stout, and our anniversary stout is a coffee-vanilla Absentium. Plus we'll have so many IPA's you won't be able to see straight, and an anniversary IPA, too. If you just want to come in and hang out that's fine, or if you want to drink 'til you puke and black out that's fine too. Just be responsible and don't try to get in your car. And we aren't charging people to come in — no tickets, no bullshit. Just beer and goats.
Celebrate Scofflaw Brewing Company's anniversary all day with them on Sat., Sept. 15. They'll be pouring more than 30 beers, including variants of your favorite Scofflaw brews and several unreleased ones. 21+ to drink, of course, but all ages are encouraged to attend and there will even be a goat petting zoo and a dunk tank. DAS BBQ and Oysters Co. will be onsite to provide food, and there will be some exclusive anniversary merchandise and take-home beer. Don't bother trying to buy a ticket, because Scofflaw isn't selling them. Just go in, buy a beer, and have a great time.
Free entry. 10 a.m.-midnight. Sat., Sept. 15. Scofflaw Brewing Company, 1738 MacArthur Blvd. N.W. www.scofflawbeer.com.
---