HIGH FREQUENCIES: 10,000 Maniacs — These, too, are days
10,000 Maniacs return to Atlanta
Though their profile isn't what it was at the height of their popularity in the early '90s — after all, who watches MTV when there's YouTube, or listens to college radio when there is Spotify and Pandora — 10,000 Maniacs have never gone away. The Jamestown, NY-based band was the epitome of college radio cool, second only to R.E.M., and just as politically-correct as the Athens band was perceived. Hell, in 1993 10,000 Maniacs played the MTV Inaugural Ball for President Bill Clinton.
The band marks a number of significant anniversaries this year. Most notably, it was 35 years ago, in 1983, that they first released their independently-produced and distributed LP, Secrets of the I Ching, on their own Christian Burial label. The album, a collection of intriguing pop songs that melded elements of traditional English folk music with the more torrential attack of punk, garnered the attention of legendary British DJ John Peel. That, along with traveling in a always-breaking-down van, taking gigs at clubs now long-closed, and sleeping on floors in the homes of friends and fans, all in the name of "touring," established 10,000 Maniacs with indie cred and as expeditors of the DIY ethos.
It was 25 years ago that the Maniacs, riding the success of their 3-times platinum MTV Unplugged album, with its cover of the the Patti Smith/Bruce Springsteen-penned "Because the Night, brought in Mary Ramsey to replace their lead singer, making Ramsey's tenure with the band now twice as long as that of their second vocalist.
It was also 25 years ago that 10,000 Maniacs last played Atlanta's Chastain Park Amphitheatre. Then, they were capping the success of a decade's worth of hard work, constant touring, and the release of four major label albums, The Wishing Chair, In My Tribe, Blind Man's Zoo, and Our Time in Eden, for Elektra Records.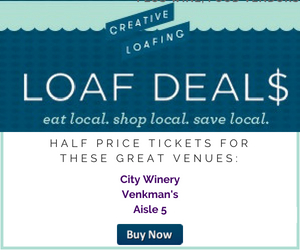 The band returns to the outdoor venue, now known as the State Bank Amphitheatre at Chastain Park, this Thursday, Oct. 4, to headline the fifth annual Rock Chastain benefit concert, with proceeds going to the Chastain Park Conservancy. The evening also includes Yellow Brick Road — Tribute to Elton John, and two relatively new Atlanta bands, Dreambrother and Pony League, the latter two of which, whether they realize it or not, owe a lot to the headliners.
Exchanging emails with founding members Dennis Drew (keyboards) and Steve Gustafson (bass), the two remembered well the time when they were an Atlanta band, moving from upstate New York to the then-burgeoning music scene that had developed between Atlanta and Athens.
"We lived in a house at 44 Waddel Street in 1982 trying to get gigs, meet industry types, and others," Gustafson recalls. "We also raked lawns and sold our plasma to make ends meet. That is when we decided that we needed to get ON THE ROAD!"
Of course, going on the road was different then, he admits. "CDs and cell phones weren't invented. There wasn't an internet. A hard drive was an overnighter from DC to Atlanta in our beat-up old van."
During their time in Atlanta, 10,000 Maniacs forged friendships with a number of other local bands then on the scene, lasting relationships that helped them immensely.
"Nearly every musician we met was humble and kind. We met R.E.M, Pylon and many other early '80s Athens bands and they were all very gracious and helpful. Michael (Lachowski) from Pylon got us in touch with their agent and that was our first big break. Then, we did two national tours with R.E.M."
"We toured with REM around 1984-1986 quite a bit. Great people, Drew concurs. "Bill Flanagan wrote a great article about that tour in Musician magazine at the time. The Swimming Pool Q's, Pylon, Love Tractor, the Little Tigers, Flat Duo Jets, Oh Ok, Indigo Girls, we hung out or played with all of them. The 40 Watt club in Athens and 688 in Atlanta were the main places we played before 1987." In 1997, the group even returned to Athens to record a record for Geffen Records, Love Among The Ruins, with producer John Keane whose early studio work helped shape the sound of many Athens and Atlanta bands.
Though not as road intensive a band as they once were, 10,000 Maniacs still play with regularity, averaging fifty shows a year. In fact, Drew notes, the only time the band stopped playing was in 2000.
"We took three years off after our guitarist Robert Buck died (Buck succumbed to liver failure in 2000, at the age of 42), but other than that, we've been touring consistently over the last 37 years. We released an album of all new material, Music From The Motion Picture, in 2013, an album of British Isles traditional Folk Music, Twice Told Tales, in 2015 and a live album of our most popular songs, Playing Favorites, in 2017.
10,000 Maniacs include Drew, Gustafson, Ramsey, drummer Jerome Augustyniak (who has played with the band since 1983), guitarist John Lombardo (who has been in and out of the band since late '81) and guitarist Jeff Erickson, who joined when the Maniacs regrouped after Buck's death.
"We've seen a resurgence over the last five years," Drew notes. "Actually Spotify and all the streaming services have been a boon to our touring business. People see 10,000 Maniacs are coming and they can just look up the music and play it … it's great!"
Gustafson adds, "We're selling out many of the hard ticket venues. We're playing great — with new in-ear monitors — and new energy."
Looking back, both agree 10,000 Maniacs made the right choices throughout their career.
"I think we hit it pretty much right on, Drew asserts. "In My Tribe has some bad sequenced drums on it. Peter Asher is a great Guy. We learned a lot. I think Paul Fox and Ed Thacker did a great Job on Our Time in Eden. Love Among the Ruins is a great record. Great! It is terribly underrated. Listen to the title track. Fantastic. I think the Unplugged version of 'Because the Night' is not very good. In fact, Unplugged is pretty much my least favorite album — and it's the biggest seller!"
"There are somethings I would have done different," Gustafson admits, "but I don't see any need in discussing that. I was having a great time … and wish I would have paid more attention!"
"Obviously I like all of it, Drew continues. "We still play most of those indie songs. My highlights are 'My Mother the War,' 'Grey Victory,' 'Cotton Alley,' 'Among the Americans,' 'What's the Matter Here,' 'Trouble Me' 'Eat For Two,' 'Dust Bowl,' 'Eden,' and 'These are Days' from that era.
With change the one constant in 10,000 Maniacs history, I wondered if they adapted to the changes or decided the best way to weather the change was to stay the course.
Both are pragmatic in their answers.
"I think we do both," Gustafson says. "We sound the same. The core of the band is intact, but we're also trying different things, writing and playing new songs. Our live performance has a little more improvisation. Having Mary as our lead singer and lead viola player added a lot to our song writing and live performance. She's amazing.
Drew agrees. "One foot in front of the other. Just do the work. We lost two record deals and two mangers, too, but we just kept on moving forward. We are who we are and we sound like no one else. I think we are actually playing better than ever. We are fully invested in making each night something special and unique. You never know when your number will be up, so we play like there is no tomorrow.
Do the two veterans of the indie scene, 10,000 Maniacs were one of the very first independent bands recording, pressing, and distributing their own records back in 1982, have any suggestions for today's bands, like those opening up for them in Atlanta?
"Steal good songs," Gustafson jokes.
Drew is a little more serious. "Work Hard. Stay true to yourself. Do your homework. Listen to a variety of musics and never stop learning."
---