>>

Events

>>

festivals

>>

ATLANTA UNTRAPPED: 2018 A3C stampede was a false alarm
ATLANTA UNTRAPPED: 2018 A3C stampede was a false alarm
'This was a very unfortunate way to end what had been an otherwise amazing week of music, friendships, and connections'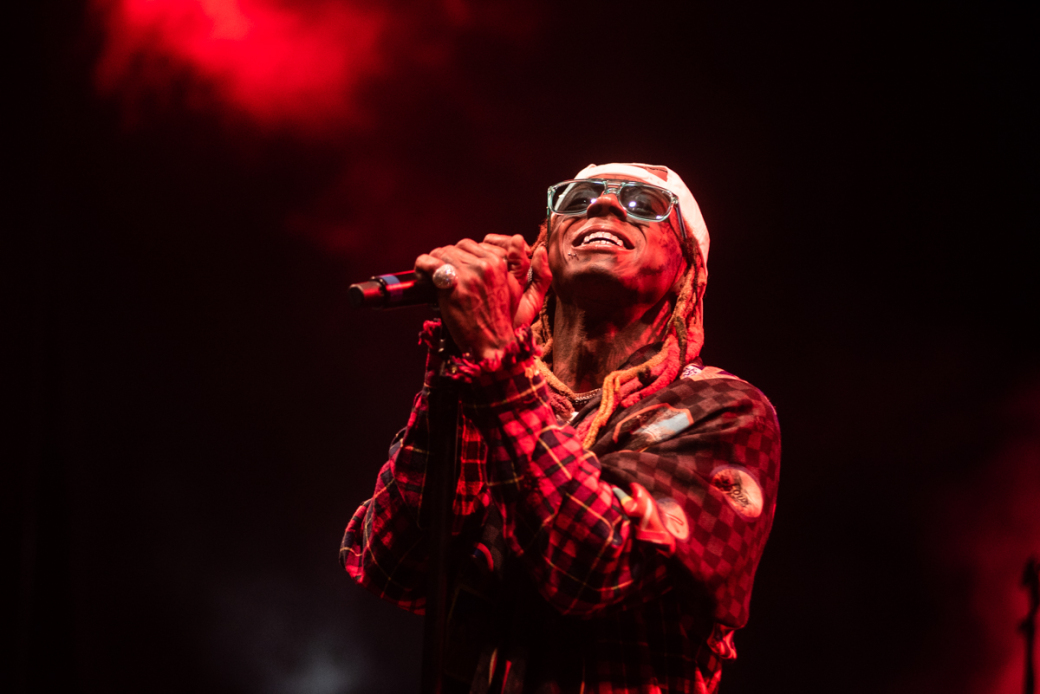 MR. CARTER: Lil Wayne during Sunday night's headlining A3C performance, minutes before being escorted off-stage by security.
A stampede erupted during the final hours of what was one of A3C's most successful years so far. But the annual hip-hop festival and conference organizers say the panic was a false alarm.
Just three songs into rapper Lil Wayne's Sunday night headlining set, a fight broke out between concertgoers. The audience mistakenly thought guns were involved and ran for safety en masse. Security quickly escorted Lil Wayne off of the stage. Barricades were knocked over, and attendees climbed fences to avoid being trampled during the hasty mass exit.
CL photographer Brandon English, who was in the crowd when the fight broke out, says he heard no gunfire. "When the fight broke out behind me, everything just kind of snowballed," English says. "It's hard to say what happened, but people thought someone pulled out a gun and folks started panicking."
The chaos was defused by the state police who were on site.
An official statement from A3C reads: "Sadly, there was an altercation tonight that ended Lil Wayne's performance. We are still collecting information to determine exactly what happened and will provide follow-up information as soon as we know more details. Please be assured that the law enforcement officers present have confirmed that there were no weapons involved. This was a very unfortunate way to end what had been an otherwise amazing week of music, friendships, and connections. Thank you to everyone for your amazing support and positive energy all week. We love y'all."
While no serious injuries have been reported, some attendees who sustained minor injuries during the rush to leave were treated by paramedics.
The incident was a hapless conclusion to the festival and conference, which featured five days of progressive panel discussions, interviews, and the A3C Action Summit, followed by a weekend of live music that included performances by the likes of Deante Hitchcock, J.I.D, the entire Wu-Tang Clan, and more.
While this occurence was the first of its kind during A3C's 14-year run, the events that unfolded during Lil Wayne's Sunday night performance will be construed as a hip-hop culture issue. But the crowd's reaction offers poignant commentary on the modern world, following the 2015 terrorist attack at the Eagles of Death Metal concert at the Bataclan theatre in Paris, France, and the 2017 Las Vegas mass shooting during the Route 91 Harvest music festival. Credit is due to festival and conference organizers for having enough safeguards in place to prevent the situation from becoming worse — a situation that could happen at any such event nowadays.
UPDATE: An Oct. 9 press release issued by A3C Director Mike Walbert offers the following details:
Unfortunately, less than 10 minutes into Lil Wayne's set two individuals started to fight each other. We have spent the hours between the incident and now assessing the situation, collecting information and ensuring we respond with an accurate account as to what happened to the best of our ability. Several people in the crowd attempted to break up the fight, including a Georgia state trooper who was on-duty providing security. In trying to break up the fight, we understand that the trooper withdrew his Taser, which reportedly omitted a red light. The Taser was not used, but upon seeing the Taser, several members of the crowd yelled "gun," which caused a panic in the crowd and people started rushing away. Unable to tell exactly what was going on, many people assumed the worst and there became a rapid dash to clear the grounds.
We continue to check on the safety and well-being of our community, friends and family. We have always made safety a top priority, and are thankful that there are no reports of serious injuries.
Stay tuned for more details as they become available.
---