HIGH FREQUENCIES: Thalia Zedek and Chris Brokaw come to Atlanta
Guitarists duel together, apart
In a just world, Thalia Zedek and Chris Brokaw would be playing one of the larger venues in town, there would be more high-profile promotion, and advance ticket sales would already have the show at capacity, with someone standing at the door taking money, checking the "will-call" list, and clicking the people-counter as throngs of fans make their way inside for the show. But it's not a just world, it's one made up of liars, thieves, dilettantes and evil mothers telling you everything is just dirt. Scum rises to the top and the only way to beat the greed of monied interests is to work. (And to vote — don't forget, midterm elections are Tuesday, Nov. 6). Zedek and Brokaw — along with Arthur Johnson and Sean O'Brien — worked throughout the '90s in Come, a band creating expansive and majestic music that captured the spirit of what many called "grunge" while other musicians with better wardrobes ran the victory laps.
The two perform in Atlanta this Friday, October 19, at Kavarna in Oakhurst, Decatur, a stop on their current "Living Room" tour. That's right, traveling the East Coast playing wherever they're asked, usually in someone's living room. As such, they've only been selling advance tickets to their gigs via Undertow. With the Atlanta show in a proper event space — and their having found someone to work the door — tickets will be sold up until showtime, meaning those of you who haven't purchased advance tickets still have a chance to see these two guitarists perform. According to Brokaw (who has played with Codeine, Steve Wynn, Bedhead and the Lemonheads, among others), he and Zedek (outstanding in Live Skull and Uzi as well as in her solo endeavors) "will each play short solo sets, and a duo set together of Come songs. We play on a couple of songs during each other's sets, too. Electric guitars and vocals." It sounds so simple, but, like their music, becomes so complex with their musical interplay.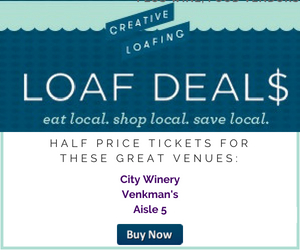 Time marches on dept. … It was in 1993, during my first tenure at Creative Loafing, that the editorial department used to spend Friday afternoons drinking margaritas at a now long-closed Mexican restaurant on Ponce de Leon. Once the sun went down, and the dinner crowd started lining up for tables, we'd leave the place and head over to the Northside Tavern. A dive bar with a good juke box more than anything else, it was there I first heard Daniel "Mudcat" Dudeck perform. He had just started helping owner Ellyn Webb book the joint, and within months he turned the place into a haven for blues, the cinder block building on Howell Mill Road joining Fat Matt's Rib Shack on Piedmont Road and Blind Willie's in Virginia-Highland as a place to drink into the night and listen to blues, blues rock and a helluva a lot of of soulful singers who'd paid their dues and were still paying them.
Dudeck is thankful for what he's accomplished at the Northside Tavern, and, even though he will no longer be booking the club, he hopes the blues legacy he started there will continue. "I booked shows through February," he says, calling out a list of performers set to play — "Albert (White),  Beverly ("Guitar" Watkins) … Sammy Blue is having his Georgia Music showcase, Freddie Vanderford on a matinee,  there's more … ."
While Dudeck admits he doesn't know "what the plans are" for the future bookings at the club, he's happy to be leaving with success in his wake.
"I had a great band weekend, I had a fantastic Wednesday night, and last weekend I had Beverly ("Guitar" Watkins) and Curtis Smith and Albert White and the Petunia Fest for Cora Mae Bryant with Curley Weaver's grandsons, and Shelton Powe, and Jontavious Willis and more ... I defy you to find a deeper blues weekend anywhere. And it worked without me having to run the show! Self sustainable! As a farmer I've learned sustainability is the only way to survive and thrive."
Old ears for new dept. … With vinyl now a highly-publicized niche market, record buyers are realizing you need good equipment on which to listen to the 12-inch, 10-inch, and 7-inch discs. While you can spend thousands of dollars on new, high-end equipment, some are going another route, seeking out vintage equipment. With that being the case, it's no surprise that Atlanta's first show featuring used hi-fi gear is set to take place this Saturday at Highland Row Antiques on North Highland Avenue between Ponce De Leon and North Avenue. The "Highland Row Hi-Fi and Vinyl Show" is the idea of Keel Heisler who already has a large space dedicated to mid-century modern vintage collectibles at the antique market — and is a bit of audio geek himself. The show is free to those hunting for great buys — and runs Saturday, 10 AM to 6 PM. While audio equipment is the focus, expect a number of dealers to set up with collectible and rare records and other music-related memorabilia. And if you've got something to sell, check with Heisler. One or two spaces may still be available.
---