HIGH FREQUENCIES: Henry Owings is having a birthday party — and you're not
Bands reunite for the four-day bash — and it feels so good!
JESUS THEY'RE BACK!: 86, a long, long time ago (from left), Max Koshewa, bass; Ken Schenck, guitar; and Mac McNeilly, drums.
I'd been complaining to Henry Owings that there was no one place to find information about the different events he has planned for his 50th birthday celebration. You know, no h2o website detailing the shows in Athens, Atlanta, and Roswell; no place to see which bands are performing and where.
"It's my birthday. Not a branding experience," he says matter-of-factly. "People want to come? Cool."
It's that nonchalant manner of his that some might construe as arrogant or difficult, but really it's just Owings moving forward with his plans, not concerned about getting the recognition others might seek, but more focused on getting the job done. And having a good time while doing it.
It was earlier this year when the entrepreneur — he has a publishing company, a recording label that has released records and CDs by local and national touring bands, a fanzine website, and he's responsible for those ubiquitous "Mueller" buttons you've seen being worn by people concerned with the direction our country is headed — realized this year was a milestone for him that many mark in extravagant ways.
"I was standing in the Baltimore airport with my daughter back in March," he recalls. "While we were waiting to board a flight back to Atlanta, a little voice in my head said, 'Oh … I turn 50 this year!' So, in the minutes before I boarded, I texted about four or five friends asking if they'd play my 50th birthday. By the time the door to the plane was shut, three bands had already confirmed. At that point, I felt it my duty to go as big as possible. Have bands that haven't played in eons play more than once. Have friends mingle with other friends, many of whom had never met. Many who haven't seen each other in decades. Sounds like a good party to me, especially considering I've never thrown a party for myself before! And the legendary 86 is playing their first show in 30 years, fer chrissakes! And Vanessa from Pylon is making me a cake, dammit!"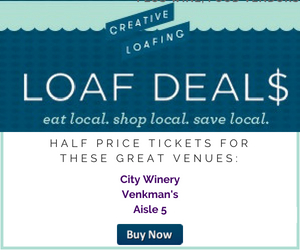 With so many bands apparently eager to indulge him, I wondered how Owings decided who he would ask to play?
"I just went through my life and was reminded of my favorite bands, not just as musicians, but as people — and who I would want at my birthday. The first band I asked was Man or Astro-Man? but that was only the beginning. Once I started flipping through my mental Rolodex, the bands just materialized. I wanted new bands, old bands, but the common thread I wanted was they were all friends of mine. No booking agents. Only one guarantee. No contracts. It's my birthday, goddammit. Do I really need to justify anything?"
"I'm in the midst of putting together a program for my birthday parties. Writing about all of the people who are performing really gets me choked up. I'm a very lucky man, Tony," Owings admits, though he also acknowledges there are those who turned him down.
"To those that are curious, I also am including a list of  bands in the program that I asked, who said 'Thanks, but no thanks.' It's a short list, but even that list is impressive!" he boasts. "Back in my 20s, I couldn't even imagine it doable, the idea of asking a band like Mission of Burma to play for me."
In as much as Owings is throwing birthday parties for himself — and we get to live vicariously through his plans while actually being able to buy tickets to the events and take advantage of his celebrations — I mention that, while the shows seem to be about him, they can also be seen as a way of his giving back to the fans of these bands. They play multiple nights, the ticket prices are low, and the scheduling between Athens and Atlanta — and Roswell — doesn't seem to conflict.
"That's a nice way of thinking about it," he agrees, but adds, in typical Owings fashion, "that has nothing to do with it. I just hate the idea of bands coming to town and playing but one show. Seriously? How can you ask The Velvet Monkeys or Come to fly in and just play 45 minutes!? Screw. That. I want to see them play for an entire week! Having Athens right there makes a second show for many of these bands inevitable. And Whirlyball? Well, that's just the cherry on top. All ages. Brunch. What's not to love?"
Whirlyball Atlanta, for those not in the know, is an amusement center in Roswell, Georgia, that functions as a place for corporate team building and private parties through fun. Whirleyball, the sport, is a combination of hockey, basketball, and lacrosse played from a bumper car in the complex.
Whirlyball Atlanta is also where Owings promoted countless shows before becoming a father. "Like, a lot. However, being a dad has taken priority. I feel like doing a show at Whirlyball for the first time in eight years is saying to people that maybe there will be more shows there in the future." His enthusiasm isn't just for presenting a show there for the first time, but for the place and sport itself. "Have you ever been? Have you ever seen it?" he animatedly asks me. "Dude, you seriously need to check it out!"
Owings' enthusiasm aside, one wonders why some of these bands, like 86, who haven't played together in decades, would agree to perform?
He's quick to offer his explanation. "Because they're so incredibly terrified of what I'd write about them in my fanzine if they don't," he declares, citing his publication, Chunklet, then lets you in on the joke. "You know, my fanzine that I haven't published in nine years."
"Joking aside," he continues, "they're all friends. Like real friends. Not these disingenuous 'friends' vis-a-vis the 'industry,' but rather people that have known me (in many cases) for more than 20 years. Through thick and thin. Through golf matches. Through them on tour. Through me on tour. Through us on tour together. Screw it, I just want a kick-ass birthday party, is that too much to ask?"
Owings also plans to mark the occasion of his 50th revolution around the sun with three 45 R.P.M. split singles featuring Man or Astro-man?/Tar; The Gotobeds/Honey Radar; and The Velvet Monkeys/Elf Power. And then there's the aforementioned program he's writing — and the poster he's designing. T-shirts? He hasn't said. After all, this is not a branding experience.
What bands are playing and where are the shows taking place? The information can be found at the end of this article.
Readers might notice one of the bands performing, Black to Comm, has never played before. They're an MC5 tribute band — MC5 being one of Owings' favorite bands — comprised of Shannon Mulvaney, Adam McIntyre, and Adam Renshaw — the three musicians who backed up MC5 co-founder Wayne Kramer for two shows last year in Athens and Atlanta.
When the three musicians were asked to play his birthday party, Owings says, "each gave a resounding, 'Oh my god, yes.' But the question on all their minds was who would sing. Well, I would! It's my birthday after all! My original goal was to be as close to the "Black to Comm" riff as possible. The riff (from the first song MC5 ever wrote as a band), which even a bonehead like me can play, is a raga. Hypnotic. Powerful. And I just wanted to sing the lines to the song and then hear the riff for 30 minutes. Self indulgent? Sure. But you know what? It's my 50th birthday and I can do what I want."
"All I know is that we're doing "Kick Out the Jams," "Rama Lama Fa Fa Fa," and "Black to Comm." That's how much of a fan I am. Anyway, we might do more. We might have guests performing onstage. I don't know. Anybody who wants to get up onstage and dance while we 'do our thang' is more than welcome to. I wanna see a sea of hands."
In addition to Henry Owings, others will be performing.
Thurs., Nov. 29, Athens:
40 Watt: Come, Elf Power, Arcwelder, Velvet Monkeys, Stroke Band — $15 adv/$20 dos.
Caledonia Lounge: Man or Astro-Man?, Pylon Reenactment Society, Tar, Gotobeds, Honey Radar — $15 adv/$20 dos. Two stage passes available: $30 adv/$35 dos
Fri., Nov. 30, Atlanta:
529: Man or Astro-Man?, Tar, Arcwelder, Velvet Monkeys, Stroke Band — $20 / $25 dos.
The EARL: Mercyland Historical Abstract, Gotobeds, Air-Sea Dolphin, Honey Radar, 86 — $20/$25 dos. Two stage passes available: $40 adv/$50 dos
Sat., Dec. 1, Atlanta:
529: 86, Come, Dead Now, The Purkinje Shift —  $20/$25 dos.
The EARL: Magnapop, Elf Power, Motherfucker, Black to Comm (MC5 tribute band), The Rock*A*Teens — $20/$25 dos. Two stage passes available: $40adv/$50dos
Sun., Dec. 2, Roswell, Whirlyball Atlanta: Man…or Astro-Man?, Omni, Dead Now — $25/$30 dos.
---