FIRST DRAFT: Georgia breweries join national wildfire relief effort
Local craft brews and news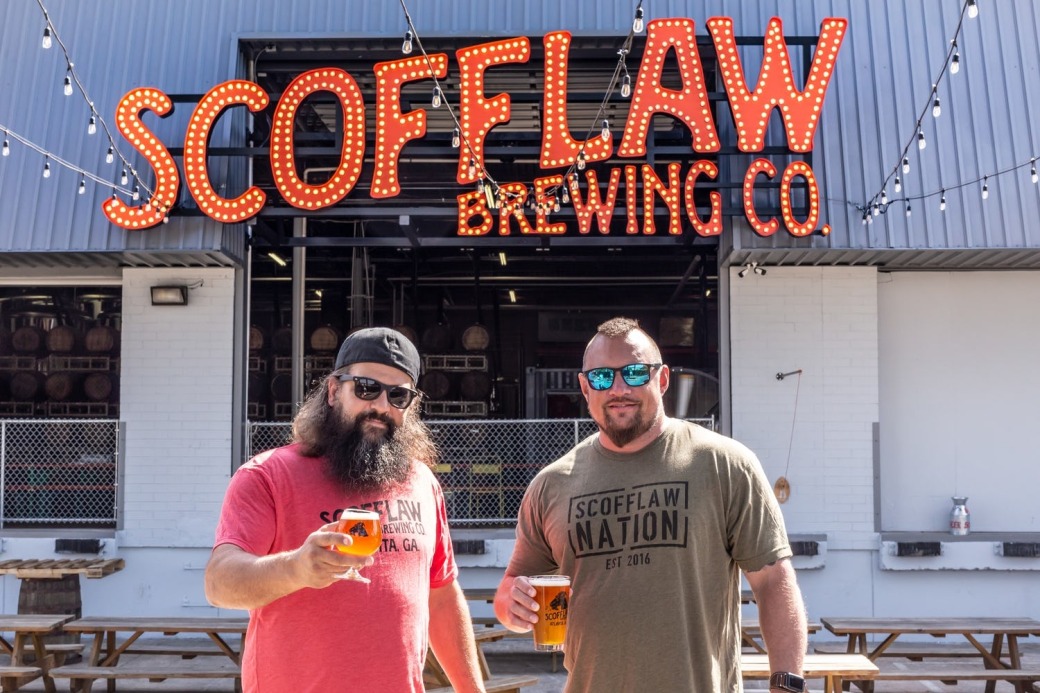 BREWING TOGETHER: Scofflaw Brewing Co. was one of several Georgia breweries to participate in Sierra Nevada's Resilience Butte County Proud IPA campaign on Giving Tuesday.
On Giving Tuesday, Nov. 27, more than 1,000 breweries across the nation simultaneously brewed Resilience Butte County Proud IPA, a plan devised by California's Sierra Nevada Brewing Co. to benefit victims of the the most destructive wildfire in California's history.
Camp Fire claimed at least 88 lives and 7,600 residences, including the homes of several Sierra Nevada employees. The company reached out to every brewery in the country to join their campaign, which donates 100 percent of the profits to support victims of the wildfire. Westside ATL's resident gold-hearted punks at Scofflaw Brewing Co. were among of the first in Georgia to announce their intention to brew Resilience. "We were asked and we can do. I am sure that anyone with the capacity to get involved would help out," says Scofflaw CEO Matt Shirah. "We will market and price the beer accordingly so that we can get the aid monies to Sierra Nevada as quickly as possible."
Under Georgia's restrictive governance of alcohol sales, and even stricter moral scrutiny of intoxicants, breweries fight an uphill battle to prove the positive impact they can have on their communities. High-profile fundraisers like Sierra Nevada's campaign help breweries pay their success forward, while also giving craft beer drinkers a chance to do their part. Local industry leaders SweetWater Brewing Company and Creature Comforts are prominent examples of craft beer philanthropists, raising thousands of dollars with their respective "Save Our Water" and "Get Comfortable" campaigns using profits from charity beers alone.
Both companies, and many other local breweries including New Realm Brewing Company, Terrapin ATL Brew Lab, and Variant Brewing Company, joined Sierra Nevada in brewing Resilience. Interestingly, brewing techniques, equipment and philosophy vary from brewery to brewery, even when working from the same recipe. This means that differences in brewing practice will produce subtle variations of Sierra Nevada's beer, imbuing each one with the personality of its manufacturer. A perfect metaphor to illustrate a diverse group of breweries uniting under one cause.
This year alone, Scofflaw contributed roughly $60,000 to benefit charitable causes, including juvenile arthritis and cancer research. Proceeds from various Scofflaw beers and events have benefitted Camp Twin Lakes, a summer camp supporting children with disabilities which Shirah's own daughter frequently attends. "We are in a unique position as the craft beer industry is still young and offers some opportunity, though we still face significant headwinds with the current system we have in place," Shirah says. "As far as the moral issues, folks with negative positions tend to maintain those positions regardless of the information available."
The Resilience Butte County Proud IPA is brewed with chinook, centennial and cascade hops with two-row pale and caramel malts, finished at 6.8 percent ABV. Sierra Nevada's can art depicts California's lush forest landscape with mountains and setting sun in the background, but it's worth noting that other breweries cannot actually distribute their version in cans. It'll take a few weeks for the beer to be available in taprooms, so keep an eye on each breweries' social media, and Scofflaw's fancy new website, for official release dates.
IN OTHER NEWS
Atlanta Brewing Company will release the next two volumes of their mixed fermentation series. Conjuring Cultures Vol. 3 is a Brettanomyces beer fermented in oak barrels and finished with basil and strawberries, and Vol. 4 is a mixed fermentation farmhouse ale aged with blood oranges and figs. Both beers will be available from the brewery on Nov. 30 in 500mL bottles at $10 apiece.
The sixth annual Wrecking Bar Strong Beer festival on Dec. 1 will positively destroy attendees with more than 40 high-gravity beers from about 20 breweries, all of which are at least 8 percent ABV. As they do every year, tickets sold out very quickly. But don't worry if you didn't get one — nobody will remember this festival anyway.
Arches Brewing will release Lagerdoodle Vol. 2, a blackberry milkshake India Pale Lager on Dec. 6. The India Pale Lager style is a new experimental trend in the industry, with a dry-hopped flavor crossed with creamy milkshake berries and vanilla.
The number one best-selling alcoholic drink in Finland is now available in Georgia stores, and we're only the second state in country to get to try it. The amazingly named beverage, The Long Drink ("Lonkero" in Finnish), is a carbonated gin cocktail mixed with citrusy grapefruit soda and added fruity flavors. It is available in cans all over Atlanta right now.
Members of the Atlanta craft beer community: If you have a cool event or beer release in need of coverage, drop a line to Creative Loafing's beer correspondent, Alex Patton, at alex.patton@creativeloafing.com
---