BLUES & BEYOND: Wake up with the blues
WRFG shines a light on locals, Blind Willie's seeks a rebirth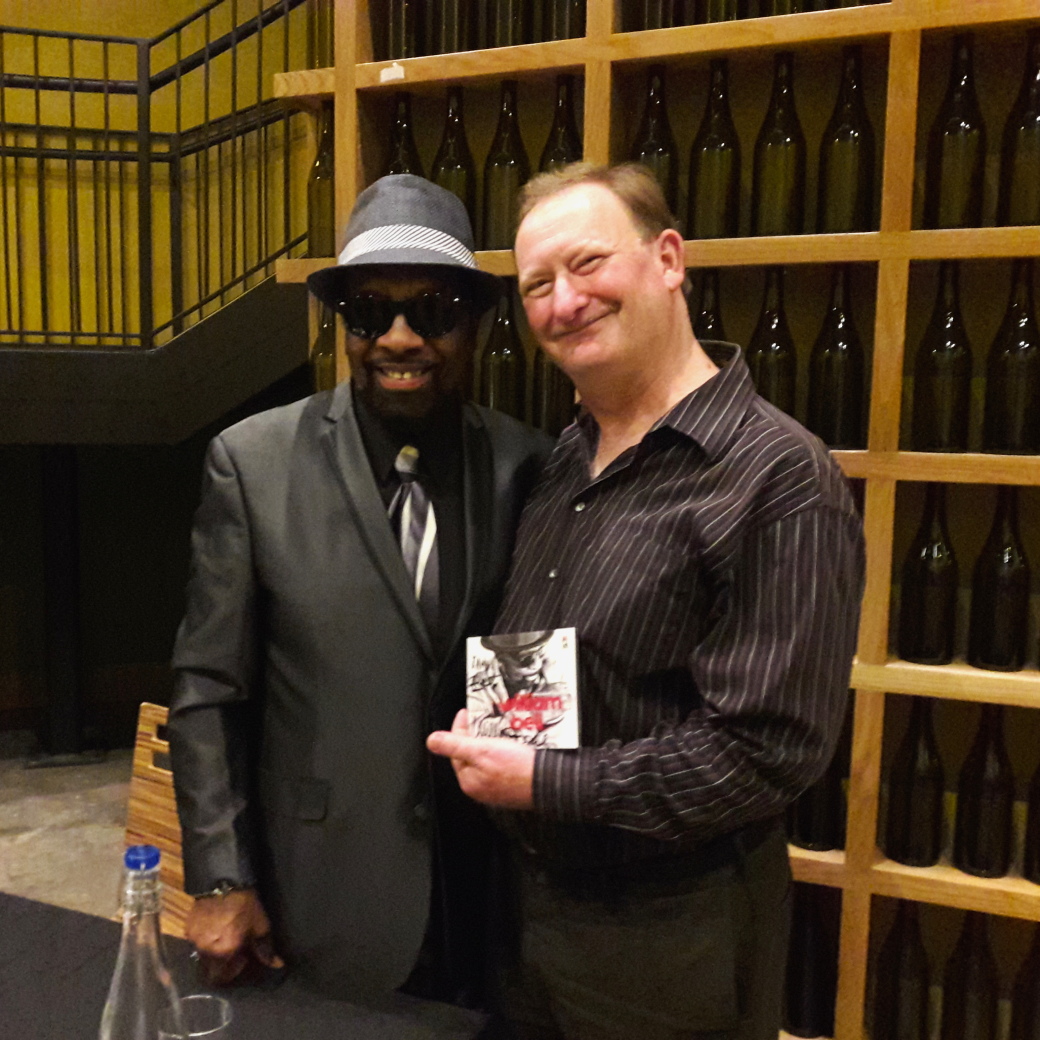 YOU DON'T MISS YOUR WATER: WRFG's "Morning Blues" host Rich "The Blues Professor" Pettit (right) strikes a pose with blues legend William Bell.
If songs like Elvis Presley's "Blue Christmas," Charles Brown's "Please Come Home for Christmas," and John Lee Hooker's lowdown "Blues for Christmas" are any indication, December is in the running for the saddest month of the year. It's also a perfect time to give thanks for what Atlantans might take for granted.
Since 1985, five days a week from 6-10 a.m., WRFG's Good Morning Blues show has delivered the goods. Monday through Friday, a double shot of two-hour blocks of blues programming — plus another two on Sunday morning's Route 66, totaling 22 hours a week — may not seem exceptional considering satellite streaming stations provide lots more. But outside of New Orleans' WWOZ, listener-supported WRFG rivals stations in legendary blues burghs like Chicago by broadcasting a plethora of contemporary blues rock, Delta folk, and acts from around the globe.
It's the local angle, however, that provides the spark. The "Good Morning Blues" crew of DJs are fellow blues lovers you meet and chat with at clubs, not mysterious or faceless voices. They offer a personal spin with their radio shows, often emphasizing Atlanta talent like Tinsley Ellis, Mudcat, the Electromatics, Delta Moon, and others who appear on air to promote shows and new releases. That's something no satellite station offers. The winning concept here is that WRFG's DJs are from Atlanta and know their community of listeners; they provide a distinctly human experience that no bot or beamed-in satellite signal can provide.
Veteran DJ Rich "The Blues Professor" Pettit, whose personable style and affiliation with Louisiana-based music makes his Wednesday 6-8 a.m. shift breezy and fun, has been a mainstay of Good Morning Blues since 1986. According to Pettit, in the mid-'80s the program committee voted to launch a block of blues music to create consistency in the station's "patchwork quilt" of shows in the high-profile morning hours, at a time when the station had been active for a little over a decade. Why blues? At the time there were a number of volunteers knowledgeable about the genre who were donating their time and services, and some blues programs had been on the air since 1973. It seemed like a logical choice.
The program has since caught on and remains one of the more popular and profitable blocks of airtime on WRFG. The latter is significant since listener contributions play a major role in keeping the nonprofit on the air. Where other outlets might relegate blues programming to late nights or bury it on their schedules to fill time, WRFG features the music during the highest-profile hours. "Morning and evening drive times are the two peak listening times for radio," Pettit says. "We're putting blues music out there when we know we have a huge, very supportive audience."
Although they don't subscribe to the Nielsen Arbitron rating system's tracking service and can't tell what the ratings are, Pettit goes on to say, "We have pledge drives three times a year, and blues always pulls in a significant portion of funds."
Back-to-back Tuesday segments, the husband-and-wife team of Black Jack's Blues Train, and A.J.'s Blues Kitchen have historically generated the most donations.
Even though no one gets a dime, there isn't much turnover for on-air personalities. A majority of the current crop has hung in for over a decade. Each show mirrors the host's personality, reflecting "the DJ's personal taste and the kind of music they like," Pettit says.
In 2005 WRFG won the Keeping the Blues Alive award, a prestigious honor from the Blues Foundation for achievement in public radio. Atlanta area blues fans depend on the scrappy, 33-years-strong Good Morning Blues programming to get their days off to a rootsy start. With any luck and plenty of donations, that streak will keep going for many more decades.
Rebirth of the blues ...
Blind Willie's, the 32-year-old Atlanta blues institution with the neon alligator sign, is in fundraising mode. Details are scarce, but Blind Willie's regular and occasional doorman Brian Sumner has launched a GoFundMe page to pay for a "rebirth" of the venerable Virginia-Highland nightlife haunt.
The list of performers who've graced the stage at 828 North Highland Avenue reads like a Who's Who of the blues, including Atlanta icons Sean Costello, The Shadows, Mudcat, Delta Moon, the Breeze Kings, and Beverly "Guitar" Watkins to legendary artists Townes Van Zandt, Rufus Thomas, Mose Allison, The Nighthawks, Commander Cody and His Lost Planet Airmen, Taj Mahal, John Hammond, and Snooky Pryor. Still, rising young talents Nick Moss and Joe Louis Walker play Blind Willie's as often as possible.
There isn't a roots music fan in Atlanta who hasn't passed through Blind Willie's doors at least a few times over the decades. Now it's time to give back, as the GoFundMe campaign hopes to raise $50,000.
In other news, December is a notoriously light month for live music. Still, there are enough hot blues to keep the fires burning through till the New Year.
Fri., Dec. 7
JD Simo, Smith's Olde Bar: This Nashville-based blues guitarist shifts into extended psychedelic jams with his rock-solid backing duo.
Sat., Dec. 8
The War & Treaty, Coca Cola Roxy Theatre: Get ready for some roof-raising gospel and soul as this married duo takes you to church on a Saturday night.
Sun., Dec. 9
JD McPherson, Terminal West
JJ Gray, City Winery
Wed., Dec. 12
Jimmy Vivino/Bob Margolin, City Winery: It's a double dose of journeyman blues guitar with rocker Vivino joining ex-Muddy Waters sideman Margolin for a rollicking, explosive combination.
Thurs.-Fri., Dec. 13-14
Marcus King Band, Variety Playhouse: King's gritty voice and soulful approach makes him one of the younger stars of the blues with a terrific new album, Carolina Confessions, in his pocket.
Wed., Dec., 19
Asleep at the Wheel, City Winery
Thurs., Dec. 20
Rev. Horton Heat, The Masquerade
Fri., Dec. 21
North Mississippi Allstars, Variety Playhouse
Thurs. Dec. 27
Heather Lutrell, Blind Willie's
Sun., Dec. 30
Devon Allman Project w/ Duane Betts, Buckhead Theatre: Allman Brothers Band offspring of Gregg and Dickie join forces for Southern-rock originals and a few gems made famous by their legendary fathers.
Mon., Dec. 31
Larkin Poe, Terminal West: These local sisters may have moved to Nashville, but we'll always consider them ours, especially because their new album, Venom & Faith, is one of the finest and rawest blues sets of the year.
Drivin' N' Cryin', Dan Baird & Homemade Sin, Buckhead Theater
Sandra Hall & the Shadows, Blind Willie's
Fri., Jan. 11
Eric Gales, Terminal West
Please send upcoming blues news and events to hal.horowitz at creativeloafing.com.
---