Podcast: MINT earns W.A.G.E. certification
Executive Director Cory Klose talks about the arts non-profit's future
See our new CL radio site for all podcasts
Since 2006, MINT has provided a (sometimes roving) space where Atlanta's young artists and creative communities can show their work. Over the years, MINT, now located at 92 Peachtree Street S.W., has exhibited contemporary and experimental works by more than 1,000 artists. In November, the organization announced that it has become W.A.G.E. certified — that's an anagram for Working Artists and the Greater Economy.
W.A.G.E. is a New York-based organization focused on regulating payments and maintaining sustainable relationships between artists and the institutions who contract their work, regardless of sales. To see this through, MINT partnered with the City of Atlanta and an anonymous donor to raise $10,000 to fun W.A.G.E. efforts. MINT's certification is retroactively effective as of July 1, 2018.
Being included on the W.A.G.E roster places MINT on a short list of high-profile galleries, museums, and arts organizations such as The Art Institute of Chicago, The Guggenheim, The Metropolitan Museum of Art, and MOMA. MINT is also the first W.A.G.E.-certified organization in the state of Georgia, which, according to the National Assembly of Arts Agencies, ranks 49th lowest per capita arts funding in the U.S.
To talk more about what becoming W.A.G.E. certified means, MINT's Executive Director Cory Klose paid a visit to CL's Short Notice studio.
On Sat., Dec. 8, MINT hosts an opening reception for Small Enough To Hold, an exhibition featuring works by Leap Year artist Crystal Desai (on view through Jan. 12). Free. from 7-10 p.m. 92 Peachtree Street S.W.
Music for this podcast is provided by Delorean Gray.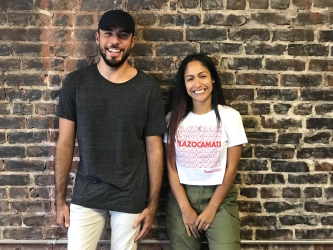 Podcast: Oye Fest Podcasts, Music Podcasts, Homepage, Crib Notes
Tuesday July 16, 2019 03:51 pm EDT
Atlanta's premier Latinx music and arts festival brings a day-long block party and an evening of music to the Masquerade |
more...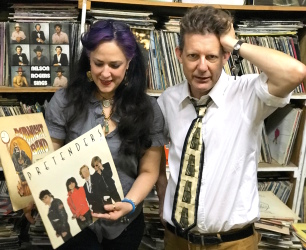 Monday July 15, 2019 04:18 pm EDT
Andy Browne and Lucy Theodora on Joe Strummer, primates, and writing their next album |
more...
Saturday July 13, 2019 09:59 am EDT
The rising country star on technology, the music industry, and his latest single 'Lonesome High' |
more...
Thursday July 11, 2019 09:19 am EDT
DIP at Smith's Olde Bar, Built to Spill at Terminal West, Attack of the Killer Tomatoes Festival, and more |
more...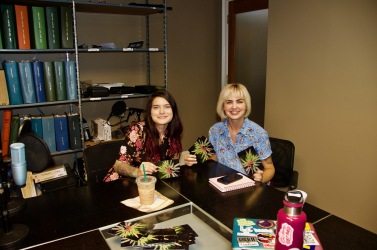 Monday July 8, 2019 02:12 pm EDT
Sophia Sabsowitz is the Curator at Pulp Books in West Midtown. She also spends a portion of each year trimming fresh cannabis crop in the infamous Humboldt County, Calif, familiar by most as the setting for the Netflix docu-series "Murder Mountain."
Sabsowitz's knowledge of cannabis flows directly into her creative life as a painter and current curator at Pulp Books, located in West Midtown,...
|
more...
Monday July 8, 2019 01:41 pm EDT
Some of you may know her for her hit song, "Cannabis Car," which helped expand her awareness of hemp across the nation. Aviva believes we should all be driving cars that run on cannabis and growing home hemp gardens for salads, paper, clothing. It may sound all a bit flower child, but did you know Henry Ford had cars running on hemp before it was outlawed in the US? If you're interested in... |
more...
Wednesday July 3, 2019 03:36 pm EDT
Special Fourth of JUly America bonus pack edition |
more...
Podcast: Visitors Podcasts, Music Podcasts, Homepage, Music
Tuesday July 2, 2019 02:38 pm EDT
'Nature Documentary' LP stamps in time a bygone era for South Broad Street |
more...
Monday July 1, 2019 05:31 pm EDT
A new slice for Summerhill |
more...
Friday June 28, 2019 10:42 am EDT
Drivin N Cryin, Dinner Time, Asteroid Day, and more |
more...