HIGH FREQUENCIES: Puddles Pity Party goes big
The giant clown gets a little holiday help from his friends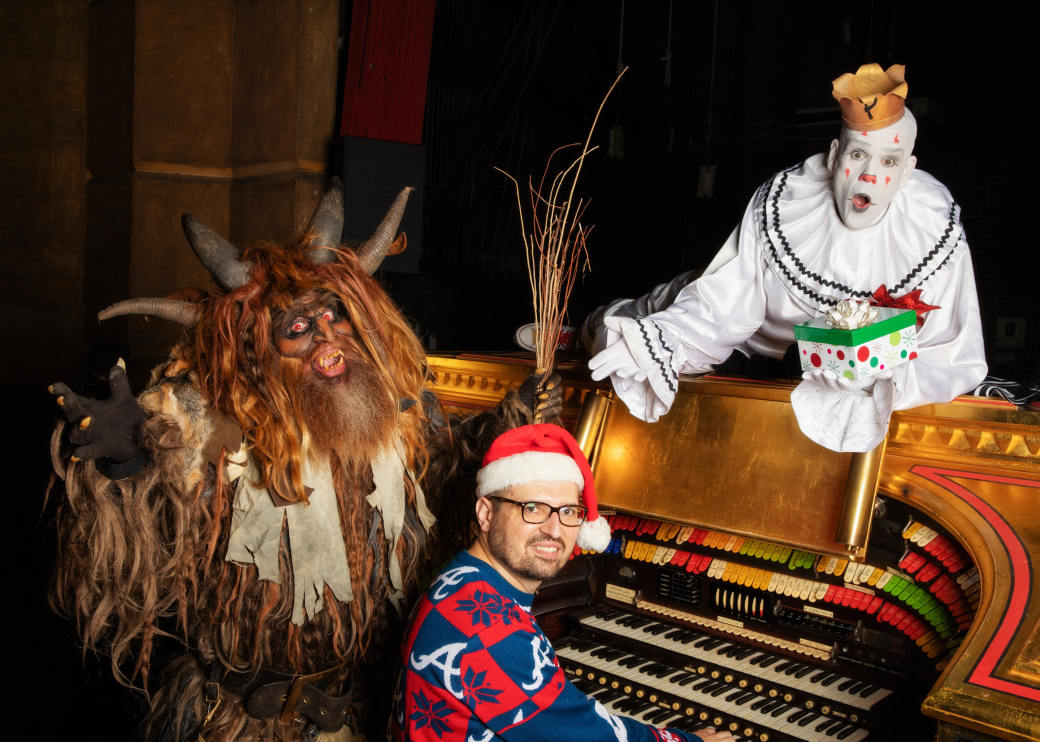 GOOD TIDINGS: Krampus, Matthew Kaminski at the Mighty "Mo" Moller organ, and Puddles Pity Party join forces at the Fox Theatre.
Fun for the whole family? Sure it is. It's Christmas! How could an evening with Puddles Pity Party, Krampus, and Really Big Santa be anything but?
Puddles Pity Party, hosted and performed by a seven-foot clown who doesn't speak, but can sing until your heart melts, has long been an ITP secret treasured by those who like pathos with a bit of humor. But with YouTube videos gaining views, and an appearance last year on "America's Got Talent," where harsh judge Simon Cowell was brought to tears by Puddles Pity Party's basso profundo, the cat was out of the bag.
And rightly so. Puddles Pity Party, more a theatrical experience than just a concert, deserves a larger audience than the one he would attract in Little Five Points. Presenting his "Holiday Jubilee" onstage at the Fox Theatre Tuesday, December 18, gives him a larger stage on which to present his magical wonderland, while allowing him to invite friends and other creatures.
Joining Puddles Pity Party will be Krampus and Really Big Santa, among other mythical beings and surprise guests. As Puddles can't speak, and communicates only through song, CL was able to get Krampus to take a few minutes out of his (its?) busy holiday schedule to tell us about what's in store at the Fox.
Creative Loafing: Krampus, do you have a long history with Puddles, or have the two of you only recently met?
Nein! Poodles und I have known each other for a very long time. Ve are both mystical and mythical creatures. Vhere Poodles is around hoomans year 'round, like Santa Claus, I can only be seen during ze holidays!
Will the two of you be singing a duet together?
Ve vill. Along with Herr Lucky Yates und Matthew Kaminski, ze organist for Ze Atlunta Braves on Ze Mighty Mo Organ!
Is it hard for the two of you to collaborate on projects, Puddles not speaking and you only appearing this time of year … how do you two communicate?
As ve are both magical creatures, ve only speak a language magical creatures unterstand. Human speech isn't musical, while our communication is musical, tangible, und luminous.
Really Big Santa is appearing at this show. I'm not familiar with him. Is he your antithesis or your nemesis?
He is Santa. He und I are ze same side of ze coin. He is a dear friend. My techniques of dealing with naughty kinder are somewhat more antique. There are naughty kinder that Santa is made for und naughty kinder that requires Krampus!
Is this fun for the entire family? I mean, clowns frighten kids, Santa frightens kids, you frighten kids … .
Ja! Ja! Ja! This is to be for EVERYONE! Ve are happy when everyone is joyful. I can see ze wonder in a child that is frightened of us. That means ze imagination is working in that child the vay it should!
Clowns und Santas und Krampus! Ve are dreams und wishes und parties made true! That is sometimes scary! Children know this, adults are ze ones that forget!
What to you, is the spirit of Christmas?
A nest of fresh balsam boughs, a good brushing, und the little Krampuses nestled in stolen shoes by ze fire — dreaming of terribly behaved kinder, their little hooves pawing ze air!
Ahhhhh …
Simply horrible!
(Thanks to Jas. M. Stacy, who was instrumental in connecting  CL with Krampus.)
Making spirits bright dept. ... No matter how many Christmas songs you listen to, if you're not into it, this time of year can really suck. The build-up. The expectations. The family gatherings. The holiday cheer — whether real or forced. Maybe that's it. Feigning happiness when there is so much wrong in the world. Wars. Starvation. Disease. Senseless attacks on others. Hatred. Prejudice. These are a few of my (not) favorite things that don't take a holiday at Christmas. At Chanukah. During Kwanzaa or any Eid.
The songs tell you, "Christmas is the time to say, 'I love you.'" Your heart says, "Bah, humbug." But you try to put on a smile anyway. You load up your credit card with purchases you won't pay off for another 12 months — and then the bad dream repeats itself.
The depression may not always be about you. It could have to do with the useless gifts you receive, or the large amounts of money being spent on gifts given to others that are accepted with indifference rather than appreciation. Maybe Christmas is the time to say, "Screw you!" People are starving in shelters. Others homeless and cold. Instead of bestowing gifts on the fortunate, lend a helping hand to those in need. Those suffering from abuse. Those unable to celebrate the gift of another day, much less the holiday, on their own.
Street song serenade dept. ... Buteco is a Brazilian-inspired coffee house and bar located in the new Beacon shopping district in Grant Park at the end of Grant Street. Though Buteco is not that wide, the space stretches long, with a bar that spans from end to end. Brazilian street foods are served, along with similarly-inspired cachaça-based cocktails (and, yes, they do a helluva job with Brazil's national drink, the Caipirinha).
Having added a new area behind the building proper, Buteco has begun offering live music in what amounts to an outdoor patio with more tables and chairs than inside the restaurant. Right now, sheets of plastic hang from the rafters to protect patrons from the elements — and powerful gas heaters are used to warm the place — but don't let the fact you have to "rough it" stop you from dropping by. Thursday, December 6, Anna Kramer & the Lost Cause warmed the place with a rockin' and raucous set of country-inspired tunes that made it easy to understand why they were chosen to close out this year's Bubbapalooza. A power trio of the honky-tonk kind, for sure. The following Thursday, FLAP appeared, with more bands scheduled for upcoming Thursday, Friday, and Saturday nights. Booking bands on a regular basis is apparently something the owners of Buteco are just getting used to, and as of press time, no one was booked for this week. During a quick call to the place, I was told to check their social media for who would be playing. You should do the same.
---