Dr. Tommie Smith — Stand! In the end, you'll still be you
Dr. Tommie Smith discusses his place at the 1968 Mexico City Olympics, sports and justice in Atlanta, and, of course, the Super Bowl
It is a moment those who witnessed firsthand, whether live at the 1968 Mexico City Olympic Games, or on television, will never forget. Tommie Smith and John Carlos, winners of the gold and bronze medals respectively in the 200-meter sprint, bowed their heads and raised their fists to God during the awards ceremony. Fifty thousand people at Estadio Olímpico Universitario went silent as the two U.S. athletes stood on the podium, protesting the disparity between whites and African Americans in this country. 
The silence gave way to shouts of outrage and prayers of reverence, the actions of the two athletes sparking a dialog that continues today. Fifty years later, the United States is still one nation, seeking liberty and justice for all, and while a lot has changed, much has not. NFL football players, borrowing a gesture from Dr. Martin Luther King Jr., still find the need to take a knee when "The Star-Spangled Banner" is performed before American football games, provoking outrage from some while gaining the respect of others.
Smith and Carlos were not the first athletes to speak out about civil rights, about human rights. Jackie Robinson and Muhammad Ali immediately come to mind. But Smith and Carlos were the first to do so with the whole world watching. At the Olympics. Without saying a word.
A powerful image, alright. Iconic. I remember the hair standing up on the back of my neck as I watched the two men raise their black-gloved fists, the event being broadcast into my family's living room from over 1,300 miles away.
Today, nowhere do sports and justice come together more than here in the birthplace of the late Rev. Dr. Martin Luther King Jr. and the home of the civil rights moment. With Atlanta's hosting of Super Bowl LIII at the Mercedes-Benz Stadium only weeks away, the themes weave themselves into the fabric of our city, from the High Museum of Art to the National Center for Civil and Human Rights and into the streets with the WonderRoot murals project.
The High Museum of Art exhibit, "With Drawn Arms: Glenn Kaino & Tommie Smith," presents a years-long collaboration between the Los Angeles-based conceptual artist and the U.S. gold medal Olympic winner who captured our attention with his silent gesture in 1968.
Smith, a California transplant now living in Stone Mountain, Georgia, is an affable and erudite man who sometimes refers to himself in the third person. Indeed, with the passage of time, it's easy to understand how the 74-year-old retired college professor might look back and see a different person in the 24-year-old who first broke the 200-meter sprint record in 19.83 seconds, but once Smith starts talking, it's evident they are one and the same.
When asked if he thinks there are similarities in his actions of 1968 and those of football players today, Smith offers a unique observation, answering in a roundabout way that those who know him expect, but may catch someone just meeting him off guard.
"Growth, personal growth, is the magical idea of moving forward," Smith says. "In terms of our youth of today, yes, 50 years is a long time, but given our history, it's short, really. Taking a knee, taking a stand of any kind is a beginning. It's not an end. I took a stand, and I'm proud of the young athletes now.
"But you know, Tony, when we take a stand, when we take a knee, it must start in the mind, the mind and body growing in the same direction. 'Why am I doing this? Am I for real doing this? Let me take a check on my feelings.' There's more than just taking a stand. There's why I should take a stand. That's where I see the growth has really bloomed since 50 years ago."
What Smith is saying is something the ancient Greeks also believed to be important, that the greatest athletes were of sound body and mind.
He continues, "Too much of anything, I believe, is not good, and too little of the same, I also believe, is just as bad. We're living in a sphere, a rolling ball. You roll too far, you're going to go roll off into the water, you don't roll enough you're going to be in the desert. So where would you rather be? I would rather be someplace on that sphere where I can survive, but that survival should be of my own intentions. Of doing something good.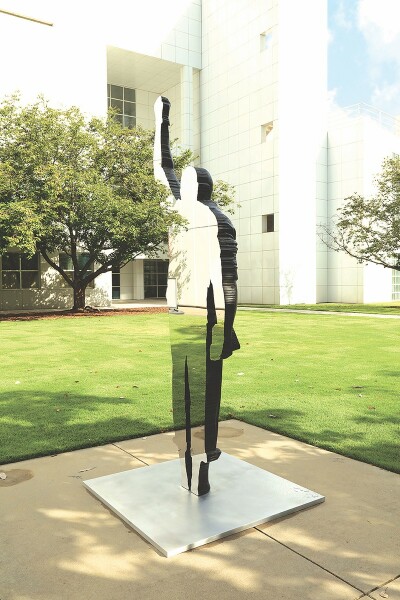 "I believe that moving forward takes so much effort and sacrifice, so much effort and thought, that a lot of us don't want to deal with things that are good. Good takes time. It is a construction phase, such as the exhibit down at the High. That's my inner feeling. No one has ever asked me about my feeling on the inside, only why I did what I did. And I don't come up with the right answer, most of the time, why Tommie did what he did on the victory podium. It was a feeling of sacrifice. A feeling of need. And I think that's the very thing that we sometimes forget. 
"For every action, there is a reaction, and if you're not prepared for that reaction, then there is a problem. The attack phase is very, very weak. I think 1968 was a start, a start of athletes taking a stand. The athletes doing something good. Of course we are going to be questioned [[[his  emphasis]. If we were not questioned, then I would think society to be just as weak as we are strong. As I say, too much of anything is not good, too little of the same is bad. We must be strong enough to deal with the reality of right and wrong. I'm happy that we started in '68 — the recorded start in '68 — because everyone one remembers that stand. But there were a lot of athletes before me who took a stand, but had no way to expound upon it. They had no platform to do so."
It's obvious that it took a lot of courage for Smith to raise his fist and bow his head in 1968. But to take off his running shoes and take his place on the podium in black socks, wearing beads around his neck (shoeless to acknowledge the poverty of African Americans at the time; the beads symbolic of the lynchings of America's Jim Crow past, he explained shortly after the ceremony), also took a lot of introspection. What was going through his mind at the time?
"It's my time to speak," Smith explains. "I did very little talking, and no speaking, really, during my college days, especially on the field. I let my feelings be known through my actions on the field. I still believe that the picture is much stronger than the words that can be used to explain it.
"It is the responsibility of those who are in power (to speak out). And I was in power at that time, that power was on the field of play, and my soul needed some type of ending, some type of connection to that power I had on that field of play. And that was with people. I'm a people person — and I had to think about people when I had a platform. And I'm still doing it. I became a school teacher because I wanted to teach. And that's what I taught in my classrooms from fifth grade to Oberlin College, to Santa Monica College. Off the field, for me now, is at the High Museum. That exhibit is Tommie's insides."
Of course, he's referring to the High Museum of Art exhibit that has been open since September and will continue through February 3. It's an impressive collaboration of sculpture and documentary, including items from Smith's personal archives. Highlighted by Kaino's "Bridge" (2014), a 100-foot-long floating sculpture comprised of gold-painted casts of Smith's arm and extended fist, the exhibit offers a rare glimpse into Smith and the moment in time which still resonates with us today.
I wondered if Smith believes athletes today enter professional sports to excel, to prove themselves to be the best, or if perhaps the lure of celebrity and financial gain, thanks to corporate sponsorships, has taken their eyes off the prize. 
"Again, we are talking about collaboration," Smith says. "It's both, money and position. Of course, a lot of it's fanfare, but you have to sift through things to find out if it has a soul. Or if it has a heart. This movement of man certainly has a heart, but is that heart pure? Is that heart sound enough for the youth to follow? It takes us all to work through this thing, to make a sacrificial effort of G-O-O-D. Good. And which would you rather do? I don't want to run with the bad. I'm fighting against that. Bad has a lot of different tentacles. I fight as hard as I can to make that difference."
And what does Smith think of Atlanta being chosen as the site of Super Bowl LIII, especially after a tumultuous year that has pitted players against owners, the person occupying the White House against the football league, and fans against each other?
"The place of play of Super Bowls, wherever it's played, is always on  people's minds — why there? I think the Super Bowl being here is really important, Atlanta being the home of Dr. Martin Luther King Jr., the historical background as a place of the civil rights movement. It gives a credence to the Super Bowl, not that it was picked for that reason, but it is important because an historical portion of American power comes from Atlanta. One is not dependent on the other, but there is a lot here to see. A lot to learn from." -CL-
Outside Mercedes-Benz Stadium – What to do
With Drawn Arms: Glenn Kaino and Tommie Smith.
 High Museum of Art, Opening times: 10 a.m., Monday through Friday, 12 p.m., Sunday.Mon.-Fri., 12 p.m. January 10 through February 3. 
Breaking Barriers: Sports for Change, the National Center for Civil and Human Rights.
National Center for Civil and Human Rights, a traveling exhibition that pays homage to athletes who have inspired civil and human rights reform and brought change in the world of sports and beyond. Muhammad Ali, Jackie Robinson, Billie Jean King, Venus Williams, and Jesse Owens are among the legendary athletes featured, but contemporary athletes facing obstacles such as racism, disabilities, gender discrimination, and sexual orientation will also be recognized. Januray 23 through March 29.
Off the Wall: Atlanta's Civil Rights and Social Justice Journey.
Local arts and culture organization WonderRoot has partnered with the Atlanta Super Bowl Host Committee to create Off the Wall, a citywide art initiative that aims to generate and elevate conversations about the history and continuing journey of the progression of civil rights in Atlanta. By using murals and community conversation, Off the Wall draws focus to Atlanta's storied history of progress and social justice, illuminating the crucial role Atlanta plays in the past, present, and future regarding the advancement of civil and human rights. The murals have been slated for installation in the neighborhoods of Vine City, English Avenue, Ashview Heights, and Castleberry Hill that surround Mercedes-Benz Stadium, the Sweet Auburn corridor, and the downtown district, between June 2018 and February 2019. Concepts and basis for the murals were formed at "community conversations," where Off the Wall discussed and conferred with over 1,000 Atlantans in order to guarantee proper tribute to the city and its people. These ideas were refined at several feedback sessions to ensure maximum community satisfaction. January 10 – ongoing.
Eleven artists have been hand selected to carry out the artwork: Brandan "Bmike" Odums- New Orleans, Yehimi A. Cambrón-  Morelia, Mexico/Atlanta, Sheila Pree Bright- Atlanta, Gilbert Young- Atlanta, Ernest Shaw- Baltimore, Charmaine Minniefield- Atlanta, Muhammad Yungai- Atlanta, Gaia- Baltimore, Reginald "L.E.O." O'Neal- Miami, Shanequa Gay- Atlanta, The Loss Prevention Arts Collective- Atlanta.
Friday, February 1:
Super Bowl Experience, $40-$55, Georgia World Congress Center, 10 a.m.
Off The Field Players' Wives Association FASHION SHOW 2019, TBA, Shops of Buckhead, Atlanta, 12 p.m.
Super Bowl Live Presented by Verizon, Free, Centennial Hall, 2 p.m.
First and Goal Comedy Bowl, Free, College Football Hall of Fame, 8 p.m.
Bud Light Super Bowl Music Fest: Aerosmith with Post Malone, $100-$950, State Farm Arena, 9 p.m.
Shaq's Fun House with interactive circus. Tickets start at $299.99, Battery, Atlanta, 9 p.m.
Game Love and Hennessy, Free to $109.00, Atrium Event Center, 9 p.m.
Saturday, February 2:
Super Bowl Breakfast, $200-$2500, Atlanta Marriott Marquis. 8 a.m.
Super Bowl Experience, $40-$55, Georgia World Congress Center, 10 a.m.
World's Largest Tailgate: A Tailgate with a Mission, Free with registration, Georgia International Convention Center, 10 a.m.
Super Bowl Live Presented by Verizon, Free, Centennial Hall, 11 a.m.
Atlanta Big Game Day Party, $10-$160, 5 Seasons Brewing Company, Westside Atlanta, 4 p.m.
Taste of the NFL, $700.00, Cobb Galleria Centre, 7 p.m.
2019 Maxim Super Bowl Party, TBD, The Fairmont, 9 p.m.
The Big Game Weekend, the ATL's all-inclusive party, $150-$1200, Ambient + Studio, 9 p.m.
Super Saturday featuring Foo Fighters and Run The Jewels, sold-out, Atlantic Station, 9 p.m.
Bud Light Super Bowl Music Fest: Bruno Mars and Cardi B., $150-$1,550, State Farm Arena, 9 p.m.
ESP 101 [Learn to Believe], Big Game Party, $50 - $100, IRIS (aka Rush Lounge), 9 p.m.
Sunday, February 3:
The Big Game Party, $5-$20, Genesis, The Chamber, 11 a.m.-11 p.m..
Cheer and Beers: The Big Game, $89, Dantanna's, Buckhead, 12 p.m.
Super Bowl Experience , $40-$55, Georgia World Congress Center, 2 p.m.
Salvatore Ferragamo Big Day Party, $400, Antica Posta Restaurant, 5 p.m.
The Big Game Watch Party, No Cover, Sweet Auburn Barbecue, Highland Ave, 6:30 p.m.